JoJo Siwa Reveals Girlfriend, Kylie and How Their Relationship Started
After some speculation, JoJo Siwa came out to her fans. She previously talked about having a girlfriend, and now the Dance Moms alum revealed her on Instagram and how their relationship started.
JoJo Siwa came out to the world
The 17-year-old influencer came out to her fans by posting a TikTok of herself singing to lipsyncing to Lady Gaga's "Born This Way". She posted a picture of herself wearing a shirt, which reads "Best. Gay. Cousin. Ever." on Twitter. She captioned it with, "My cousin got me a new shirt."
Siwa hasn't labeled herself as any specific sexual identity. She revealed to a fan why that's the case.
"I have thought about this and the reason why I am not ready to say this answer is because I don't really know this answer," Siwa replied. "I think humans are awesome. I think humans are really incredible people."
She went on to talk about how she feels since coming out. "Right now, I'm super duper happy," she continued. "I want to share everything with the world, I really do, but I also want to keep things in my life private until they're ready to be public."
She talked about having a girlfriend
The former Dance Moms star went on to have an interview with Jimmy Fallon. She talked about the reactions to her announcement.
Siwa revealed she is in a relationship saying, "It is true. I do have the most amazing, wonderful, perfect most beautiful girlfriend in the whole world. It's not something I'm ashamed of. I just haven't shown the internet yet."
JoJo Siwa revealed how she fell for Kylie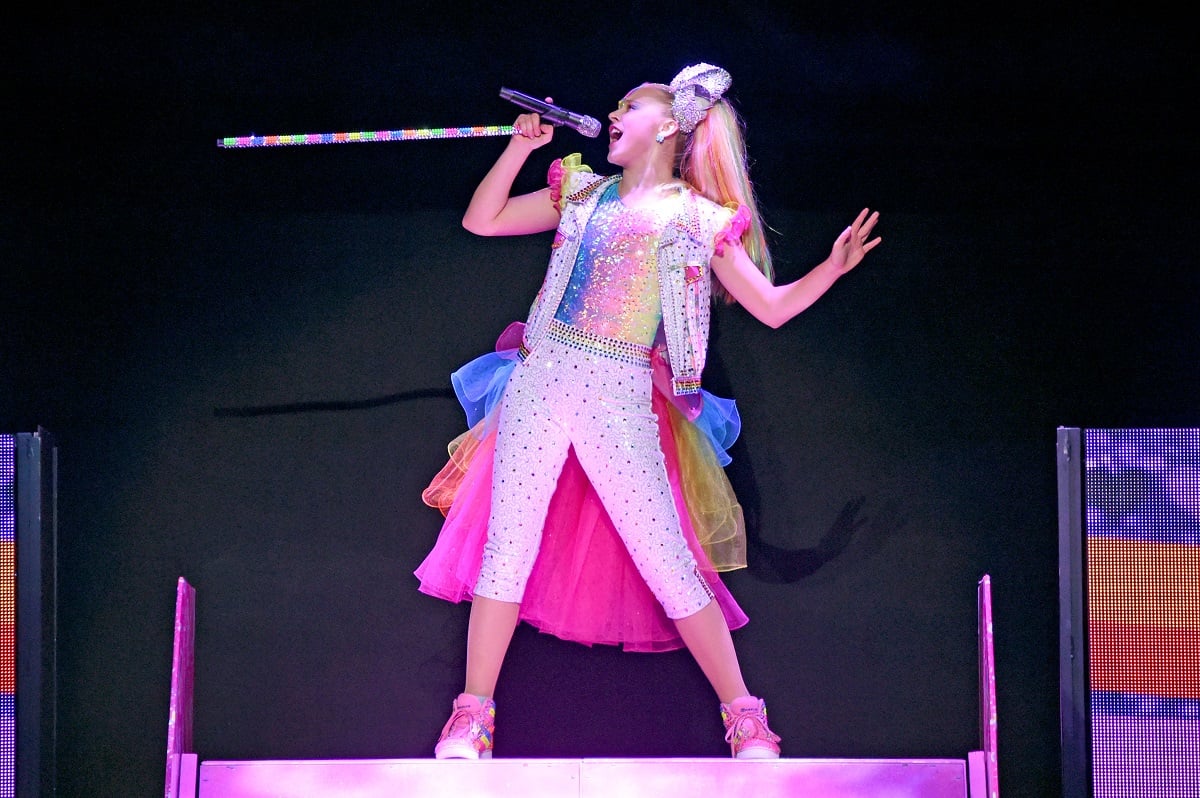 Siwa made a slideshow Instagram post on Feb. 8. It starts with a picture of her holding hands with her girlfriend. There is another picture of them joking around together in their masks.
The third is a video of them together in the backseat of a car. "As Long As You Love Me" by Justin Bieber is playing and Kylie is lipsyncing to it. The post ends with Kylie giving Siwa a piggyback ride at what looks like an amusement park. The star revealed how they started dating in the caption of the post.
After being my best friend for over a year, January 8th 2021 I got to start calling this exceptional human my Girlfriend… and Since then I've been the happiest I have ever been! She seriously is the most loving, supportive, happiest, protective, and just the most beautiful perfect person in the world. And I get to call her mine! Happy one month to my girl! I love you more and more everyday!

JoJo Siwa, Instagram
Some celebrities have already reacted to the post. Paris Hilton reacted with two heart eye emojis. YouTube makeup creator, Nikkie de Jager commented with "casually crying" along with a rainbow and heart emoji.