The Joke Bob Dylan Told Tom Petty Once George Harrison Was out of the Room
Bob Dylan and George Harrison had an interesting friendship. While George poured his heart out, singing about wanting Dylan to open up to him in "I'd Have You Anytime," Dylan kept his feelings about George bottled up. They both loved each other equally but showed their emotions differently.
However, they had very similar senses of humor.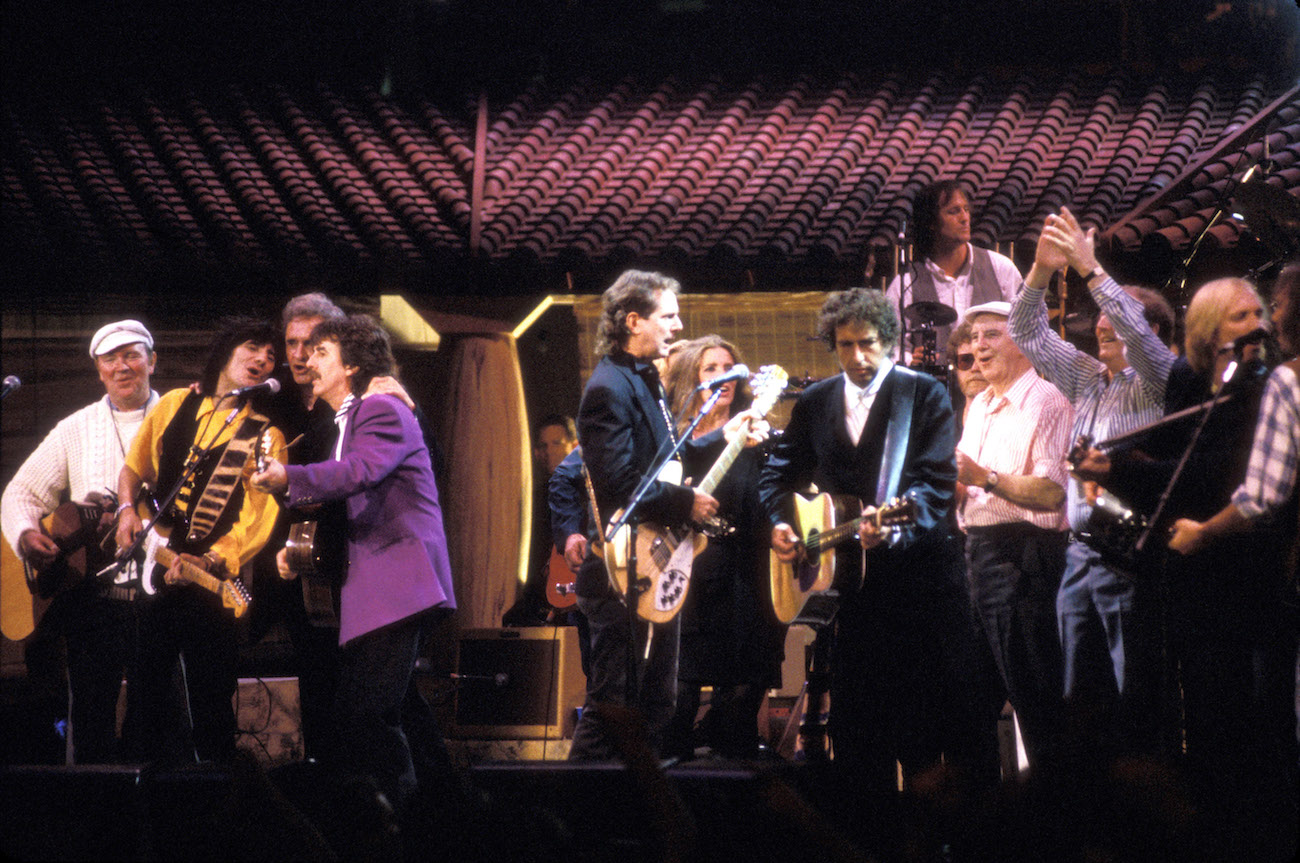 The joke Bob Dylan told Tom Petty once George Harrison was out of the room
The "Mr. Tambourine Man" singer knew how to stop people in their tracks with his often emotionless one-liners. That happened when he made a hilarious comment to Tom Petty when George left the room.
Petty told producer Rick Rubin the story (per Vulture). "I have a funny story that Tom Petty told me," Rubin said. "They were working on the Traveling Wilburys record and it was him, Bob Dylan, and George Harrison sitting together and working on a song.
"George got up to go to the bathroom or to step out the room to get a drink, and after he walked out Bob leaned over to Tom conspiratorially, seriously, not as a joke, and said, 'You know, he was in the Beatles.'"
Despite Rubin saying Dylan's comment wasn't a joke, it was. On a serious note, though, none of The Traveling Wilburys brought their egos with them when they came together to record their two albums.
RELATED: Queen's Brian May Said the Guitar Community Underrated George Harrison
Dylan, Petty, George, Jeff Lynne, and Roy Orbison left their egos at the door while recording as The Traveling Wilburys
According to Tom Petty, when The Traveling Wilburys first started, George confronted Dylan. He told Dylan he wouldn't get any special treatment just because he was Bob Dylan. It wasn't an issue for Dylan.
"When the Wilburys started, George was so reverent of Bob," Petty said in the special edition of Rolling Stone, "Remembering George." "At the end of the first day, he said, 'We know that you're Bob Dylan and everything, but we're going to just treat you and talk to you like we would anybody else.'
"And Bob went, 'Well great. Believe it or not, I'm in awe of you guys, and it's the same for me.' I said to George, 'That is really amazing, how you said that to Bob.' George goes, 'I can say those sort of things. But you can't.'"
The supergroup's website reads: "The group was born: five guys with star stature in their own rights, but it was George who created this Wilbury environment where five stars could enjoy an ego-free collaboration. Everybody sang, everybody wrote, everybody produced — and had great fun doing so."
The Traveling Wilburys put their egos aside even more by adopting pseudonyms on both their albums. On The Traveling Wilburys Vol. 1, they called themselves Nelson Wilbury (George), Otis Wilbury (Lynne), Charlie T. Wilbury Jr. (Petty), Lefty Wilbury (Orbison), and Lucky Wilbury (Dylan).
George feared fans might only buy the record because of who was on it.
RELATED: George Harrison Took Care of a Sick Tom Petty While Recording 'I Won't Back Down' Together
Petty said the five of them weren't the type of guys to let egos ruin the group
During an interview with Mass Live, Petty explained that while some supergroups are notorious for ego problems, The Traveling Wilburys didn't.
"Never, because these guys weren't those kind of people," Petty explained. "None of us thought we had anything to prove. There was never even a glimpse of ego. As Jeff has said, 'You would have been laughed right out of the room if you had an ego. Not those kind of people.'"
Still, everyone in the supergroup was star-struck working with each other, as you could tell by Dylan's comment to Petty. All five of them said The Traveling Wilburys changed their lives.
RELATED: Tom Petty Said the Biggest Gift George Harrison Gave Him Was Spirituality, and He Wasn't Preachy About It