Jon Hamm Was Arrested in College After Allegedly Lighting a Fraternity Pledge's Pants on Fire
Jon Hamm is best known for his role in 'Mad Men' — but long before Don Draper, Hamm was caught up in a fraternity hazing scandal. Learn more.
Jon Hamm, who famously portrayed advertising executive Don Draper in AMC's Mad Men, is one of many actors who have some disturbing skeletons in their closet.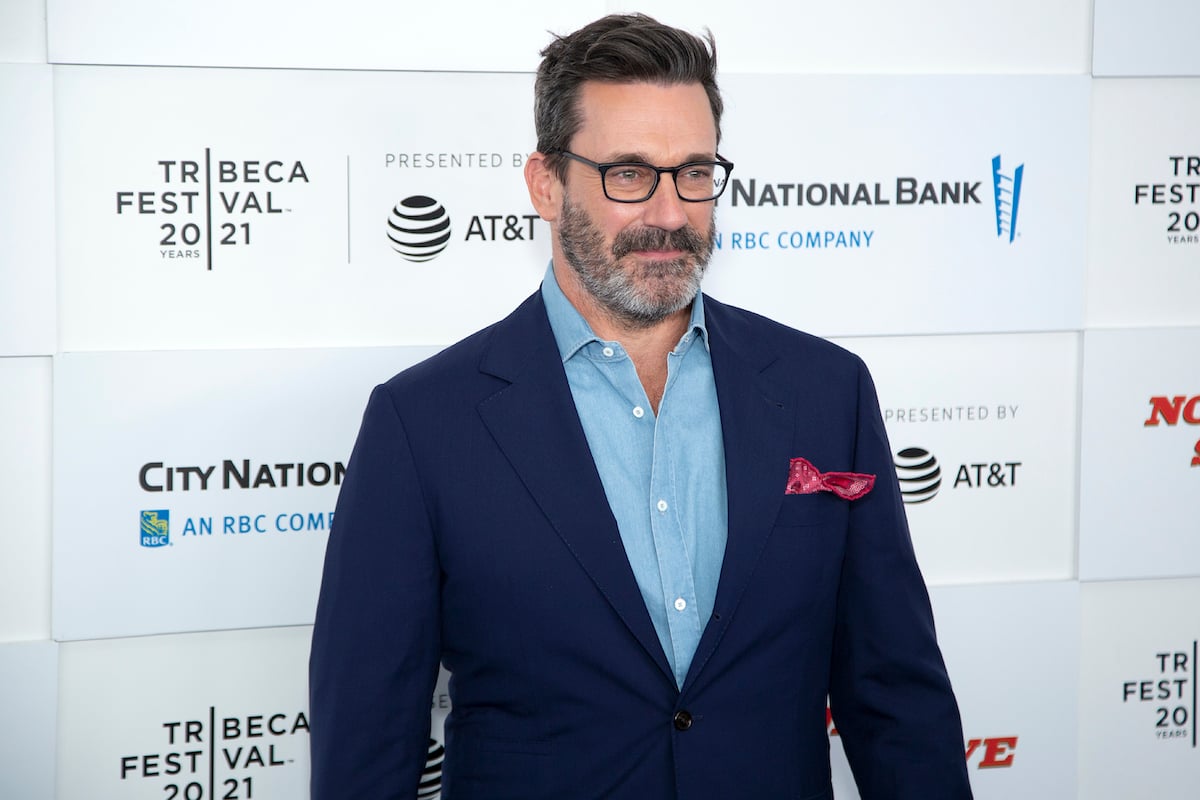 In 1990, while attending the University of Texas, the Unbreakable Kimmy Schmidt actor was arrested for his alleged role in a fraternity hazing that turned horribly violent. The Sigma Nu chapter was dissolved after Hamm and several other fraternity members reached plea deals and were charged with misdemeanors.
Hamm reportedly participated in the hazing until the bitter end
The Emmy Award-winning actor received probation for his participation in the hazing, and a separate assault charge was later dismissed.
According to The Guardian, pledge Mark Allen Sanders filed a lawsuit in 1991 against the fraternity members. He claimed he was "severely beaten, dragged with a hammer, and had his pants lit on fire."
Court records revealed the Mad Men star became infuriated when Sanders "failed to recite things he was supposed to memorize about Hamm and other fraternity members."
The 20-year-old student claimed, "Hamm went on to set his jeans on fire, shove his face in the dirt, and strike him with a paddle." BuzzFeed reported the attack was so brutal that the pledge was "led around with a claw hammer under his genitals" as part of the hazing ritual.
Sanders sought medical attention and later withdrew from the college. Hamm also left the University of Texas shortly after the hazing incident, returning home to Missouri. In 1993, the lawsuit was dismissed, according to The Hollywood Reporter.
What the 'Mad Men' star had to say about the incident
In a 2018 Esquire interview, when the actor was asked about his role in the hazing ritual, he replied, "It was a bummer of a thing that happened."
The Top Gun: Maverick actor said the accounting of the events was not accurate and sensationalized. He explained his side of the situation, saying, "I was essentially acquitted. I wasn't convicted of anything." Hamm said,
"I was caught up in a big situation, a stupid kid in a stupid situation, and it's a f—— bummer. I moved on from it."
The Lucy in the Sky actor said his father "ended up dying in the middle of all of this, and I had to rally my own mental health and become a better person because of it." He explained,
"I'm happy that I became a better person … Everyone goes through a weirdness as a young person, especially in college, when you're trying to figure things out."
How Hamm became a famous television actor
After leaving Texas, Hamm enrolled at the University of Missouri and performed in his first play, A Midsummer Night's Dream. That moment launched his career in the entertainment industry, igniting his passion for acting.
At the age of 25, he "turned the page," leaving Missouri in the rearview as he packed up his 1986 Toyota Corolla and moved to Los Angeles in search of stardom.
Hamm revealed in the Esquire interview that his first gig was as an inexperienced set dresser in a soft porn film. He continued searching for acting work, eventually landing a bit part on Ally McBeal.
Finally, at 30 years of age, ready to give up, he auditioned for the television series Mad Men, which inevitably changed the trajectory of his life.
Hamm held the iconic lead role of Don Draper, who he portrayed for seven seasons from 2007 to 2015. After 16 Emmy nominations, he finally won in 2008 for Outstanding Lead Actor In a Drama Series.
Vanity Fair said, "there would be no Mad Men without Jon Hamm." The magazine described his character as a "dashing mystery man whom we mostly rooted for, despite his selfishness, his destructive restlessness, his witholdingness."