Why Jon Hamm 'Was Pretty Happy' He 'Got to Stay Clothed' in 'Top Gun: Maverick'
The long-anticipated Top Gun Maverick is finally here! And with its whopping $124 million box office debut, it is evident that Tom Cruise and his elite team of aviators still got it. As you may expect, the movie had its own take on some of the original iconic scenes. One particular beach scene especially stood out.
Much like the infamous volleyball scene in Top Gun, we see the shredded team of jet fighter pilots, doused in baby oil, running around and diving in slow motion. However, noticeably missing from the stripped-down scene was one Jon Hamm, who chose to hold his uniform a little closer to his body. When asked, the Mad Men actor admitted that he wasn't too sad about missing out.
Jon Hamm's role in 'Top Gun: Maverick'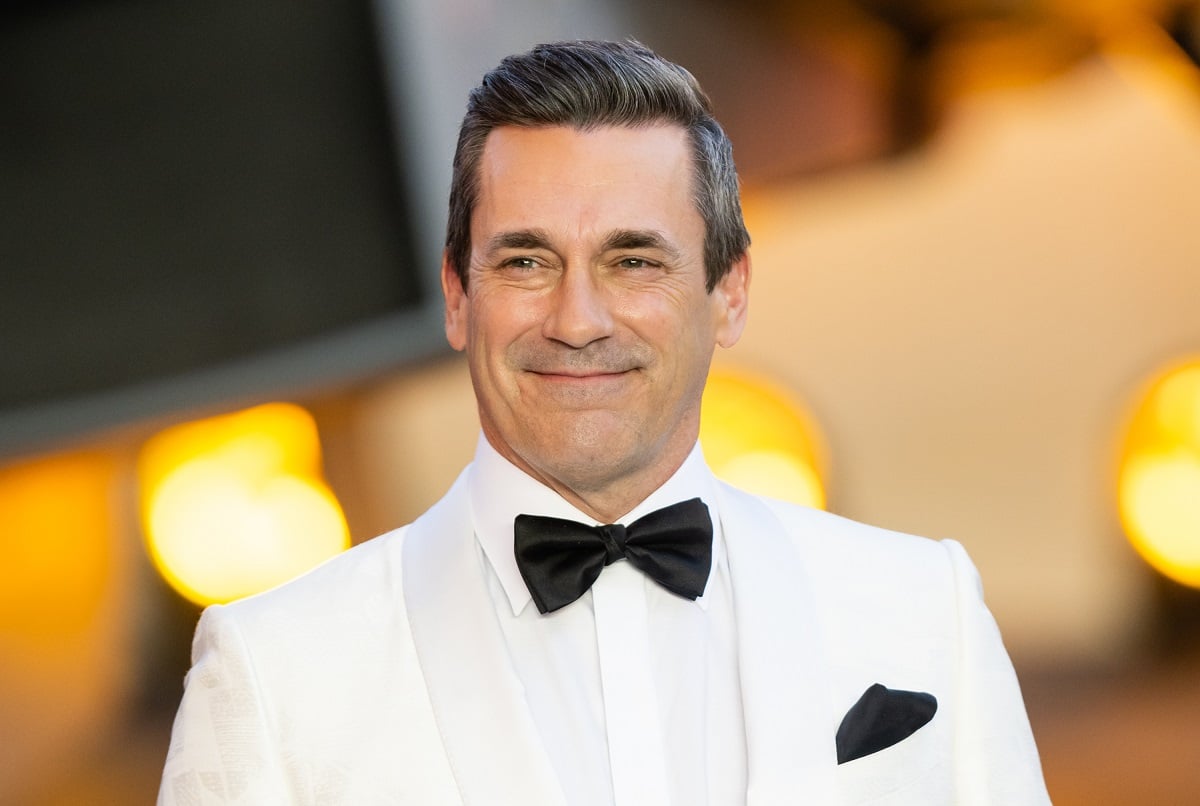 Hamm plays Vice Admiral Beau Simpson, a graduate of Top Gun currently running the school. His character, dubbed the call sign "Cyclone," maintains a no-nonsense, play-it-by-the-book attitude contrasting Maverick's looser one.
Against his better judgment, he accepts Maverick back to train the young team of pilots. Maverick's role, in this case, is to guide them on how to carry out an especially dangerous mission. Still, Cyclone wastes no time showing his dislike for Maverick, making it clear that he doesn't want him there.
In an interview with Rolling Stone, Hamm said he drew inspiration from Tom Skerritt's character in the original Top Gun. He took a more stoic approach to the role rather than portraying the typical drill sergeant persona. As the voice of responsibility, Cyclone still criticizes Maverick for his anti-authoritarian, insubordinate nature, but from a place of mutual respect.
Hamm was happy he got to stay clothed in the scene
In an interview with IMDb, Hamm explained he "was very happy that I got to keep my shirt on and my shoes and everything else." The star added, "It's a very weird experience being on a beach with loafers and socks, but I was very happy that I got to stay clothed."
That said, it should come as no surprise that the stone-faced admiral didn't join the "topless" beach scene. It wouldn't exactly be appropriate if he were out there playing sweaty, shirtless football with the significantly younger ranking pilots.
Part of why he happily skipped out on the scene might also have something to do with the process of getting in shape for the scene. Speaking to Esquire, Hamm said, "I was very, very happy to leave the shirtless parts to the younger generation."
Further along in the interview, Hamm also pointed out that he wouldn't have minded participating in some of the fight scenes, save for the gruesome practice the other actors had to go through. "The training the pilots went through is real," he added. "The rigors that your body has to go through just to be those aircraft are serious … so I was very happy that I didn't have to go through that."
Who else is in the 'Top Gun: Maverick' cast?
Other than Hamm, there are several other notable members in this cast. Of course, there's Cruise — who gave him a rather hearty welcome onto the set. And Val Kilmer, who also reprised his role of Tom Kazansky (Iceman).
There are also many other new cast members, including Miles Teller, who played Rooster, son of Goose (Maverick's former wingman). Additionally, Jennifer Connelly, Jay Ellis, Glen Powell, Manny Jacinto, and more star. The film has received such acclaim that some critics even deem it better than the original.
RELATED: 'Top Gun' vs. 'Top Gun: Maverick': Which Tom Cruise Movie Is Better?