Jordan Peele and Chelsea Peretti Quietly Eloped in 2016 and Had a Child the Next Year
Jordan Peele and Chelsea Peretti are one of comedy's golden couples. The pair have been married for six years and have managed to keep their personal life under wraps. The duo is so private about their lives that they quietly eloped in 2016 and had a child the following year. Here's what you need to know about the Peele-Peretti family.
Jordan Peele and Chelsea Peretti's relationship timeline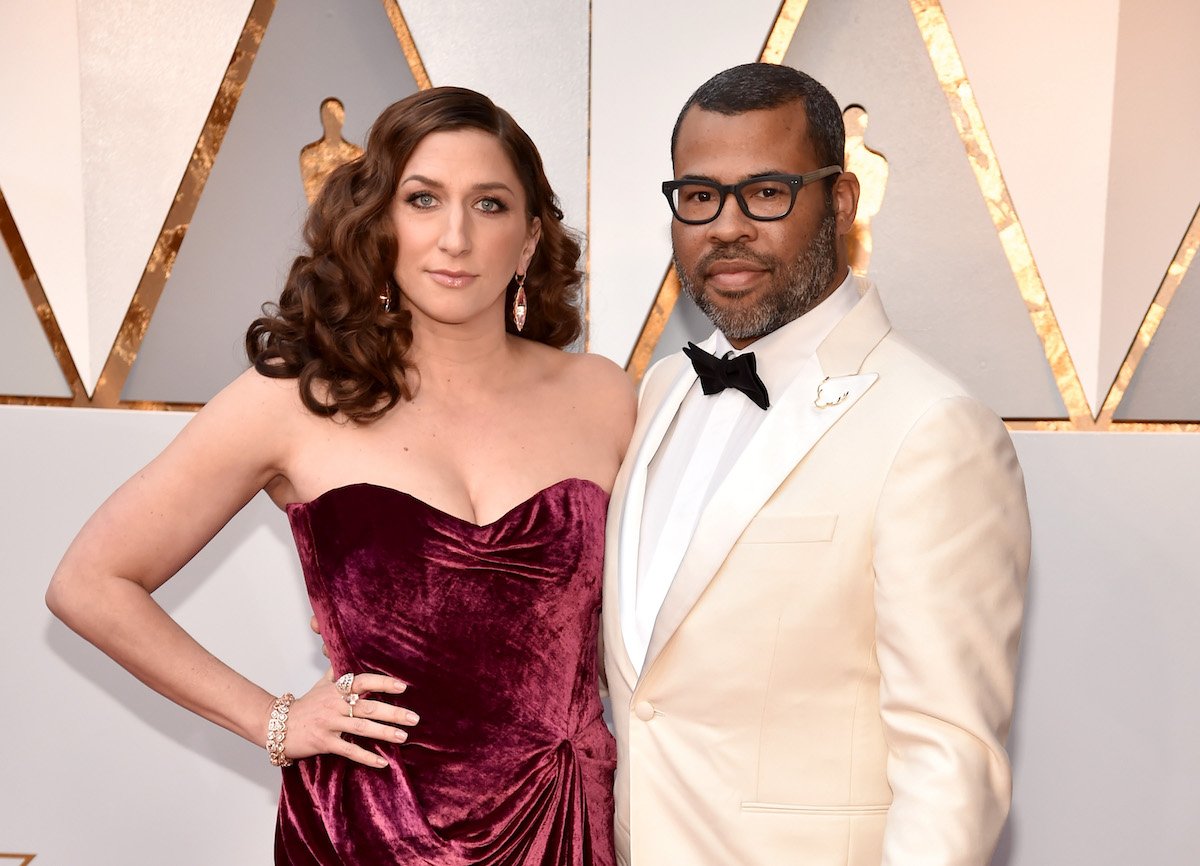 Peele and Peretti started dating in 2013 after they met via Twitter, reports Entertainment Weekly. According to Peretti, her husband was "very complimentary of the web series I once did," which seems like one of the best ways to start a conversation with someone, especially someone you admire.
The Brooklyn Nine-Nine star further stated that they planned to go to Sizzler for their first date, but it's unclear if they ended up going or opted for somewhere more intimate and private. For a while, rumors circulated that Peretti's Brooklyn Nine-Nine co-star Andy Samberg was the one who set up Peele and Peretti. But as the Gina Linetti portrayer noted, that's not how it went down.
Not much is known about their relationship before or after the revelation that they were dating. However, in 2015, Peele popped the big question. They kept the news to themselves, only sharing it on, appropriately enough, Twitter.
Peele and Peretti coordinated their announcements on Twitter, with Peretti giggling at the new reference of her lover. She wrote, "My fiancé (lololol) @JordanPeele proposed to me last night during the family talent show," finishing with two roses and a heart between each rose.
Peele's announcement was even less grand as he tagged her and accompanied her handle with a ring emoji. Simple, yet effective.
Jordan Peele and Chelsea Peretti eloped and quietly had a son the following year
Less than half a year after announcing their engagement, the pair got married — except no one even knew about it. According to Us, the news became public when Peretti posted an Instagram photo of her dog in a beach shirt beside a bouquet of flowers and a ring.
She captioned the photo, "Eloped a bit ago. Our only witness was this lil guy." The pair teased their marriage for a while, but since they are comedians, we are sure no one took it seriously. One instance of them heckling the world was when Peele was spotted wearing a band on his ring finger and later joked about it on Late Night With Seth Meyers.
He said, "I am married to Chelsea Peretti," to which his Key & Peele collaborator Keegan-Michael Key also said, "I am not married to actress Chelsea Peretti. We are just dating." Peretti and Peele also did some Booking.com ads about planning a destination wedding where they joked severally about their wedding.
Less than a year after announcing they'd walked down the aisle, Peretti shared a bump pic with her nearly 2 million Instagram followers. Peretti's pregnancy was also incorporated into her Brooklyn Nine-Nine storyline. The comedic duo welcomed their first child together, a son named Beaumont, in July 2017.
The couple's recent projects
Aside from the Booking.com ads, Peretti and Peele have yet to work together. Nonetheless, they have both had their hands full with projects. Peele has enjoyed success with his horror screenplays, including Get Out, which earned him several nods and awards. In 2021, he wrote and produced Candyman. Currently, the 43-year-old has two projects, Nope and Wendell & Wild, on the way.
On the other hand, Peretti appeared in The Great North and lent her voice to Sing 2, voicing Suki Lane. The 44-year-old has no known lined up projects for 2022. 
RELATED: Why Jordan Peele Quit Sketch Comedy Series 'MadTV' and Plotted Against Industry Executives