Josh Duggar's Wife, Anna, Is Still Getting Her Family 'Ready for Church' Despite Social Distancing
We've been keeping up with the Duggars for years, and of all of Jim Bob and Michelle Duggar's 19 kids, it's Josh who's made the most noise. Josh Duggar is the oldest of his siblings, and he was involved in sexual abuse allegations stemming back to the early 2000s. While the scandal came to the surface in 2015, fans of Counting On haven't forgotten. And it's put him and his wife, Anna Duggar, in a negative light.
Despite it all, Anna is still pressing on with her public Instagram. She frequently posts about what their six kids are up to despite the usual backlash. And since everyone's advised to practice social distancing in the time of coronavirus (COVID-19), she shared how her family is still getting "ready for church" even if they can't physically go.
The Duggars are an extremely religious family
Jim Bob and Michelle imposed extremely strict rules on their kids growing up, and it was all because of their religious guidelines. The Duggars are devout independent baptists. We've seen via 19 Kids and Counting and Counting On that this meant the men ruled the household, the adult kids participated in "courtships" rather than typical dates, and the women had to abide by a specific dress code.
Jim Bob and Michelle have also made it known they don't believe in birth control, which ultimately resulted in them having 19 children. They've said in the past that they believe God gave them as many kids as they're meant to have. While their kids are also religious, there's evidence that many of the adult Duggar children who have spouses and families of their own do appear to use some form of birth control.
As for Josh and Anna, we're not entirely sure. We know the couple values religion, and they have six children so far. We're not sure how many children they're planning on having in total.
There's evidence to suggest Josh and Anna Duggar aren't social distancing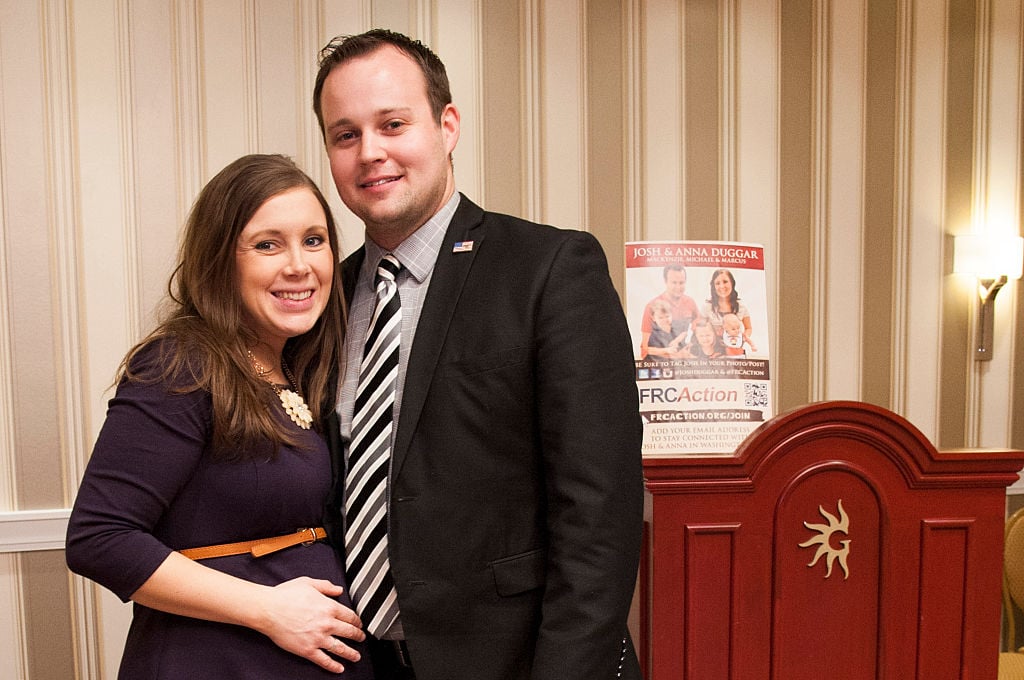 Many of the Duggars have posted about how they're practicing social distancing during these times. Jill Duggar shared a funny video about trying to find toilet paper, and Josiah Duggar's wife, Lauren, posted a recipe she adores. As for Josh and Anna, we're not exactly sure how they're coping — but it looks like they may still be visiting Jim Bob and Michelle's place for group gatherings.
Eagle-eyed Reddit users noted Anna posted photos to her Instagram Story of what seems to be a Duggar family night. Not only were many family members outside the large house invited over, but it looks like friends of the Duggars were also in attendance.
As one Reddit user wrote, "how long until she takes it down? something tells me the family won't be happy since they're pretending like they're complying."
Anna posted about getting all dressed up for church anyway
While Josh, Anna, and their children may be visiting the Duggar family home for some socializing, it looks like they're certainly not attending church. Even so, Anna posted a photo of all six of her kids dressed up and ready for Palm Sunday worship. And she noted the family dressed in their Sunday best to establish some normalcy for the day.
"Amid all the changes of the coronavirus pandemic it felt good to dress up and get ready for church!" Anna captioned her Instagram post. "Even though we livestreamed the service it felt a little more normal to be 'dressed for church.'"
It seems many of Anna's followers were supportive of her choice to dress up despite being unable to leave the home.
"Good idea to dress up, normalize this part of life right now," one follower wrote.
"Great idea Anna! We plan to dress up," another noted. "Cute outfits on the littles – rejoicing that Jesus is Risen indeed! COVID can't keep us down."
It looks like Anna will be dressing the kids up once again for Easter Sunday as well. We're looking forward to hearing more about this and learning how the Duggars are establishing normalcy during coronavirus.
Check out Showbiz Cheat Sheet on Facebook!