Josh Duggar's Wife, Anna, Just Said She Loves Joy-Anna Duggar's Marriage on Instagram
There's a lot going on when it comes to the Duggar family. Thanks to TLC's Counting On, we get to keep up with Jim Bob and Michelle Duggar along with many of their adult children. But the show doesn't feature everyone — and we can't forget that Josh Duggar, the most infamous of Jim Bob and Michelle's kids, is no longer allowed on the show due to scandals of the past.
While Josh does his best to stay out of the limelight, his wife, Anna, is still very present on social media. She often shares photos and commentary about her six children, and she also comments on other Duggar family members' Instagram photos.
Recently, Anna took to Joy-Anna Duggar's Instagram to tell her how much she adores Joy-Anna's marriage to husband Austin Forsyth. Here's what Anna wrote.
Josh Duggar is causing controversy after Homeland Security investigators visited his business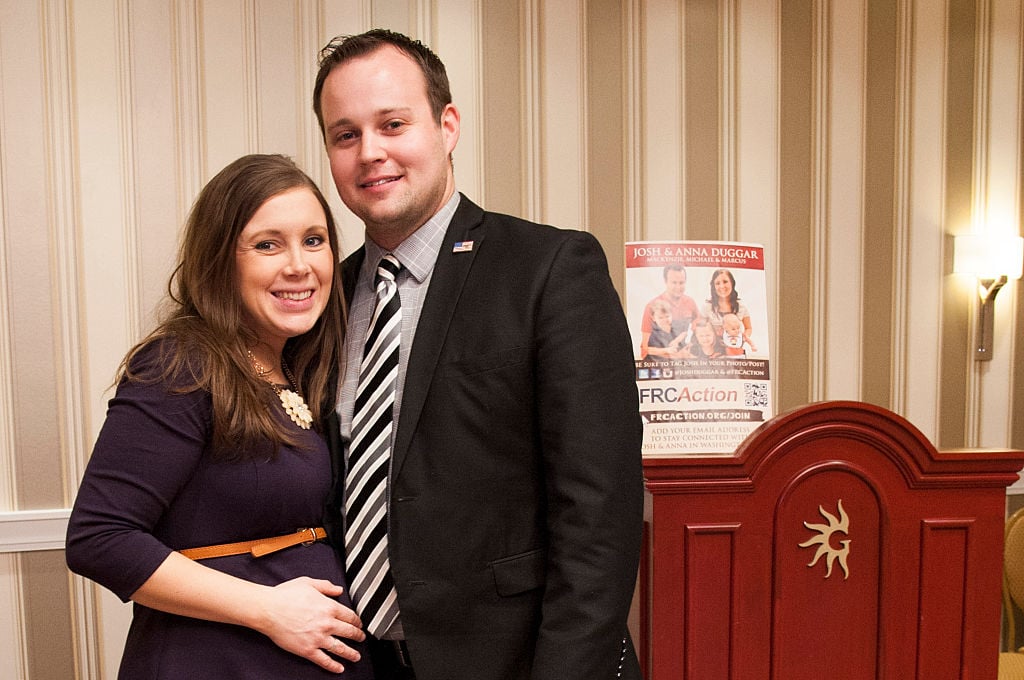 While Duggar followers likely know a little something about all of Jim Bob and Michelle's adult kids, Josh is certainly the most well-known and controversial. Back in 2015, he was accused of molesting five young women, two of whom are his sisters. The events allegedly occurred in 2002 and were brought to light over a decade later, which certainly caused marital strife between Josh and Anna, who married in 2008.
While the sexual abuse scandal broke in 2015, Josh hasn't been scandal-free since then. In late 2019, Fox News reports Homeland Security agents visited Josh's car dealership in Arkansas.
It's unclear exactly what was being investigated, but since it was Josh, it brought his past wrongdoings back into the light. And while the Duggars took to their family Instagram to state Homeland Security wasn't on their property, they failed to mention that it was Josh who was being investigated instead of the entire family.
Fans wonder if Josh and Anna have marital troubles
With so many eyes on Josh, it's suspected that his marriage to Anna could be suffering. However, they worked to rebuild their relationship and trust after the 2015 scandal. But that was far from the only hurdle the couple jumped. Josh also admitted to having accounts on the cheating website, Ashley Madison, and an addiction to pornography.
No matter what, Anna stayed by Josh's side. And the couple just welcomed their sixth baby together in November 2019, showing that they're still committed to each other and to growing their family.
But that doesn't mean it's all uphill from here. On Josh and Anna's wedding anniversary day, Anna posted a photo from the day they got married. And she included a caption about the "shadows of sorrow" she and Josh have walked through.
Anna just commented on Joy-Anna Duggar's seemingly happy marriage
We're not sure how often Anna sees her in-laws, but she does make a habit out of publicly commenting on their Instagram posts. And Anna recently wrote on Joy-Anna's photo of her with her husband, Austin Forsyth.
"The way you both adore each other is so sweet, you are such a beautiful couple!" Anna commented.
We're sure Anna is being genuine with her comment. But could it also showcase a sense of longing for a loving, easy-going marriage of her own? We're not sure — but Reddit users also saw the comment and noticed that Joy-Anna and Austin appear to be one of the most relaxed and happy couples on Counting On.
As one Reddit user said of Joy-Anna, "Her face is so relaxed compared to her sisters. It shows." It seems the same can't be said for Anna.
We're hoping Anna and Josh have improved their marriage greatly since 2015 and are very much in love as they care for their six kids. But time reveals all!
Check out Showbiz Cheat Sheet on Facebook!