Josh Duggar's Wife, Anna, May Have Told an Instagram Follower She's Letting Her Kids Go to College
It's not easy being one of Jim Bob and Michelle Duggar's kids. The famous parents brought their 19 children into the spotlight via shows like 19 Kids and Counting and Counting On. And now, we're keeping up with their adult kids and in-laws thanks to social media.
Josh Duggar's wife, Anna, has a very active Instagram presence. While her disgraced husband is well-known for his sexual abuse charges of the past (as well as his cheating scandals), she continues to post about her family for her followers. And a recent post of her son had one follower asking Anna if she'd allow her kids to follow their dream career path despite the strict rules the Duggars grew up with. Here's what she said.
Rumors suggest Josh Duggar controls his wife, Anna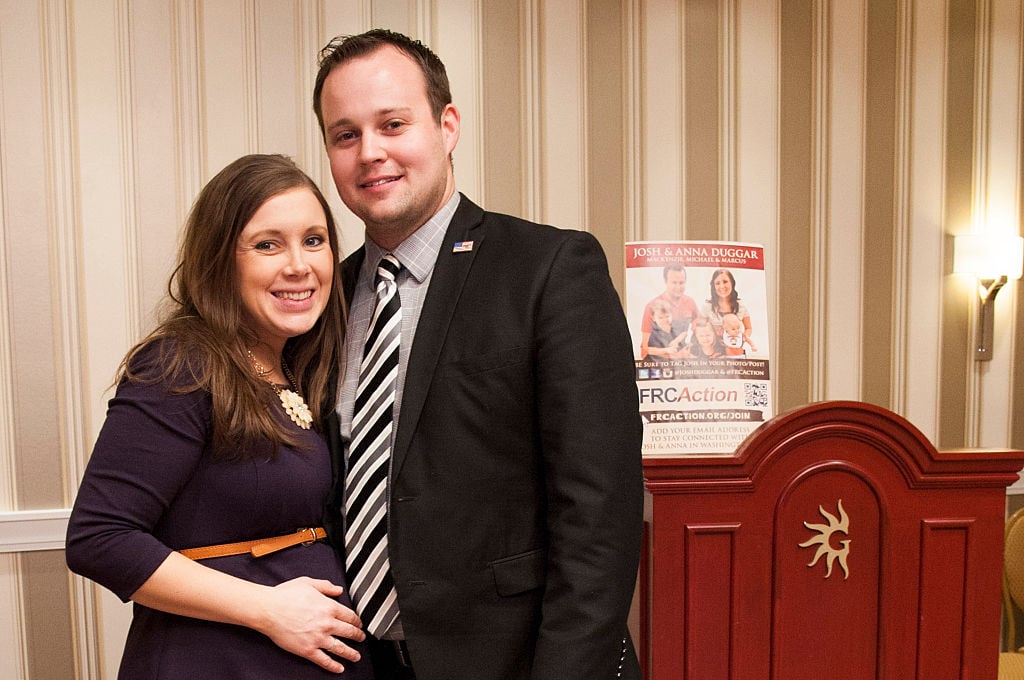 We're not completely sure what Josh and Anna Duggar's marriage is like, but there are plenty of rumors to suggest things aren't as happy as they appear. We know Josh and Anna have been married for over a decade, as they wed back in 2008. But Josh's scandals of the past have been tough on them both. In 2015, the media caught wind that Josh molested five young girls when he was a minor. And he also had multiple accounts on the cheating website Ashley Maddison.
Aside from Josh's scandals, Anna's followers have also shown concern for her wellbeing. Some reports claim since Josh is the man of the house, he's the one who controls where the money goes and what Anna's allowed to wear. And he also might be the one who controls how often she posts to social media and what she's allowed to put online.
Even if outsiders believe Anna is being controlled by Josh, she may not see it that way, though. We know the Duggars believe the man of the house is always the one in charge, and the women never seem to want this to change.
None of the Duggars have attended college
Anna Duggar posts about her six children a lot more often than she posts about Josh. And it has some followers wondering whether she'll allow her family to live a more progressive lifestyle than the Duggars. We know Jim Bob and Michelle's kids were all homeschooled and had strict rules regarding their dress code and dating life. And it appears Anna homeschools her children as well.
However, college might be a different story. While none of the Duggars have actually attended college, some of Jim Bob and Michelle's kids seem open to the idea.
Jill Duggar and Derick Dillard have been quite vocal when it comes to college for their two young sons. When a Twitter follower asked Dillard if he'd allow his kids to go to a university, Dillard replied, "Absolutely!"
Anna Duggar told an Instagram follower she's allowing her kids to follow their dreams
Anna Duggar posted a video of her 2-year-old son, Mason, to Instagram. And since the little boy is wearing a NASA suit, she commented on his "big dreams" in her caption.
"Mason is such an adorable little guy and he keeps us all entertained with his big dreams!" Anna wrote. "Mackynzie dressed him up in this little astronaut suit she wore back in 2012 when we visited the U.S. Space & Rocket Center in Huntsville, Alabama."
To that, her followers had questions.
"Will you let him follow his dreams, if in fact he does decide he'd like to be an astronaut?" one follower asked.
To that, Anna responded, "Absolutely!"
Since Josh and Anna seem to follow in Michelle and Jim Bob's footsteps, we'd love to see them encouraging their kids to go out on a limb and attend college for a prestigious career. For now, it looks like the controversial couple will continue to homeschool. But perhaps public schooling is in the future down the line!
Check out Showbiz Cheat Sheet on Facebook!