Josh Duggar's Wife, Anna, Said She's Letting Her Daughters Play With the Same Toys Her Sons Play With
There's a lot going on in for the Duggar family. Even those who don't keep up with TLC's Counting On are familiar with Josh Duggar's legacy, as his sex crimes and cheating scandals were made public in 2015. Now, Josh tends to stay out of the limelight when possible — but all eyes are on his wife, Anna Duggar, as she continues to post publicly to Instagram.
Anna and Josh have six children together, and she doesn't hesitate to share deeply personal aspects of her life on social media. She recently added photos of her children at Jim Bob and Michelle Duggar's big family home, too. And it seems she may be a lot more progressive than we think, as she mentioned to one of her Instagram followers that she allows her sons and daughters to play with the same toys.
The Duggars are known for abiding by sexist rules in their household
Since the early days of 19 Kids and Counting, Jim Bob and Michelle shared their household rules with viewers. The couple's family is heavily steeped in religion, and they require their daughters to wear modest clothing when growing up. This means they're to wear long skirts that hit below the knee and tops that covered the shoulders. The men's clothing rules are not nearly as strict, of course.
As for dating, the Duggar "courtship" process is also reportedly quite sexist. According to Romper, when the Duggar women decide to court, their potential partner must first be vetted through Jim Bob. But when the Duggar men court, it doesn't look like Jim Bob needs to approve of their girlfriends.
Not only that, but Michelle has also made comments to suggest Jim Bob is the "man" of the house and she's there to make sure all of his needs are met. While many of the older Duggar kids appear to live by more lenient rules now that they're off on their own, it's apparent the husband still rules the roost.
Josh Duggar's wife, Anna, might be going against the grain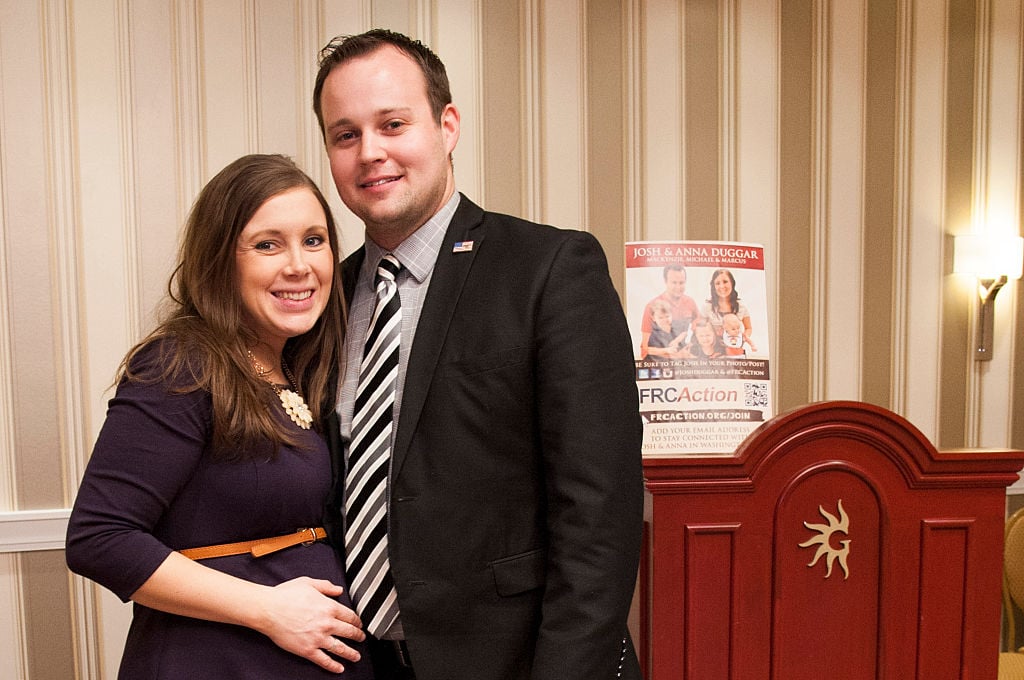 We've seen a number of Jim Bob and Michelle's kids take steps toward modernity. Jinger Duggar now lives in Los Angeles with her husband, and she wears plenty of stylish clothes she never would've worn as a kid. And Jessa and Jill also seem to embrace things they never had in the Duggar family home.
As for Josh, we're not sure if he's stuck in the mindset he grew up with. He and Anna appear to love children and might have as many as they believe God wills them to have, which is something Jim Bob and Michelle believe in. And Anna has also posted some serious anti-abortion views on her Instagram. But there's evidence to suggest she might be taking steps toward being more progressive, too.
Anna posted a video of her 2-year-old son, Mason, in an astronaut suit. And followers questioned whether she'd let him follow his dreams or not, as the Duggars don't typically go to college. Surprisingly, Anna told an Instagram follower who questioned her that she'd "absolutely" allow all of her kids to do whatever they want with their lives.
She told her Instagram followers she's letting her sons and daughters play with the same toys
Anna posted more controversial content to her Instagram on Feb. 9. She posted photos of her six children at Jim Bob and Michelle's home when she and Josh visited.
"Nerf-gun wars & legos have kept us entertained this weekend! Hope you're having as much fun as we are having at Pops & Lolli's house!" Anna captioned the post.
Her followers quickly took to Instagram to question her caption.
"Did the girls get to play too?" one follower asked.
To that, Anna said her daughters did get to play. And she added that her girls played with the same toys as the boys. "Yes! My girls played in the nerf wars yesterday, they are super competitive and have a good aim — so look out!!!" she said.
Not everyone was satisfied with Anna's response, though.
"Why didn't u put those pics up? Of the girls playing with the nerf guns. Instead we see the boys with the nerf n lego and the girls with of all things, carrying the baby," another follower mentioned.
Anna doesn't pay much attention to online hate. And we're happy to hear she's encouraging equality for her children, though she may have a long way to go before her followers truly accept her choices.
Check out Showbiz Cheat Sheet on Facebook!