Josiah and Lauren Duggar Called Jim Bob and Michelle Duggar 'Amazing People' Amid Derick Dillard's Scathing Claims
After Derick Dillard's scathing claims against the Duggar family, Lauren and Josiah Duggar took to Instagram to call JIm Bob and Michelle Duggar 'amazing.'
The Duggars have graced our TV screens for decades now, and it's all thanks to Jim Bob and Michelle Duggar. The conservative Christian couple brought their 19 kids into the spotlight. Now, it's their kids who are getting all the attention — and fans are deeply involved in the drama that's occurring within the family.
Jill Duggar and her husband, Derick Dillard, are no longer regularly featured on Counting On. And at the end of 2019, Dillard made some seriously scathing claims to his Instagram followers regarding Jill's family. While Josiah and Lauren Duggar have stayed out of the drama, they did post a photo to Instagram calling Jim Bob and Michelle "amazing" in their caption. Here's what went down.
Derick Dillard aired his grievances about the Duggars on Instagram
It's well-known that Dillard and Jill appear to be the black sheep of the Duggar family. While TLC claims the two were removed from Counting On due to Dillard publishing transphobic tweets, Dillard maintains that he and Jill left on their own accord. And In Touch Weekly reported on Dec. 27, 2019, all the new claims Dillard has against the Duggars.
One of Dillard's followers asked him if he and Jill ever see the Duggars. To that, he said, "it's just harder now because we're not allowed at the house when JB isn't there." Not only that, but Dillard then went on to add that "Jill even had to ask JB permission to go over to the house to help her sister when she was in labor because her sister wanted her help, but Jill couldn't provide the assistance until we got it cleared with JB."
As for exposing these truths, Dillard also maintains that he "hasn't trash talked," but rather "answered questions that others should know about us, so they're no longer deceived like we were."
Dillard also called Jill an 'abuse victim'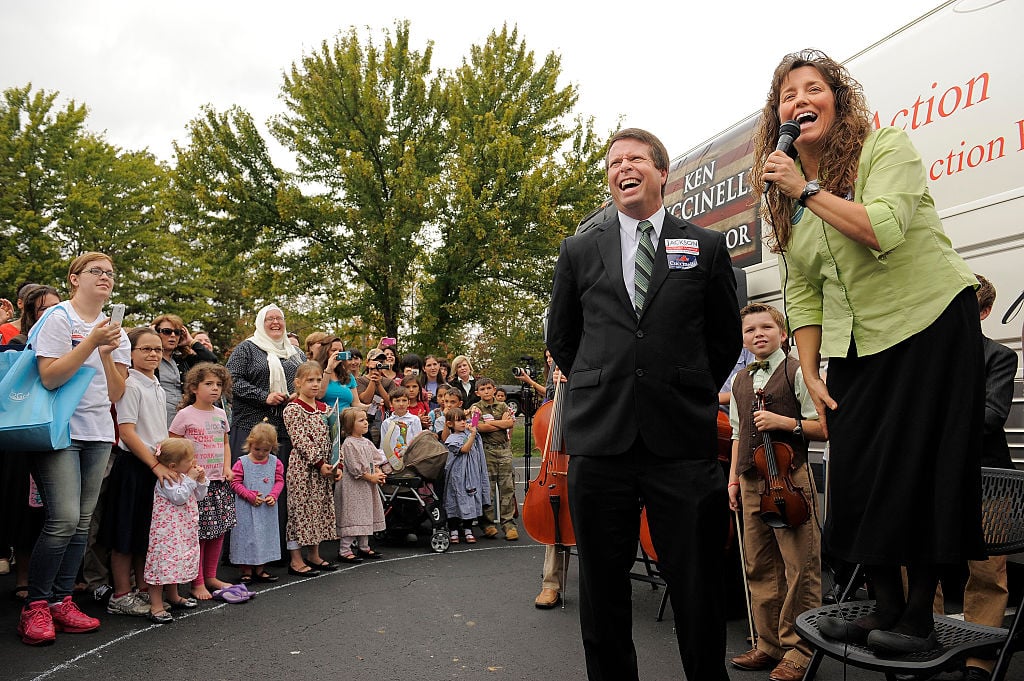 Dillard didn't just touch on the situation with the Duggar family home. He also called Jill an "abuse victim" when it came to filming for TLC.
According to Dillard, he and Jill didn't think they had a choice when it came to filming for TLC. But once they realized their rights, they knew they could defend a lawsuit against them if anything were to occur.
He stated, "It's not going to look good for TLC when it's exposed that they pressured an abuse victim to continue filming when we tried to quit, just so they could continue with Jill & Jessa: Counting On after 19K&C."
With the abuse quote, many could assume Dillard was talking about Josh Duggar's molestation. But there's also the possibility that he could be referring to other instances the public doesn't know about.
Josiah and Lauren Duggar called Jim Bob and Michelle Duggar 'amazing people'
No other Duggar family members are talking about the can of worms Dillard opened. But they may be giving subtle hints on Instagram regarding where they stand. Josiah and Lauren Duggar posted a photo of Jim Bob and Michelle holding their baby and added a sweet caption about them on Dec. 29.
"I am so grateful for these two amazing people right here! So grateful for their godly example they have set for their children and grandchildren. As you can tell by Bella's smile we love them so much!" the caption stated.
Jessa commented on the photo, too. "They're the best!" she added with heart-eyed emojis.
We're not exactly sure if the post from Josiah and Lauren was in response to anything Dillard claimed, but the timing does seem odd. Either way, Dillard also expressed on Instagram that no matter what's occurred between him and the Duggars, he still loves them. So we'll have to wait and see how it all pans out.
Check out Showbiz Cheat Sheet on Facebook!