Joss Whedon Said He Doesn't Take Notes From Anybody 'Not Even Robert Downey Jr.', According to Ray Fisher
Ray Fisher claimed writer Joss Whedon was unprofessional on the set of Justice League. He's speaking further about his experience working with the writer on how to handle his character, Cyborg. Fisher claims Whedon wasn't happy about being given notes and made a comment involving Robert Downey Jr.
Joss Whedon and Robert Downey Jr. have different methods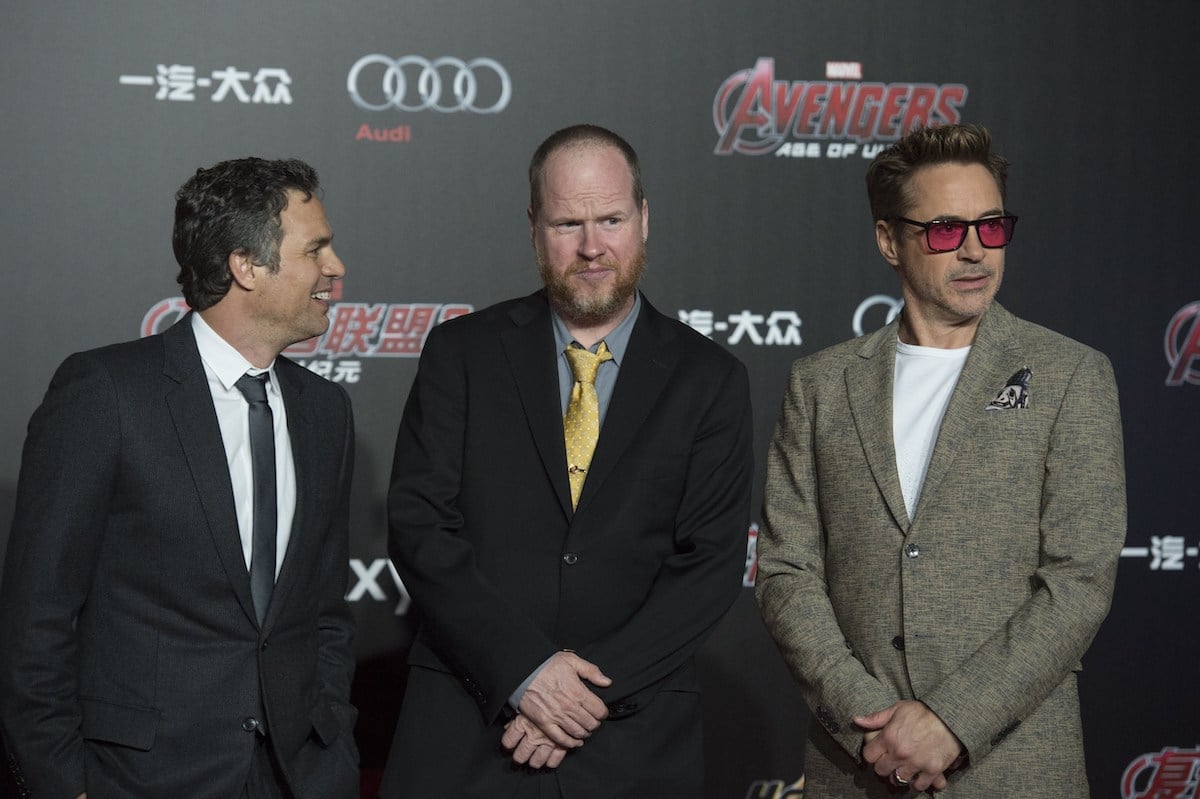 The writer joined the Marvel Cinematic Universe by writing The Avengers. He then later returned for Avengers: Age of Ultron to write and direct it.
It wasn't a secret that he and Downey Jr. work differently. Whedon told Yahoo! they have "very different methods."
"So Robert and I would spend — we worked specifically towards both of our processes so that we would beat out a scene so that he was very comfortable with where it was going or what was being said and very aware of where it would fit in the whole," Whedon said. "And I would give him stuff to say, and by and large, he would say it."
The director claimed there were times he'd let the actor give four or five options if Downey Jr. wanted to try something different in the scene. "He loves notes," Whedon said. "He loves to be guided and worked with. He is not trying to steamroller over me. He is really trying to create it side-by-side with me."
Joss Whedon reportedly said 'not even Robert Downey Jr.' can do this
Whedon changed the script of Justice League after director Zack Snyder left due to a family tragedy. Fisher claimed Whedon was inappropriate on the set in a tweet.
"Joss Wheadon's on-set treatment of the cast and crew of Justice League was gross, abusive, unprofessional, and completely unacceptable. He was enabled, in many ways, by Geoff Johns and Jon Berg. Accountability>Entertainment," he tweeted on July 1, 2020.
The actor talked more about his experience working with Whedon. He claimed the director told him in a meeting that "everything was changing," according to The Hollywood Reporter. Fisher received a new script where Cyborg's story was mostly removed. Whedon then sent an email asking for questions, comments or "fulsome praise."
Fisher said he had notes on issues with the representation of his character. He claimed the director told him, "It feels like I'm taking notes right now, and I don't like taking notes from anybody — not even Robert Downey Jr." The Hollywood Reporter claimed sources said Whedon was also dismissive of Gal Gadot (Wonder Woman) and Jason Momoa (Aquaman) when they questioned his writing. Whedon declined to comment on this report.
The actor claimed Geoff Johns, who was co-chairman of DC Films and a producer of Justice League, wanted to change Cyborg to be less of a Frankenstein character and more jovial like Quasimodo. Fisher didn't believe this was fitting for a character who was physically changed through trauma. In the end, Cyborg did have a smaller part due to Whedon's rewrites. 
The Snyder cut of the film has since been released showing the Cyborg backstory that was previously missing from the film. WarnerMedia claimed "remedial action" was taken after the company started an investigation in response to Fisher's claims.