Julianna Margulies Says She and George Clooney Had a 'Crush on Each Other' During 'ER'
Julianna Margulies joined the cast of ER in 1994. Her character was named Nurse Hathaway and she was on the show for six seasons. Margulies has fond memories of her time on the show, which also included fellow actor George Clooney who played Dr. Doug Ross.
Specifically, the pair had unrequited feelings for one another. Not surprisingly, the onscreen couple almost created a real-life relationship between the two performers. Let's take a look at the show and how it contributed to their secret crush.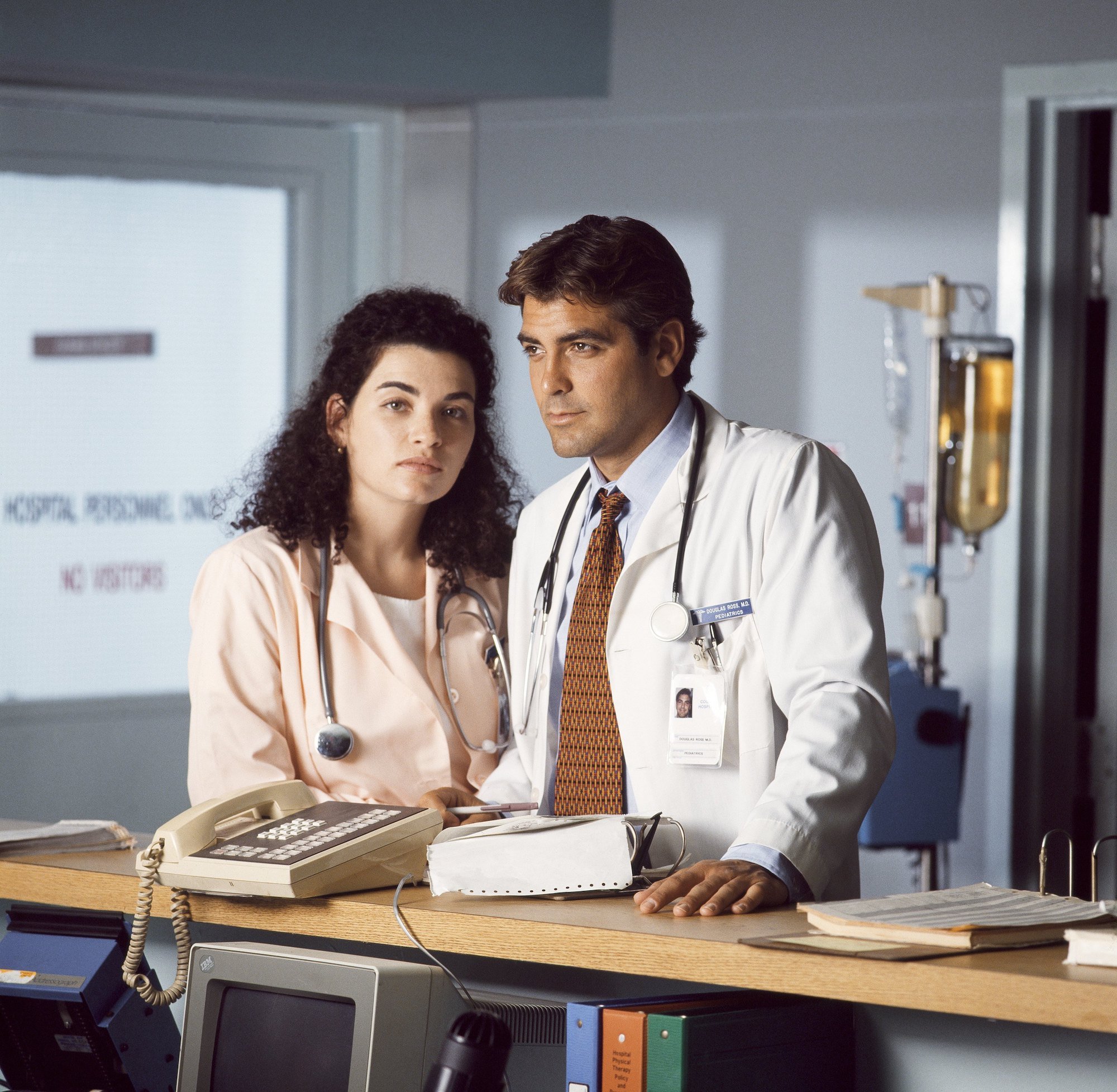 How it began
Julianna Margulies was originally supposed to be a guest character on the show ER. The actor was number 39 on the call sheet and was only supposed to be a guest on the show, but she and George Clooney had too good of chemistry:
"That can't happen if you don't have a crush on each other … and with George and me, it was so organic."
Her character was supposed to die shortly after her first appearance. However, when the actor became a permanent fixture on the show, she and co-star Clooney became close. Their respective characters on the show became romantically involved and their mutual admiration for each became even stronger.
Clooney becomes a mentor
Once Margulies became a permanent fixture on the show, she began to look to Clooney for inspiration and guidance. According to People Margulies states:
"I followed and watched how he conducted himself on the set. When you create an environment that people feel safe in, then you do your best work. And George taught me that … I felt so safe with him. I mean, I never thought, 'Well, why would I be in the bathtub and he's coming in?' I was like, 'Okay, I'll be in the bathtub. Yeah, great.'"
Margulies' career was started with a phone call
Margulies has said that it was because of Clooney that she stayed with the show and became a regular. He called her to let her know that there was a good chance they would keep her on and not kill off her character. He told her that if she stuck it out with the show and didn't take another job, she had a real shot at getting a recurring role on the show.
The gamble paid off thanks to Clooney and she ended up staying on the show for six seasons. It's no wonder the actor held Clooney in such high regard. He was partially responsible for launching her acting career.
Life after ER
Even though the two performers went their separate ways after the show ended, the two have stayed in touch over the years. When the two call or write to each other, they still call each other by their ER stage names Carol and Doug. Margulies recently wished Clooney a happy birthday the day before his 60th birthday. According to EOnline, she said:
"On this, your last day of being 50, I just want you to know that when you're 90, and you look back and see how young 60 was, you will curse the day you wasted time thinking you're getting older, or that you're too old. So also, what's your address? I want to send you my book.'"
In a different world, we might have seen the two romantically involved outside the script of the show. However, fate had other plans for the pair.
Even though we never got to see what that relationship may have looked like in real life, we can take solace in the fact that the two remained fast friends. For now, only time will tell what the future may hold for these former co-workers and lifelong friends.
RELATED: Watching 'ER' Might Have Actually Saved Real Lives, According to Science