Jungkook and V Become Cinderella and Prince Charming in Adorable 'Permission to Dance on Stage' Moment
Jungkook and V share plenty of similarities. They're both dog owners. They're both singers and dancers who appear in BTS. These close friends also shared a moment inspired by Disney's Cinderella during a Permission to Dance on Stage concert in Las Vegas. Here's what ARMYs are saying about the adorable interaction. 
BTS performed their Permission to Dance on Stage concerts in Las Vegas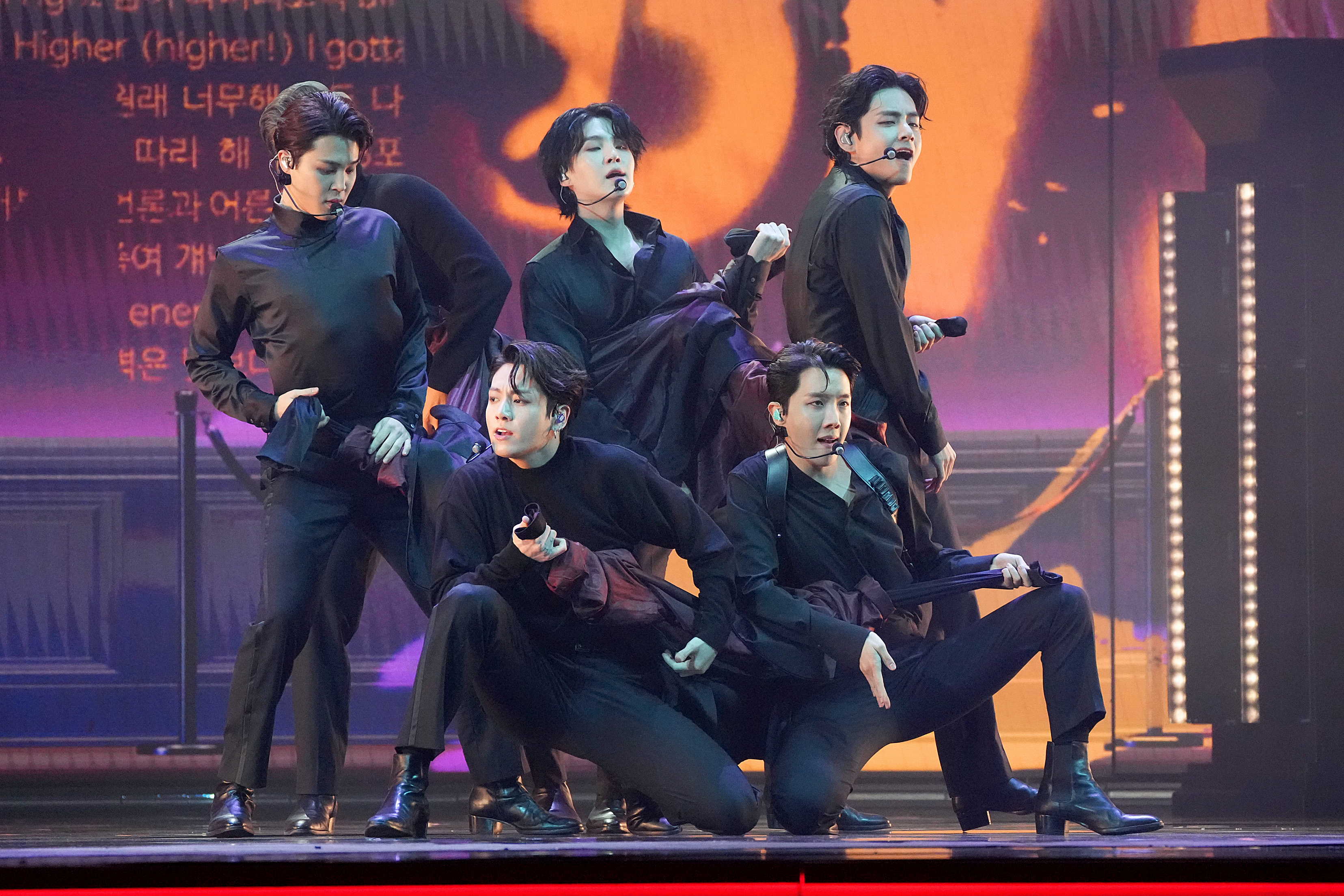 They're one of the world's biggest boy bands — and they don't need permission to dance. Hot off the heels of their Grammy performance, BTS appeared at Allegiant Stadium in Las Vegas, hosting the next batch of their Permission to Dance on Stage concerts. 
These performances included live versions of recently released songs, including "Butter," "Permission to Dance," and "Dynamite." 
All seven members appeared at the concerts. However, Jin performed a 'limited' version of the choreography due to an injury. For ARMYs who couldn't see the concert in person, there was also a live stream available for purchase. 
V and Jungkook were each others' Cinderella and Prince Charming at a Permission to Dance on Stage Las Vegas concert
The Permission to Dance on Stage concerts were filled with memorable moments, from RM cursing to Suga's butt wiggle. There was also an interaction between V and Jungkook during the Las Vegas residency. 
Toward the end of their concert, RM told the audience that he felt like Cinderella as Jungkook bent down and pretended to put on V's glass slipper. Later, the Cinderella/Prince Charming roles were reversed as V knelt to wipe off Jungkook's shoe. 
Of course, ARMYs took to social media, noting the adorable interaction and the friendship shared by these artists. "Cinderella" and "Taekook" became a trending topic worldwide, with over 50 thousand tweets dedicated to the Disney movie title.
As two members of BTS' vocal line (and two members of BTS' maknae line), it makes sense that these performers have a lot in common. For one interview, Jungkook even described V as his "commonality."
 Is V older than Jungkook?
Although V and Jungkook are part of the younger half of BTS, Jungkook is BTS' youngest member. He was born in 1997, while V was born in 1995. Jungkook earned his "Golden Maknae" nickname because of his age and seemingly limitless talent.
Along with Jimin and Jin, V and Jungkook are members of BTS' vocal line, recording and performing songs like "The Truth Untold" and "00:00 (Zero O'Clock)."
As with most BTS members, V released solo music and announced plans for an upcoming mixtape. Jungkook and Suga recently worked together for the 7FATES: CHAKHO soundtrack. One of V and Jungkook's latest projects is BTS' comeback, officially slated for June 10. 
Although BigHit Music officially announced the good news, fans know little about this upcoming production. In the meantime, fans can listen to already-released BTS songs on Spotify, Apple Music, and other streaming platforms.