'Jurassic Park': If It Weren't for Nicolas Cage, Laura Dern Wouldn't Have Starred as Ellie Sattler
So many pieces have to fall into place for a classic movie to come together. Take Jurassic Park, for example. Jeff Goldblum nearly lost his iconic role of Ian Malcolm in Steven Spielberg's 1993 blockbuster to a then-rising star. Likewise, Laura Dern almost missed out on Ellie Sattler. Without the intervention of Nicolas Cage, she might have passed on Jurassic Park.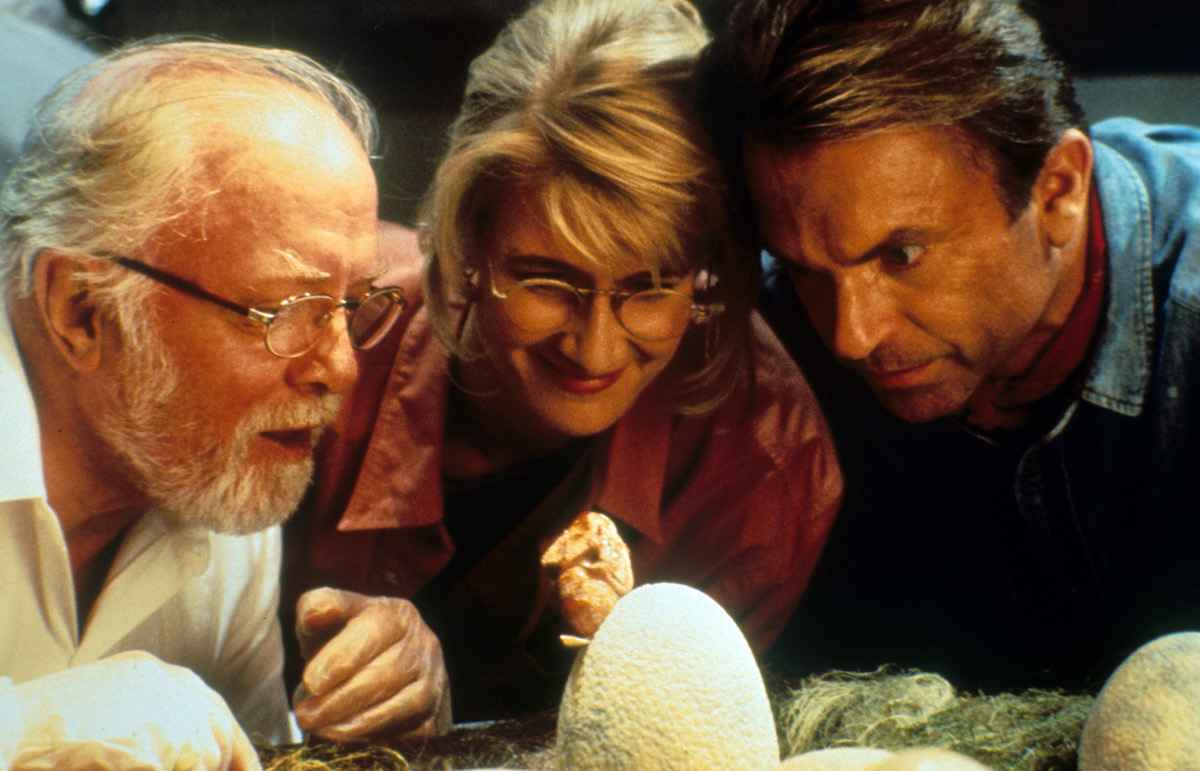 Laura Dern is an integral part of the 'Jurassic Park' cast
Like so many effects-driven movies, Jurassic Park resonates with audiences because of its characters. Fans are drawn to Sam Neill's ornery Alan Grant, Golblum's idiosyncratic Ian Malcolm, and Dern's compassionate Ellie Sattler. If any member of the Jurassic Park cast had changed, the film could have easily fallen flat emotionally. Or it could have been relegated to B-movie status.
But thankfully, Spielberg got those actors to join his dinosaur adventure. Dern was at a particularly interesting place in her career. The daughter of actors Bruce Dern and Diane Ladd, she'd already been acting since she was a child. And in the 1980s, she'd delivered standout performances in Blue Velvet and Wild at Heart. Dern had even received an Oscar nomination for 1991's Rambling Rose.
Nicolas Cage convinced her to answer Steven Spielberg's call
On the heels of this Oscar nod, Spielberg reached out to Dern for Jurassic Park. Until that point, the actor had never made a big-budget studio movie before. But Spielberg saw something in her. And Dern's Wild at Heart co-star Nicolas Cage encouraged her to pursue the role of Ellie Sattler, she told Entertainment Weekly (via The Wrap).
"I was talking with Nicolas Cage, and we had just done Wild at Heart together, and I said to him, 'Nic, they want to put me on the phone with Steven Spielberg, but they want to talk to me about a dinosaur movie… And he was like, 'You are doing a dinosaur movie! No one can ever say no to a dinosaur movie!' I was like, 'Really?' And he's like, 'Are you kidding? It's a dream of my life to do a movie with dinosaurs!' So he was such an ­influence on me."
To date, Cage still hasn't made a movie featuring dinosaurs. But he did once try to purchase an actual dinosaur skull, an effort that went poorly. But Jurassic Park fans can thank him for steering Dern toward the movie. As a result, it became one of her most famous roles.
Laura Dern reunites with former costars in 'Jurassic World 3'
Dern eventually returned for a small role in 2001's Jurassic Park III. But she's set to reprise Ellie Sattler again in 2022's Jurassic World: Dominion. The sixth film in the franchise will combine the cast of both the original three movies as well as the recent sequels for an epic tale.
Jurassic World leads Chris Pratt and Bryce Dallas Howard will co-star in the film. And Dern will reunite with Neill for the first time on screen in more than 20 years. Meanwhile, Dern and Goldblum will co-star for the first time since the original Jurassic Park.
Can fans count on another flirtatious moment between Ian and Ellie? Knowing the mathematician way with the ladies, it's probably likely. But Jurassic Park fans will have to wait until Jurassic World: Dominion hits theaters on June 10, 2022 to know for sure.