'Jurassic World: Camp Cretaceous': How the Netflix Series Fits with the Movies
When Jurassic World rebooted the Jurassic Park franchise in 2015, no one expected the movie to be as much of a phenomenon as it was. Colin Trevorrow's film kicked off an entirely new story, one which continued in 2018's Jurassic World: Fallen Kingdom. As fans await the third movie in this new trilogy, Jurassic World: Camp Cretaceous has kept fans engaged in the series. But how does it fit into the movies themselves?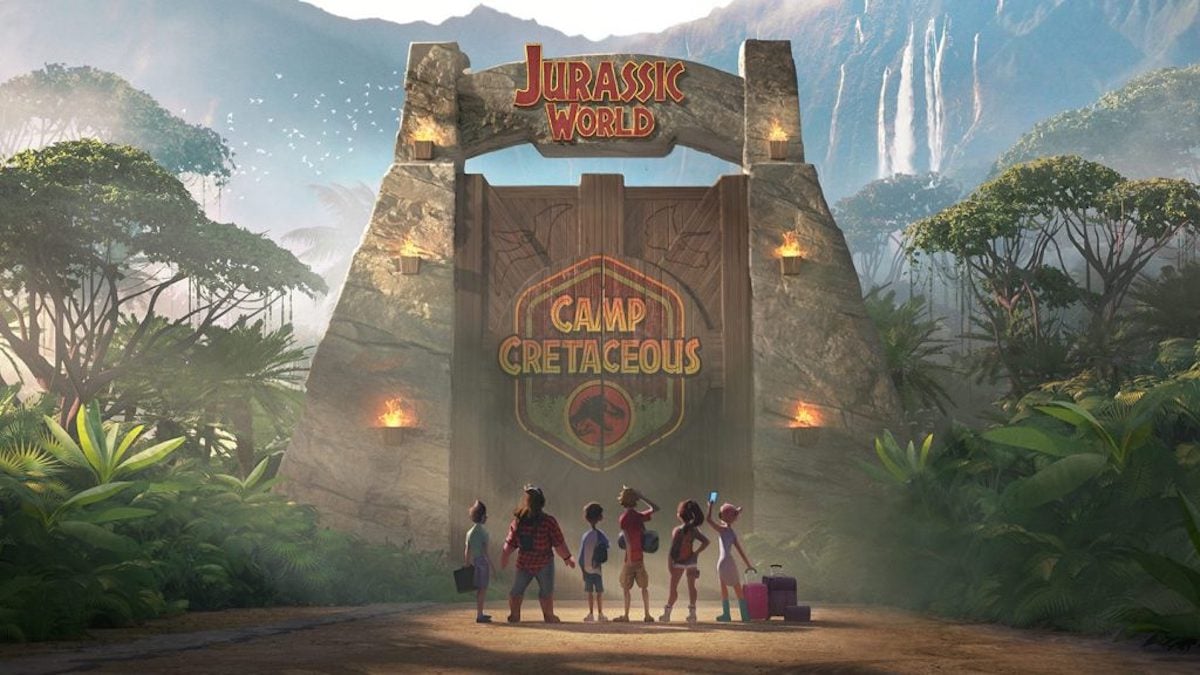 'Jurassic World 3' marks a turning point for the franchise
Whatever happens in Jurassic World 3 — now officially titled Jurassic World: Dominion — will be unexplored territory for the Jurassic Park franchise. Since the previous film ended with the dinosaurs roaming free, this sixth installment will take a closer look at how humans and dinosaurs struggle to co-exist.
Trevorrow is back as director after handing off the reins to J.A. Bayona for Fallen Kingdom. And moreover, the next movie will unite the cast of Steven Spielberg's original 1993 movie with that of the Jurassic World era. Sam Neill, Laura Dern, and Jeff Goldblum — who briefly appears in Fallen Kingdom — are all back this time.
RELATED: 'Jurassic Park': Jeff Goldblum Nearly Lost His Role to a Rising Comedy Star
Netflix hit 'Jurassic World: Camp Cretaceous' explores the untold stories
In 2020, Netflix launched Jurassic World: Camp Cretaceous. The animated series follows a group of teens who arrive on Isla Nublar for a dino-themed summer camp. But unfortunately, they face a ton of hungry dinosaurs instead. That's because the show's first season overlaps with the events of the first Jurassic World movie. In that film, all hell breaks loose when the hybrid dinosaur known as the Indominous Rex escapes containment. 
The Camp Cretaceous kids wind up stranded on the island by themselves, unsupervised and unprotected from its predatory inhabitants. In an interview with Entertainment Weekly, Trevorrow confirmed season 3 catches up roughly with the events of Fallen Kingdom, six months after the first film. Both Camp Cretaceous and the 2019 short film Battle at Big Rock kept the franchise alive in the lead-up to Jurassic World: Dominion.
RELATED: All the Original 'Jurassic Park' Stars Returning for 'Jurassic World 3' (So Far)
Will the 'Jurassic Park' movies end after the 2022 movie?
Even though Jurassic World: Dominion has a sense of finality to it, it's not the end. So fans shouldn't expect the dino-filled adventures to come to a screeching halt. Rather, producer Frank Marshall has already teased how the new movie signals "the start of a new era" for the series. However, it's unlikely every member of its ensemble cast will live on to fight another day.
Fans might start worrying whether Goldblum's beloved Ian Malcolm makes it out alive. But before he and the rest of the live-action characters return, there's a good chance the characters of Jurassic World: Camp Cretaceous will be back for season 4. Netflix hasn't confirmed that yet. But season 3 arrived just months after its announcement. For now, Jurassic World: Dominion roars its way into theaters on June 10, 2022.