'Jurassic World Dominion': Chris Pratt, Laura Dern, and Sam Neill Admit to Stealing Movie Props
Jurassic World Dominion actor Chris Pratt recently admitted to stealing some of his props from the movie set, but he isn't the only one. He asked co-stars Laura Dern and Sam Neill if they also took something from the set of the original Jurassic Park. They all took a little something special to keep with them forever.
'Jurassic World Dominion' concludes the trilogy with new and legacy characters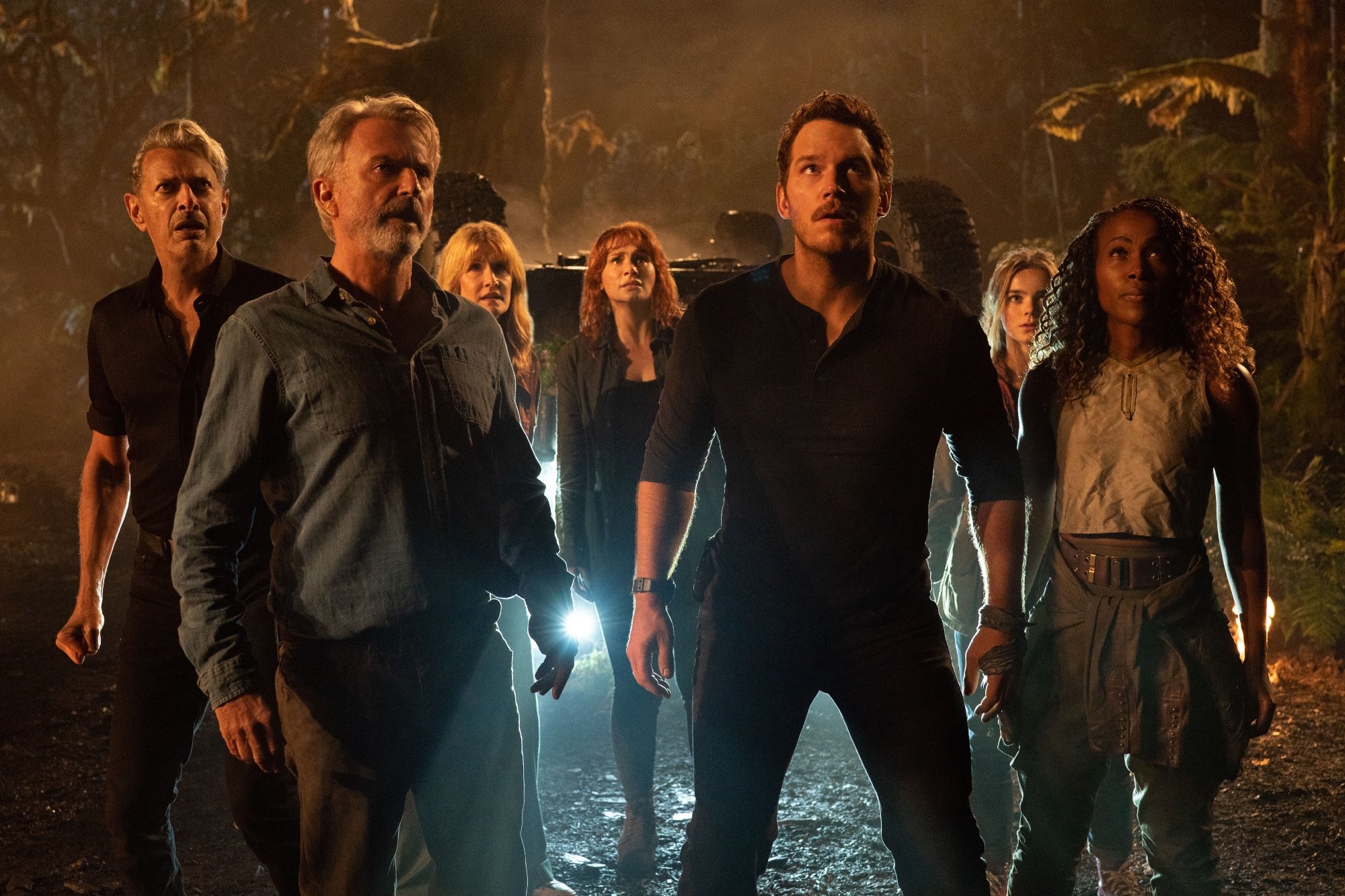 Jurassic World Dominion is the final installment in the trilogy, supposedly concluding the franchise. The first two installments are called Jurassic World and Jurassic World: Fallen Kingdom, which progressively increase the scope and scale. Now, the future of humankind hangs in the balance, while humans and dinosaurs attempt to coexist after the Isla Nublar's destruction.
Jurassic World Dominion sees the return of Owen Grady (Pratt) and Claire Dearing (Bryce Dallas Howard), but they're about to have a lot more help this time around. Dr. Ellie Sattler (Dern), Dr. Ian Malcolm (Jeff Goldblum), and Dr. Alan Grant (Neill) are working together to save the world from extinction. This allows the new characters to join the same universe as the legacy characters.
'Jurassic World Dominion' star Chris Pratt admits to stealing movie props
Pratt took to Facebook to talk about Jurassic World Dominion, but also to share what items he stole from the movie set. He certainly has quite the impressive collection from the dinosaur movie.
Pratt wrote: "Well, nobody asked me, but I'll tell ya right now that I took the raptor training clicker, my knife, my boots, the pants, the vest, my Isla Nublar ID, and a raptor tooth."
The video on the Jurassic World Dominion set showcases Pratt, Howard, Dern, and Neill talking about their experiences.
"This is actually the first time as a cast that we've all been together as an ensemble," Howard noted. "Legacy actors, new actors. I think you need to interview these guys."
Dern joked: "No, we just want to stand here while you talk about us, actually. Because I've never been called legacy anything, so I just like hearing it."
Pratt had a specific question for Dern and Neill: "Do you have memorabilia from the first movie that you took with you?" He clearly asked this because he took the aforementioned items.
"Wasn't really memorabilia, I liked the boots," Neill said. "They were comfortable. I kept the boots, I found them the other day. I found the original boots, I kicked dinosaurs with those things."
Finally, Dern showed off the ring on her finger to the camera. She exclaimed how beautiful it is and how Alan Grant gave it to her 25 years prior. Neill responded that it was the "last and only" romantic thing his character ever did.
Dern concluded: "And Laura Dern stole it from Jurassic Park."
The actor has a San Juan Islands farm with a lot of animals
TODAY explained how Pratt has a lot more impressive things on his property other than his movie props from Jurassic World Dominion and its predecessors. He has a San Juan Islands farm off the coast of Washington state. He has 160 sheep, 30 pigs, and 60 chickens.
Pratt didn't explain where he keeps his movie props, but it's fair to say that the actor gets reasonably sentimental about what he collects. He has this in common with Neill, who owns and operates the Two Paddocks Winery, where he has pigs, cattle, and sheep, among other animals.
RELATED: Sam Neill Recalled Princess Diana's Real-Time Reactions to the Original 'Jurassic Park'