'Just Shoot Me!': 2 of the Show's Stars Reunited in a Disney Movie During Its Run
In the 1990s, NBC was unstoppable. In particular, the network's "Must See TV" line-ups were reliable ratings earners. Along with Friends and Seinfeld, a number of other series contributed to NBC's success. One of the most underrated, according to some fans, however, was Just Shoot Me. The TV stars had such a rapport, in fact, that two of them reunited for a Disney animated movie during its run.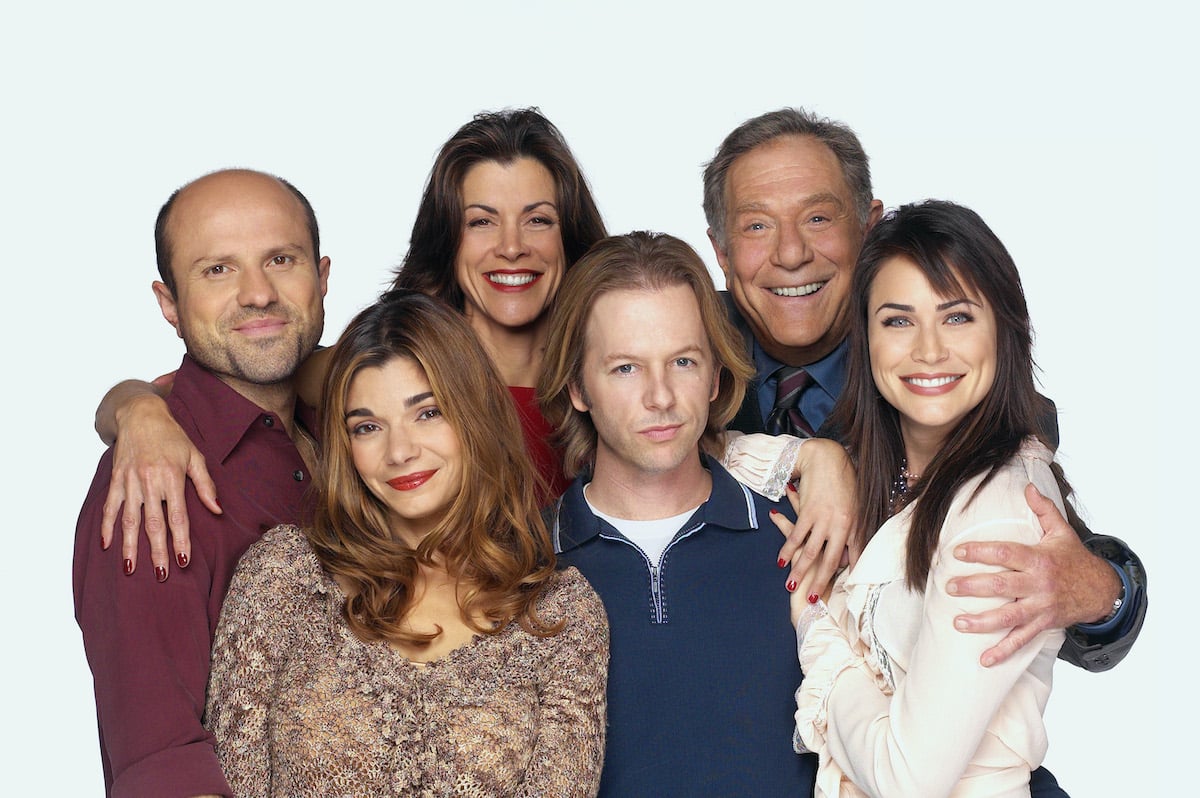 'Just Shoot Me' was an NBC hit for 7 seasons from 1997 to 2003
From 1997 to 2003, Just Shoot Me ran on NBC. The show is set at a fictional fashion magazine named Blush, focusing on the personal and professional lives of its staff. Its cast includes the eccentric publisher/owner of Blush (George Segal) and his daughter Maya (Laura San Giacomo). But it's the ensemble supporting cast who really made the biggest impact.
Although Enrico Colantoni stars as photographer Elliot, the other two members of the main cast arguably stole the show. Just a year after leaving Saturday Night Live, David Spade played the Blush secretary. And Wendie Malick co-starred as a former model who now serves as a correspondent for the magazine. Both Spade and Malick earned Emmy nominations for the show.
2 of the show's stars also reunited for an animated Disney movie
Spade and Malick also worked together on an unrelated project. Outside of Just Shoot Me, the actors co-starred in Disney's 2000 animated comedy The Emperor's New Groove. Spade voiced the arrogant Emperor Kuzco, who gets transformed into a llama during a botched assassination attempts. Kuzco winds up requiring the help of Pacha (John Goodman) to get home.
For her part, Malick plays Chicha, Pacha's wife. The no-nonsense character gives Malick a more wholesome part than the vain Nina she played on Just Shoot Me. Although The Emperor's New Groove wasn't the biggest hit upon its release, its reputation has grown over the years. Both Spade and Malick reprised their role for the 2005 direct-to-DVD sequel, Kronk's New Groove.
The two actors would reunite yet again when Spade guest appeared on Malick's hit sitcom, Hot in Cleveland, in 2012. But it was far from the last chance for fans to see a Just Shoot Me reunion of sorts.
The 'Just Shoot Me' cast caught up with each other in 2020
In 2020, Spade, Malick, and their co-stars all appeared in a sketch on Comedy Central's Lights Out with David Spade. The premise behind the segment features Spade as he attempt to mount a Just Shoot Me revival. Naturally, the sketch ends with a hilarious, unexpected twist.
The Just Shoot Me cast, however, teamed up again for a virtual reunion on YouTube. The virtual event marked the addition of all seven seasons to Hulu's streaming library. So far no actual reboot or revival of the NBC series is currently in the works. Of course, stranger things have happened.