'Just Shoot Me!': How 'Friends' and 'Seinfeld' Were Responsible for Making the Show Successful
Back in the '90s, Friends and Seinfeld were the stars of NBC's Thursday night lineup, along with a show called Just Shoot Me! The show went on for seven seasons and one of its stars, David Spade, has a theory about why it stayed on the air for so long.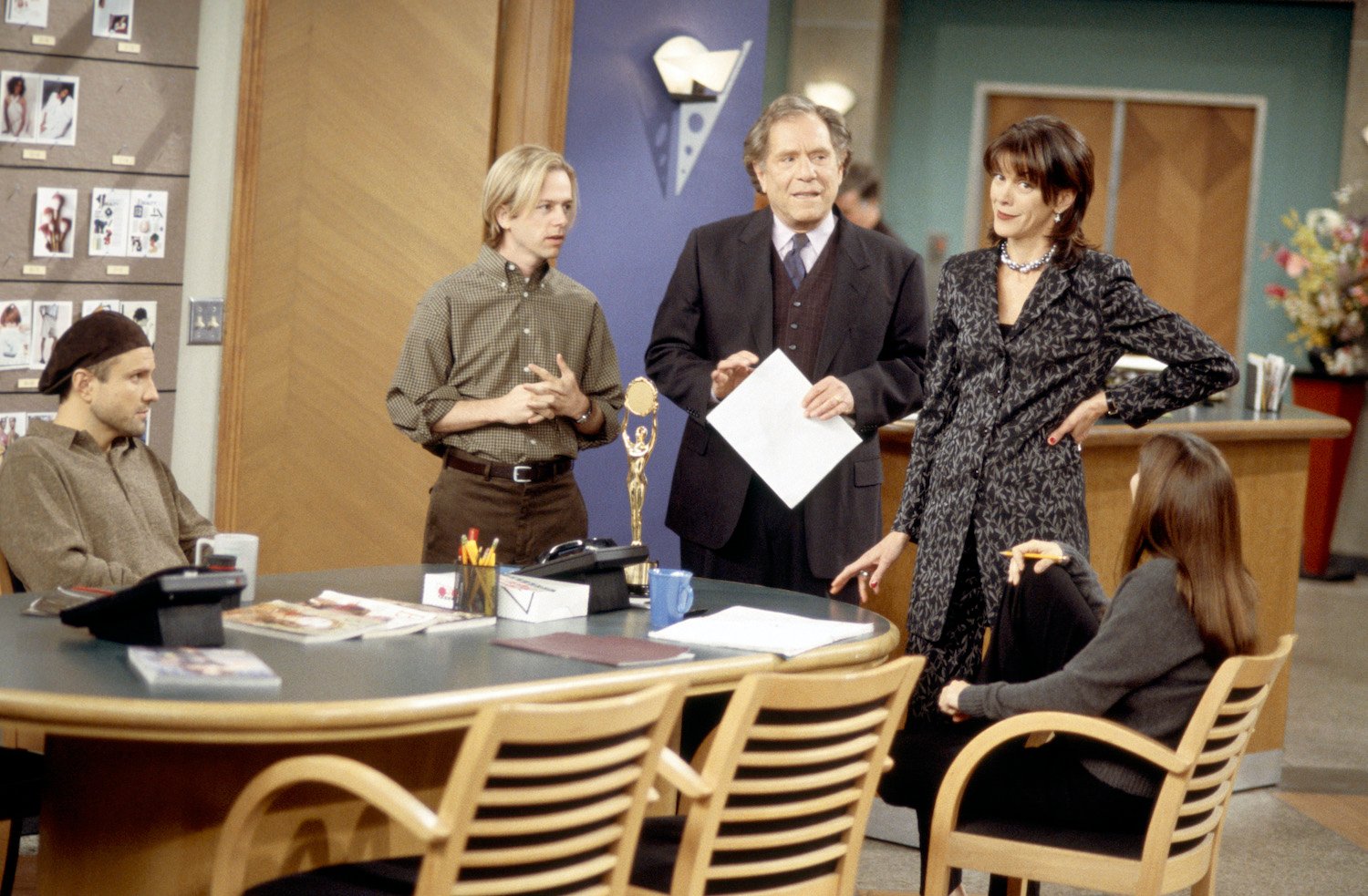 'Just Shoot Me!' was part of 'Must See TV'
There was a time when NBC dominated Thursday nights with a lineup in the '80s that included Cheers, Family Ties, The Cosby Show, Night Court, and A Different World.
In the early '90s, NBC started calling Thursdays "Must See TV." The shows of that decade included Seinfeld, Wings, Mad About You, and Frasier. In 1994, Friends joined the Thursday schedule and aired at 8 p.m. with Seinfeld airing at 9 p.m. Other shows would join the lineup, including Will & Grace, Scrubs, and Just Shoot Me!, all of which had successful runs.
Just Shoot Me! debuted in 1997 and moved around the schedule, landing between Friends and Seinfeld at one point. It moved to another night as Will & Grace took its place, but returned to the Thursday roster in 2000 when it followed Will & Grace. It later was moved to Tuesdays again.
David Spade thinks 'Just Shoot Me!' benefited from other hit NBC shows
During a 2020 Just Shoot Me! cast reunion, Spade shared how the show definitely was successful because it was surrounded by other hit shows on NBC.
"When we were up there on with Seinfeld and Friends and Frasier and Will & Grace … there were so many good shows on and we …  it made it harder to keep up because we had to be sharper and sharper," Spade explained.
"And I think that was good to have great shows around us because everyone got elevated so you wouldn't stand out as the crummy one," he added. "And then we stayed on the air and stayed on the air, and it was great."
David Spade wasn't originally cast as Dennis Finch
Spade and his Just Shoot Me! co-stars also shared how they were cast on the series and Spade's character, Dennis Finch, was originally played by another actor.
The show's creator, Steven Levitan, was interested in Spade for the role, with the plan to expand Finch into a main character. The former SNL star was reluctant about joining the cast, however.
"David didn't join easily," Levitan recalled, saying it took a number of meetings to sell him on it. "We wanted him but he wasn't sure … he didn't want to make the wrong choice."
Spade shared how he came on later and benefited from seeing the "four seasoned actors," allowing him to witness "an opportunity to be a part of that."
"It was fine without me, but if I jumped in then it would be just one more element to goof around," he added. "I was just sort of running in circles in the middle of it all."
Spade's Just Shoot Me! co-star George Segal shared how much Spade contributed to the ensemble cast. "[The show] was not together," Segal explained. "That show did not come together until David joined us. That was the spark that brought that show to life."