'Justice for Johnny' Courtroom Insider Observes Amber Heard Is Consistently Dressing Like Johnny Depp in Court [Exclusive]
Johnny Depp vs. Amber Heard courtroom insider said she's observed how Heard has dressed like Depp for days in court and believes it is a form of manipulation.
Is it a coincidence that Amber Heard shows up to court dressed almost exactly like ex-husband Johnny Depp? Or could her fashion choice be more of a trolling move, designed to gaslight Depp during their defamation trial?
Trial insider Danielle Dell'Olio, who is sitting in the courtroom every day did a double-take after witnessing Heard arrive at court dressed like Depp almost daily. Initially, she was unsure if Heard's move was something intentional. But Dell'Olio, who is also Justice for Johnny supporter told Showbiz Cheat Sheet Heard's latest appearance in court proves it is more deliberate.
Amber Heard is dressing like Johnny Depp in court
Dell'Olio believes Heard is trying to troll Depp by dressing like him in court. "We have an update. She did it today. So I actually just took screenshots. This was him before the weekend," she displayed a photo stored on her phone from Depp's Monday's court appearance.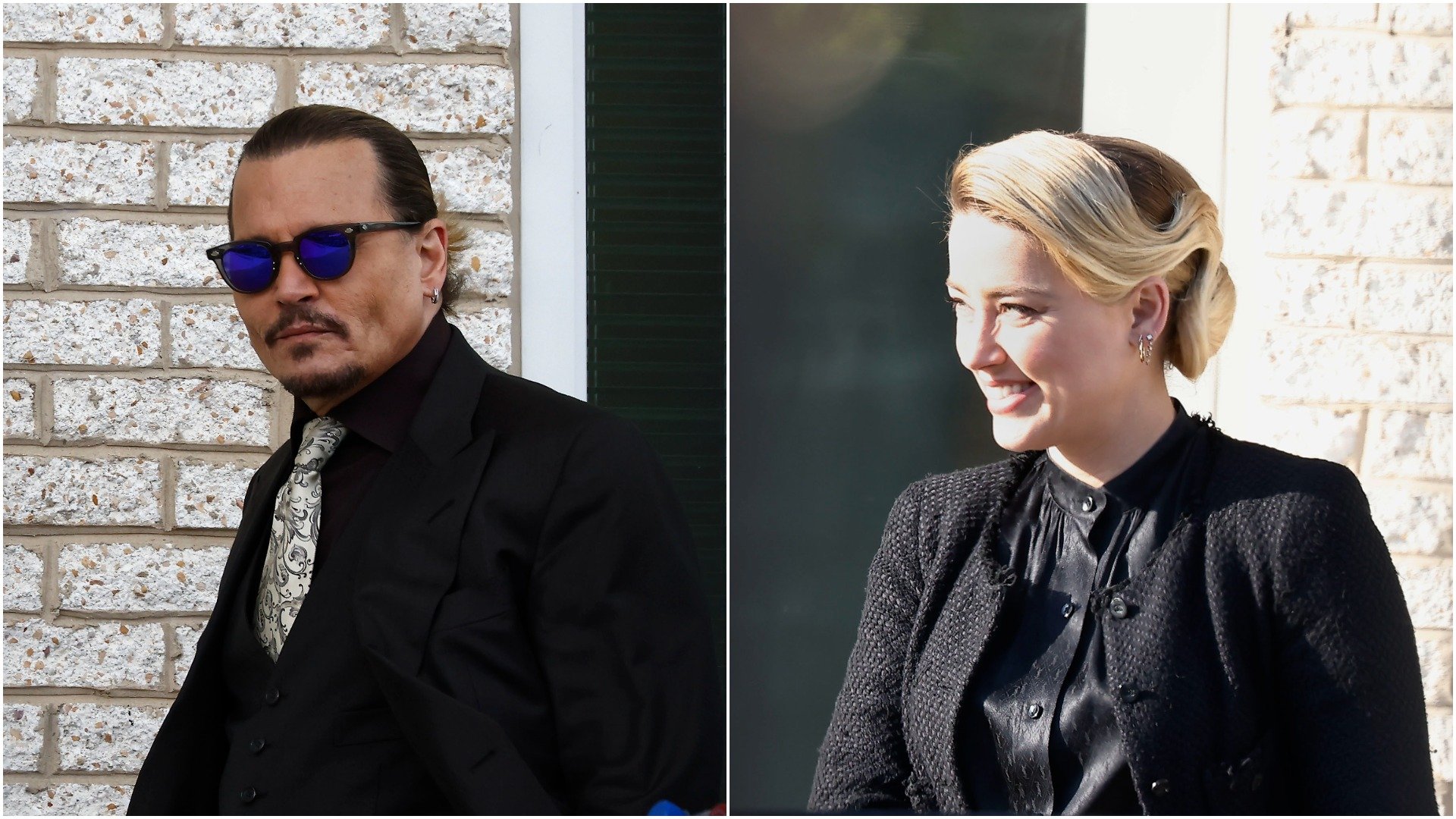 Depp wore a dark suit, white shirt, and a maroon tie. Dell'Olio noted the maroon tie Depp wore. His hair is slicked back in a tight ponytail. Dell'Olio then held up a photo of Heard. She also wore her hair up but in a braid. Heard wore a dark suit but instead of a tie, she partnered it with a maroon shirt. Also like Depp, Heard wore small hoop earrings.
Is she 'mirroring' Johnny Depp?
Dell'Olio is not a psychologist but could tell the mirrored dressing seemed weird. "So I didn't know until my followers told me on TikTok," she said. "They told me that it is something that abusers do. It's called mirroring and it's almost to mock their victim or to kind of make them feel crazy, like gaslight them. Like, is she dressing like me? Is that what's happening? Am I losing it or is that true? So they've said it's a real thing."
It's no secret that Depp and Heard had a toxic marriage and the couple described numerous explosive and violent moments during their few years together. After they divorced, Heard wrote an op-ed in the Washington Post, describing her abuse. She did not name Depp, but the implication damaged his career. He is suing her for $50 million.
If Heard is dressing like Depp on purpose she may be trying to manipulate him nonverbally. Two body language experts, who did not address the Depp vs. Heard trial, described mirroring as a form of manipulation.
"They could be mirroring you or matching you on purpose, trying to convince you that you have a singular and special bond that is only reinforced by how many things you have in common," Saba Harouni Lurie, LMFT and founder of Take Root Therapy told Insider. This form of manipulation can also be verbal and is designed to gain the other person's trust, making it harder for the person to leave or go against them.
Body language expert and author Patti Wood, M.A. told Bustle, "Matching and mirroring are normal behaviors for people that like and trust each other." And that narcissists will use this technique to create a connection.
Justice for Johnny observer shared the courtroom psychologist's observations about Amber Heard
Dell'Olio hopes Depp and Heard are receiving psychological support. "What I have found from looking through the court documents and text messages, everything else, I think Amber really believes the majority of her own narrative," she said. "The psychologist that they had last week, I think she was one of the most reliable sources that they've had on so far."
"[The psychologist] sat with Amber for over 12 hours talking with her, and she was there to evaluate Amber and she seemed super knowledgeable And she said that she would diagnose Amber with borderline personality disorder along with histrionic personality disorder, and everything kind of matched up," Dell'Olio added.
"And then Elaine [Bredehoft], Amber's lawyer got up and just totally tried to dismiss that," she recalled. "And this whole time, especially since seeing them both in person, I just hope Amber has gotten some sort of help. I mean, obviously, the two of them are broken people. We've known Johnny Depp's been broken for a long time. He had a very rough childhood."
"But I hope Amber is getting help because she's had a very rough childhood as well. It doesn't seem like she's healed from it," Dell'Olio shared. "It seems like she's still carrying a lot and it has been hard to listen to in court even the stuff about her. So when Elaine started to kind of dispel it, I was like, I hope that your lawyer is just doing it to win your case and that you were actually getting treatment for this because I'm a little concerned."
Dell'Olio provides continuing trial coverage on her podcast, Innocent Til Tipsy, and on her Tiktok.