'Justice for Johnny' and 'Free Britney' Movements: How Fans Can Impact and Reshape Legal Cases
The Justice for Johnny movement is helping to shape Johnny Depp's image in the court of public opinion, similar to the attention the Free Britney movement brought to the Britney Spears case.
Justice for Johnny supporter Danielle Dell'Olio slept only a few hours a night during the Johnny Depp vs. Amber Heard trial.
She needed to make the courtroom cattle call cut at the Virginia courthouse every morning, which meant getting in line around 2 a.m. But sleep deprivation was worth it because Dell'Olio studied the case for the last two years. And after reading the court documents, she was convinced Depp was not the abuser in the relationship.
"The reason I'm making my content is I want people not to just listen to me," she told Showbiz Cheat Sheet about her podcast and TikTok, which has 1.1 million followers.
"I usually link the court documents, especially in my podcast to what we're talking about," she continued. "I just want people to look at the court documents because I think if you look at the court documents, you know what happened between the couple."
Depp and Heard are embroiled in a multi-year, multi-case legal battle stemming from Heard's 2018 op-ed in the Washington Post where she recounted being abused. She didn't name Depp but it tarnished his reputation, sparking a British tabloid to refer to him as a wife-beater. He sued the tabloid and lost. Depp was dropped from the Pirates of the Caribbean franchise and lost other jobs. He's currently suing Heard for $50 million for the damage to his career, his family, and his name.
Justice for Johnny movement grew during the Johnny Depp trial
Dell'Olio and other Justice for Johnny supporters believe Depp is finally receiving the support he deserved. "Now he's won in the court of public opinion," she said. "And I feel very vindicated. I have been screaming about this for two years now, and a lot of people now are like, oh my gosh, I didn't realize all this stuff was going on. I can't believe she did this to him."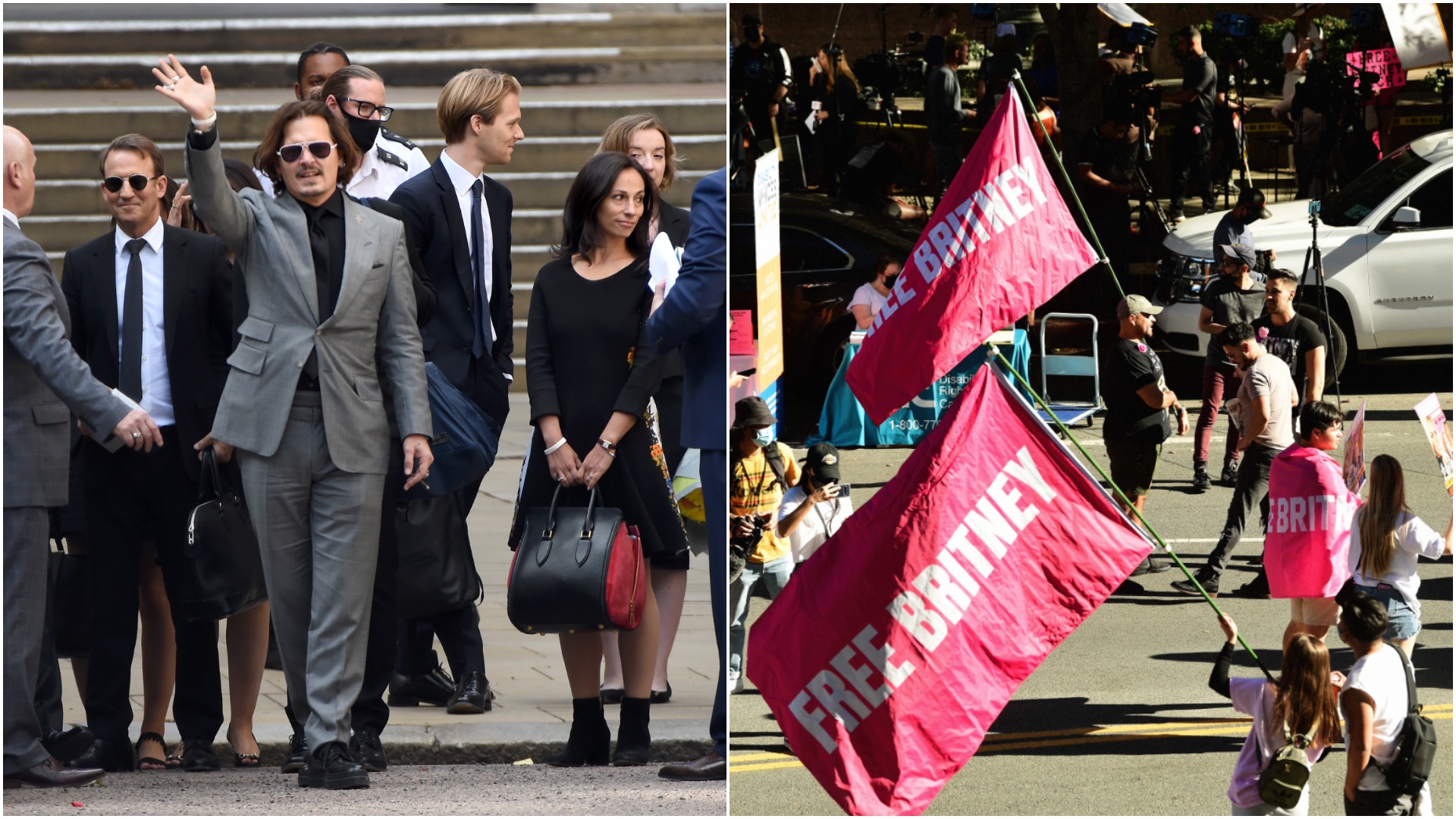 She's shared video, observing how the crowds outside the courtroom have swelled, becoming circus-like. "There was a Jack Sparrow impersonator [outside court]. I'd never seen anything like that until today," she laughed. The majority of the spectators came to support Depp, adding fuel to the Justice for Johnny movement.
"I will say this has been a super powerful experience to have here in Virginia. Because I've been told I'm crazy and I've been looking into this far too, too deeply," she said. "It definitely feels like he's getting somewhere and there will hopefully be some justice for him."
Justice for Johnny after Free Britney
The Justice for Johnny movement has some of the same underpinnings as Free Britney. Britney Spears fans organized to push for the singer to be released from a 13-year conservatorship. Fans rallied, made phone calls, and protested, demanding legal action be taken against Spear's father, who was her conservator. Spears was eventually released from the conservatorship when a judge found that her father mishandled finances and mistreated his daughter.
Dell'Olio said the power behind the Justice for Johnny movement has been compared to Free Britney. "I will say to be compared to the Free Britney movement is amazing," she said. "A lot of [Free Britney supporters] were on the Justice for Johnny side when we were doing all of this. So it's nice we've had some camaraderie with that group. So it's a good feeling to finally feel like you're being listened to it. I definitely understand what they were feeling at the beginning. You're like, I know I sound crazy, but there's all this evidence, I swear to you."
She has also connected with some of the Free Britney supporters on social media. "I retweeted a few of them, especially after Britney was freed. A lot of them were like, 'She's free. Now Justice for Johnny Depp.' Which was super nice to see," she said.
How did Free Britney impact the Britney Spears case and conservatorships?
Free Britney supporters gathered for years, which resulted in the game-changing documentary Framing Britney Spears. Legal movement in the Spears case gained traction after the documentary dropped. But once Spears was released from her conservatorship, lawmakers continued to examine the case, looking to enact changes to laws surrounding conservatorships. The Los Angeles Times reports that the California Legislature is proposing a change to better safeguard those in a conservatorship.
And while the Spears and Depp cases are completely different, they both have the element of activism through an injustice. Former MTV VJ and author Dave Holmes appeared in the Framing Britney Spears documentary and told Showbiz Cheat Sheet that efforts taken on Spears's behalf ripped the cover off of the case.
"When Jamie Spears said he was stepping back, I felt there was something sketchy about that," Holmes said. "Because yeah, because it's not like he just grew a conscience overnight. But now we know if they dissolve the conservatorship."
"And he's not required to submit the documents about it, that will make him look bad," he added. "So now it's like so he's been removed, but the conservatorship remains in place for like six more months or whatever so that it can be investigated. So yeah, I feel bad for her, obviously. But I also think his goose is cooked and that I don't feel too bad about that."
Is Justice for Johnny helping Johnny Depp's defamation case?
Dell'Olio said many of the Justice for Johnny supporters are passionate about the case because they are domestic abuse survivors and believe Depp is the one who was abused.
"For the most part, I will say the people that I've been surrounding myself with have been the other Justice for Johnny Depp creators," she said. "And they're mostly domestic violence survivors, including myself. So that's a case that we're super passionate about, especially since we're extremely hurt that Amber [Heard] has told so many lies."
"So it's something that has been really important to us, and we've just been really glad that after years of researching it, because I've been researching this case for over two years now, to be able to go in and visualize the people that we've been reading about. I mean, even his security guards, his sister," she said.
Does she think growing support will help him win the case? "I don't know if either of them will ever get another role in Hollywood again, but I do think it's looking good for Johnny in the sense that he's vindicated. And all of this, the six years of silence, he finally got to speak. And we'll see where it goes from here," she remarked.
Dell'Olio provides continuing trial coverage on her podcast, Innocent Til Tipsy, and on her Tiktok.
RELATED: 'Justice for Johnny' Courtroom Insider Observes Amber Heard Is Consistently Dressing Like Johnny Depp in Court [Exclusive]