Justin Bieber Got Upset When Ellen DeGeneres Asked About His 'Friend' He Brought on Vacation: 'Stop, You're Making Me Blush'
Those who follow Justin Bieber know he's had plenty of relationship drama. He's currently happily married to Hailey Baldwin, but prior to this, he was dating Selena Gomez for years. And he's talked to Ellen DeGeneres about all of his relationships on The Ellen DeGeneres Show.
Back in 2015, it seems Bieber was spotted with a "friend" while vacationing in Bora Bora. And DeGeneres seriously embarrassed him by calling him out. Here's what happened.
Ellen DeGeneres talked about Justin Bieber's nude paparazzi run-in
RELATED: Hailey Bieber's Custom Engagement Ring Set Justin Bieber Back $500k
Bieber is no stranger to DeGeneres' antics on The Ellen DeGeneres Show. Back in 2015, he visited the talk show, and his nude paparazzi incident was discussed. While Bieber was vacationing in Bora Bora, he was caught naked by the paparazzi, and the photo went viral.
"Let's talk about the paparazzi show in Bora Bora," DeGeneres started. And she then projected the image on the screen for all to see, though the nudity was blurred.
"So, you are obviously in a private bungalow. … How did you not see that there were paparazzi there?" DeGeneres questioned.
"I just didn't see them," Bieber admitted. "I think I wasn't really looking out for them either." He then noted that they were "definitely in a boat" hiding when the photo was taken. Just a few days after the photographers grabbed the shot, it was on the internet for the world to see.
"The first thing I saw was the censored one, and it had the black thing over it," Bieber further explained. "I was like, 'oh my goodness. I don't know what this is gonna look like.' And then it wasn't as bad as I thought it was gonna be."
DeGeneres made Bieber uncomfortable when asking him about the 'friend' he had at the time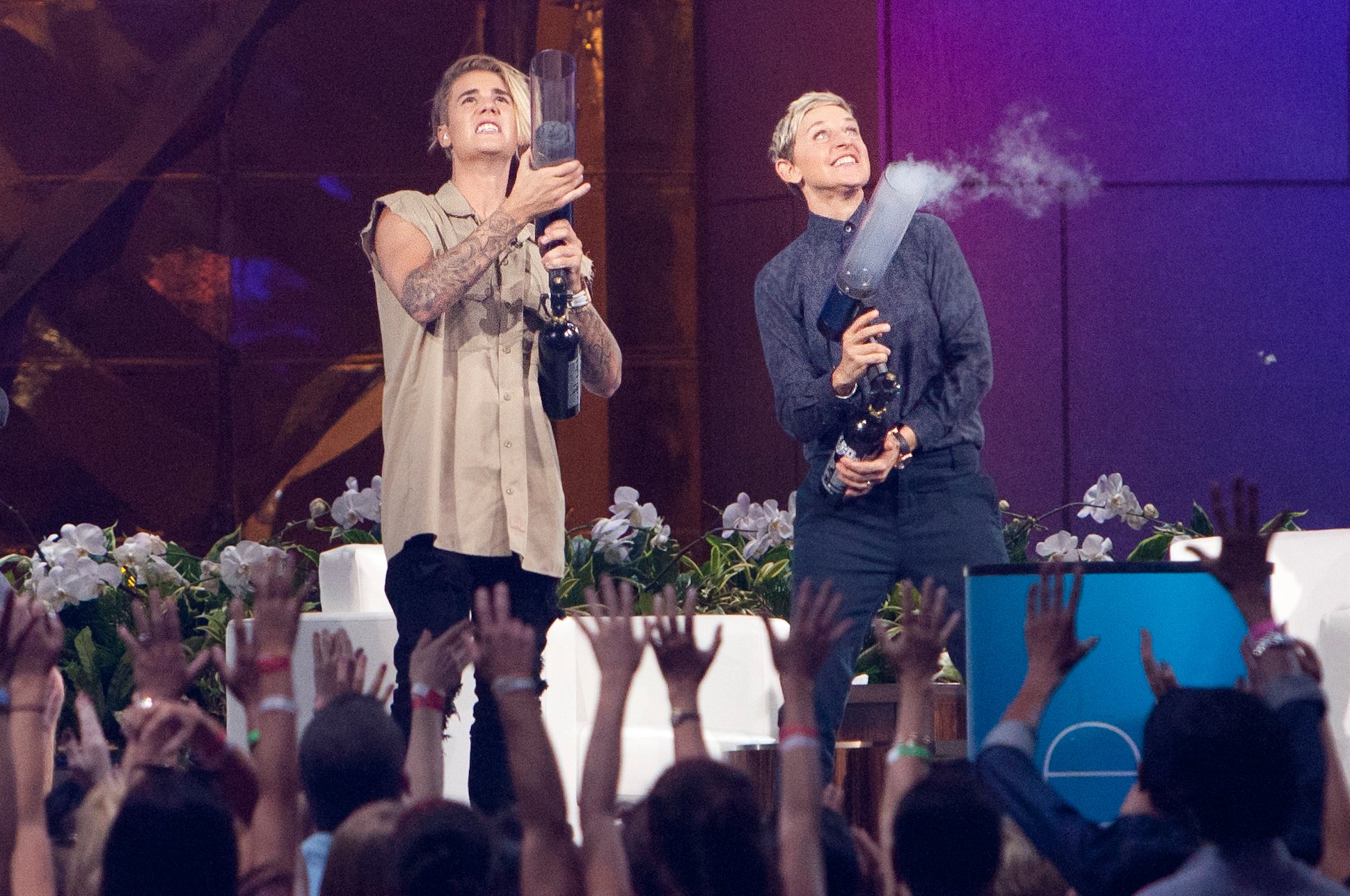 While the paparazzi incident didn't shame Bieber too much, DeGeneres continued the conversation by asking who was with Bieber in Bora Bora. The paparazzi shot clearly shows a woman in the background in a room that Bieber stayed in.
"So, there's a young woman in the background you can see in the bed," DeGeneres pointed out during the interview. "Is that your girlfriend?"
"No, it's not," Bieber quickly retorted. He then added it was "just a friend."
"You just brought a friend to Bora Bora?" DeGeneres asked incredulously. "And you're just naked with your friend?"
"Why are you putting me on the spot like this?" Bieber answered. And he doubled-down by adding that he was 100% single at this time.
"I have friends, I've never seen them naked like that," DeGeneres joked, causing Bieber to cover his face in shame.
"Stop," he added. "You're making me blush, dude."
This isn't the first time DeGeneres made Bieber blush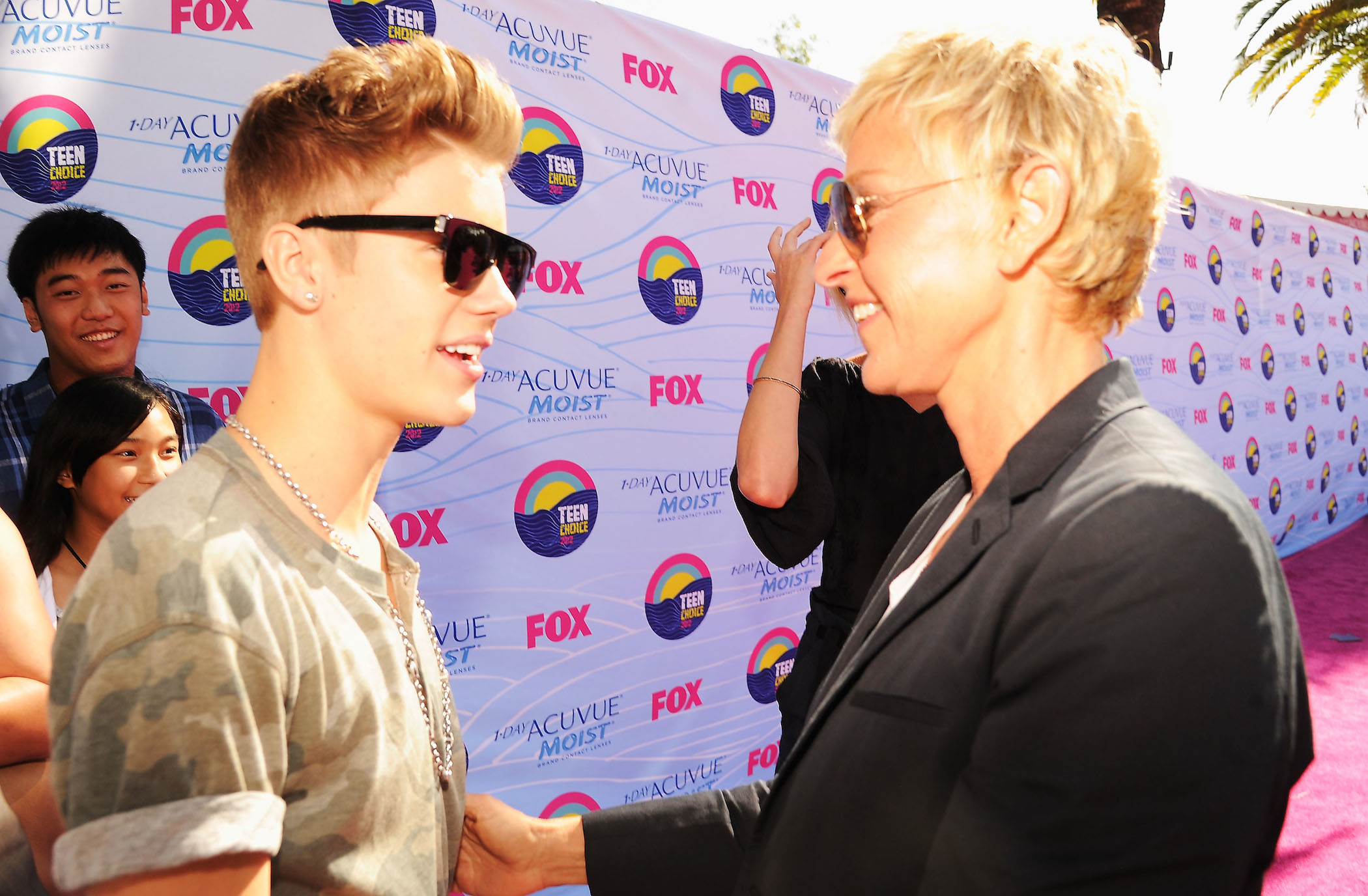 It seems Bieber might be an easy target for DeGeneres to make fun of. In January 2020, Bieber visited the show once again, and he and DeGeneres discussed his relationship with his wife and his hit song, "Yummy." While talking about "Yummy," DeGeneres then went on to embarrass Bieber by asking what the song's really about.
"So, here's what I want to ask. 'Yummy' — what does that mean exactly?" DeGeneres asked. "I mean, I think I know. But what were you thinking of when you wrote that 'yummy, yummy.'"
To that, Bieber answered, "My sex life."
"That's what I thought it was," DeGeneres confirmed. "Because there's something about toes curling and stuff."
"Yeah, I mean, it is what it is, right?" Justin added. "I'm married, you know? So." After more conversation, he then took a dramatic sip of water and added, "It is getting hot in here?"
We're sure Bieber will visit DeGeneres' show in the future and likely get embarrassed again when the time comes.
Check out Showbiz Cheat Sheet on Facebook!