Justin Bieber and Shawn Mendes: Inside Their Feud Over Hailey Bieber
Most fans are aware that Justin Bieber and Hailey Bieber have been married for three years. But they might not remember that Hailey was romantically linked to Shawn Mendes just before she married Justin, or that Justin and Shawn had some beef.
Here are the details of Justin Bieber and Shawn Mendes' feud over Hailey Bieber and where they stand today. 
Justin Bieber threw shade at Shawn Mendes back in 2015
Bieber fired the first shots at Mendes when he claimed not to know who the "Stitches" singer was in 2015. 
Mendes had released his 2014 self-titled EP and 2015 debut album Handwritten, and he was making a name for himself in the music industry. Since they are both young, good-looking, Canadian solo artists, many fans and media outlets frequently compared Bieber and Mendes. 
But despite their similarities, Bieber insisted he didn't know who Mendes was during an interview with USA Today.
"Who's Shawn Mendes?" Justin famously said when asked about his fellow artist. It's unclear whether Bieber was intentionally throwing shade or if he genuinely didn't know who Mendes was (although the latter is unlikely, especially considering their many similarities and comparisons).
We already know Bieber is a sass-master based on his comments about The Weeknd. While Bieber's ex Selena Gomez was dating The Weeknd (yet another Canadian singer), TMZ asked him about The Weeknd's music. "Hell no, I can't listen to a Weeknd song. That s—'s wack," Justin quipped. 
But by October 2016, Bieber had figured out who Mendes was (or decided to admit he knew him) when he tweeted, "Shawn Mendes voice makes me smile. Truly a gift to be able to move peoples emotions through songs!So proud of you brother!Great album!" Mendes tweeted back, "Ah man! Thank you SO much!!! Truly thank you!"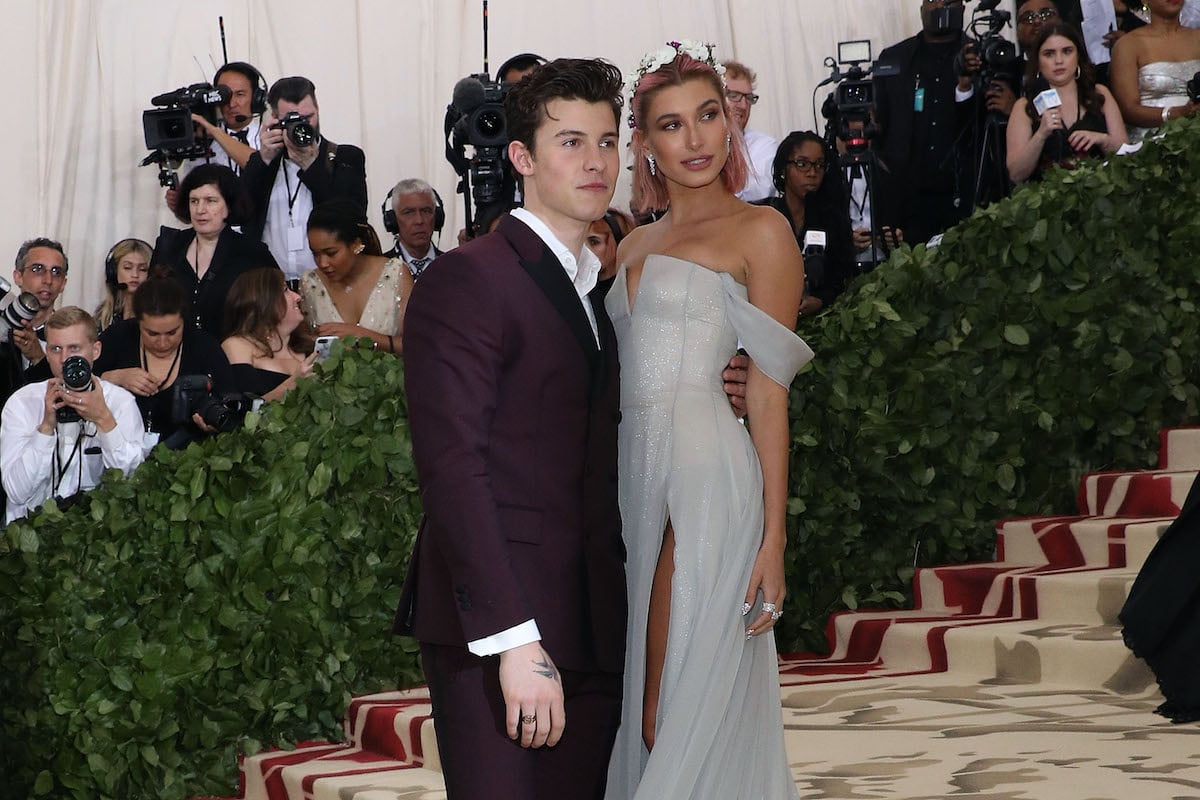 Hailey Bieber reunited with the "Baby" singer immediately after attending the Met Gala with Shawn Mendes
Hailey Bieber (née Baldwin) first dated Justin Bieber in 2016. In a 2019 interview with Vogue, Hailey revealed that their first attempt at a relationship did not end well. "Negative things happened that we still need to talk about and work through," she said. "Fizzled would not be the right word. It was more like a very dramatic excommunication. There was a period where if I walked into a room, he would walk out."
After her 2016 romance with Bieber ended badly, Hailey kept quiet about her dating life. In 2018, she was linked to Shawn Mendes after being photographed with him frequently, even spending time with him in Canada. They attended the 2018 Met Gala together and looked very much like a couple. 
But just a month after the Met Gala, Hailey reconciled with Justin Bieber. Bieber had just broken up with Selena Gomez, his on-and-off girlfriend for years, again. Justin and Hailey got married just a few months later. Mendes confirmed his relationship with singer Camila Cabello in 2019.
Mendes spoke about hearing the news of Hailey's engagement. "I texted Hailey the day of and I said congrats, and yeah, that's what it is," Mendes said (via BuzzFeed). "I think everybody wants there to be more … there's not."
Justin Bieber and the "Señorita" singer collaborated on a song together in 2020
Since the battle for Hailey's heart ended (with her husband Justin as the clear winner), it appears that Mendes and Bieber have squashed their beef. The two musicians collaborated on the 2020 song "Monster" and its accompanying music video, in which they sing about the pressures of fame. 
But they don't appear to be close friends, and they had a rather awkward encounter at the 2021 Met Gala. Justin and Hailey Bieber celebrated their anniversary at the star-studded event, and Mendes attended with Cabello, whom he had been dating for two years.
In a video shot for Vanity Fair, the two couples ran into each other and exchanged strained small talk. Mendes barely acknowledged Hailey, while Justin commented on Mendes' shirtless body. Mendes and Cabello broke up two months later.