Kacey Musgraves and Selena Quintanilla Did 1 Similar Thing With Their Music, The Country Singer Said
Kacey Musgraves and Selena Quintanilla both redefined their genres of music.
Kacey Musgraves is known for making country music into her own thing. While it is definitely still within that genre, for the most part, it's very much not traditional country music. And one of her biggest inspirations, Selena, the famous Tejano singer who died tragically in 1995, did something very similar. 
Alongside Dolly Parton, Kacey Musgraves grew up with Selena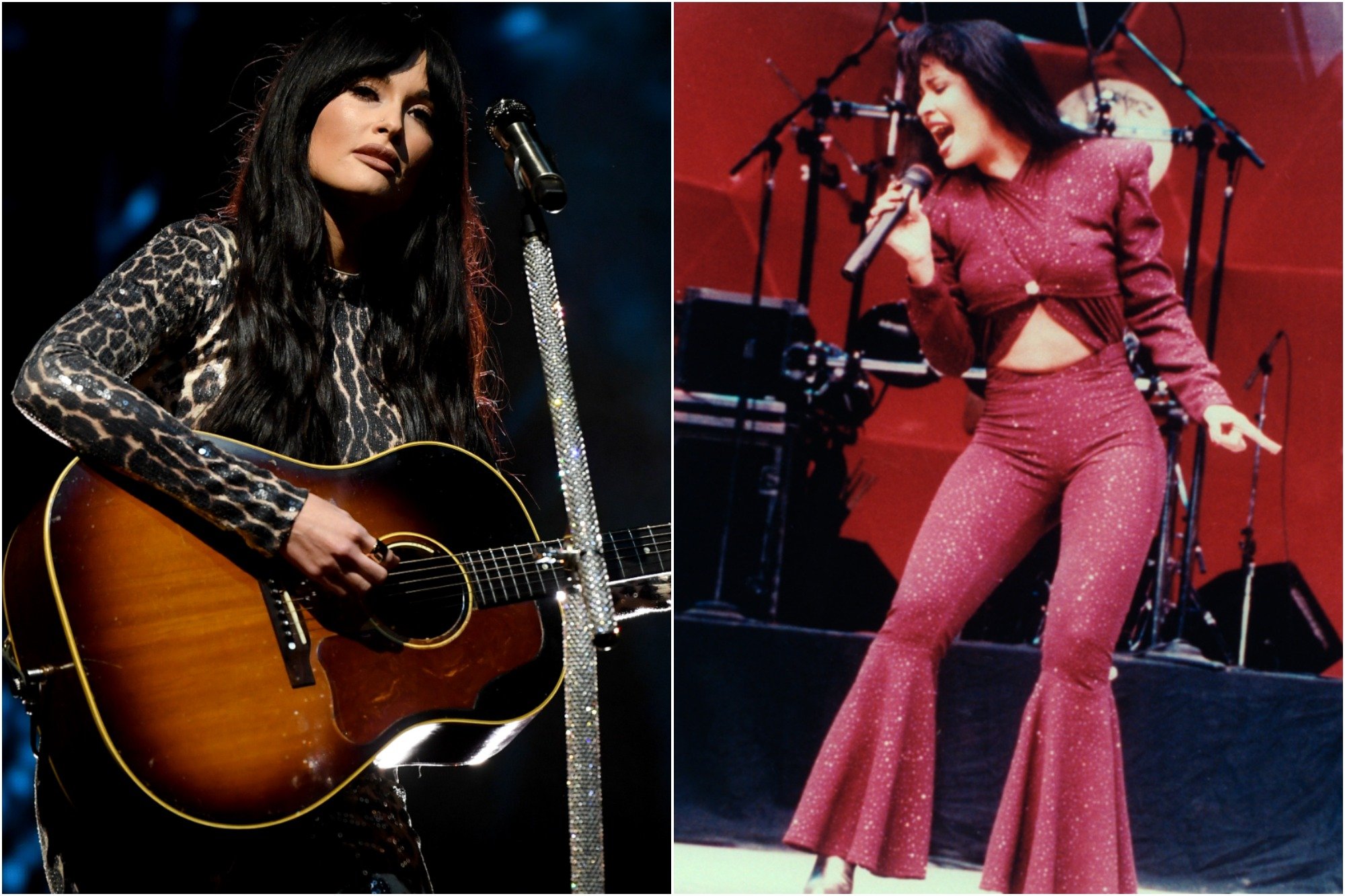 RELATED: How Many Albums Does Kacey Musgraves Have?
In an interview with Rolling Stone on Feb. 12, 2021, Musgraves talked about her big musical inspirations, and they ranged from Sade to Cher and more. Of course, country music icon Dolly Parton was one of them, who Musgraves has talked about before. 
"I love Dolly [Parton] as a style icon, I love her as a businesswoman," Musgraves said. "First and foremost she's a songwriter. But she wasn't afraid to be a beautiful, sexy woman."
And the second inspiration she mentioned was Selena Quintanilla. 
"Well, also growing up in Texas, Selena is Queen. Selena is it," Musgraves said. "And it's such a shame that she's not here to see such a fruitful career because she's so popular and so respected and so revered." 
Selena grew up in Corpus Christi, TX and that's where her museum is — and that's where she ultimately died — and Musgraves is a little more inland, east Texas being from Golden, TX, according to Texas Monthly.
"I didn't quite fully understand it, but I do remember when she passed and Texas was just weeping for her," Musgraves said. While the whole Tejano music community and her fanbase were as well, along with the world, Musgraves distinctly remembered the Texas response. "But being there, you know, I mean, it was just like it just felt like, you know, our state lost a queen."
Both Selena and Musgraves made traditional music all their own
With a little bit of background on Tejano, it's a music genre that mixed traditional Mexican folk music with American influences. And by "American," that means immigrants in America that Mexican musicians were coming in contact with. So Mexican vocal, folk traditions started coming together with polka and waltz music. It fused and created Tejano, which was predominantly male-based until Selena came onto the scene. 
And when she did, she switched it up even more by making it all her own. Because even though Tejano was already a clash of cultures, of sorts, Selena, who didn't grow up speaking Spanish, made it a bit more pop-infused later in her career. She became known as the Queen of Tejano in that male-dominated industry. Right before her death, even, she was going a step further by creating an English crossover album. All her albums prior had been only in Spanish. This was going to be her way to truly break into the mainstream pop scene, which she was doing bit-by-bit before, which was already a feat for a Tejano star. 
Musgraves loved that Selena put her "own spin" on a traditional genre like that, which is what she found inspiring. 
"I just really love when two aesthetics come together that are classic and modern. And they kind of find their own lane," she said. "I just think that if she was here that she would just be the biggest thing in the entire world." 
Musgraves went on to say that in her own music, she see that exact thing. 
"I've taken a genre that has a lot of rich history and kind of made it my own in my own way," Musgraves said. "I take the parts of it that aesthetically really speak to me, and then I blend that with a bunch of other styles. And that's ultimately what she was doing too, but with her heritage and her culture."
Musgraves has been always been a huge Selena Quintanilla fan
Musgraves went on to say that Selena's music is "classic" and that's part of the reason why it lives on. 
"I mean, it's still there are such bops," she said. "They come on and people freak out and they feel so good, they feel timeless. And I mean, that to me is like the mark of special music."
As Musgraves said, she's always been a fan. And that's something you can easily see throughout her career, as well. Back in 2019, during a fun "Spill the Tea(quila)" video bit with W Magazine, Musgraves said that Quintanilla was her dream collaboration. 
"A Texas collab of the f*cking millennium: Selena Quintanilla. Let's bring her back." 
With her gone, this is of course the essence of what "dream" means. But for Musgraves, it's wishful thinking. She has, though, covered Selena as well. 
Musgraves made headlines back in 2019 for singing "Como La Flor" at a Texas concert, as Variety reported. It was a big deal because it was at Houston's NGR Stadium, which includes the Astrodome which is where Selena played her last concert before her death.