Kaia Gerber Is Allegedly Unsure of Her Relationship With Pete Davidson After the 'Scary' Situation She Saw
Young love can be tough to understand, especially when it occurs between two celebrities. And we've been keeping up with Pete Davidson's wild dating history since his high-profile relationship with Ariana Grande. Grande and Davidson couldn't work things out, as we know — but now, he's dating 18-year-old supermodel Kaia Gerber, which is leaving their followers with all different opinions.
Gerber and Davidson first met on the runway, and they've been spotted together in New York and Malibu since October 2019. It looks like things may be cooling off now, however. After Davidson made a very public joke about heading to rehab, insiders are saying Gerber might be taking a step back from their relationship.
Kaia Gerber and Pete Davidson appeared to move fast with their romance
Davidson is no stranger to getting serious with his girlfriends quickly. As for Gerber, this might be her first real, public romance — and she appeared to fall head-over-heels as well. "Kaia expressed she loved Pete's personality. She thinks he is charming and is very intrigued," Elle reports a source told E! News.
Other insiders expressed that Gerber is allegedly already thinking long-term when it comes to Davidson. While they've only been going out since October 2019, Davidson has already brought the supermodel to an SNL event. And they're certainly not shy about showing PDA, as they've been spotted kissing in public on multiple occasions.
"Kaia's talking about Pete being 'The One' and quietly telling friends she can see herself growing old with this guy and having his babies," an insider told Radar Online. "They're all over each other right now and it wouldn't surprise anyone if [a pregnancy] happens sooner than later."
Davidson alluded that he's going to rehab on 'Saturday Night Live'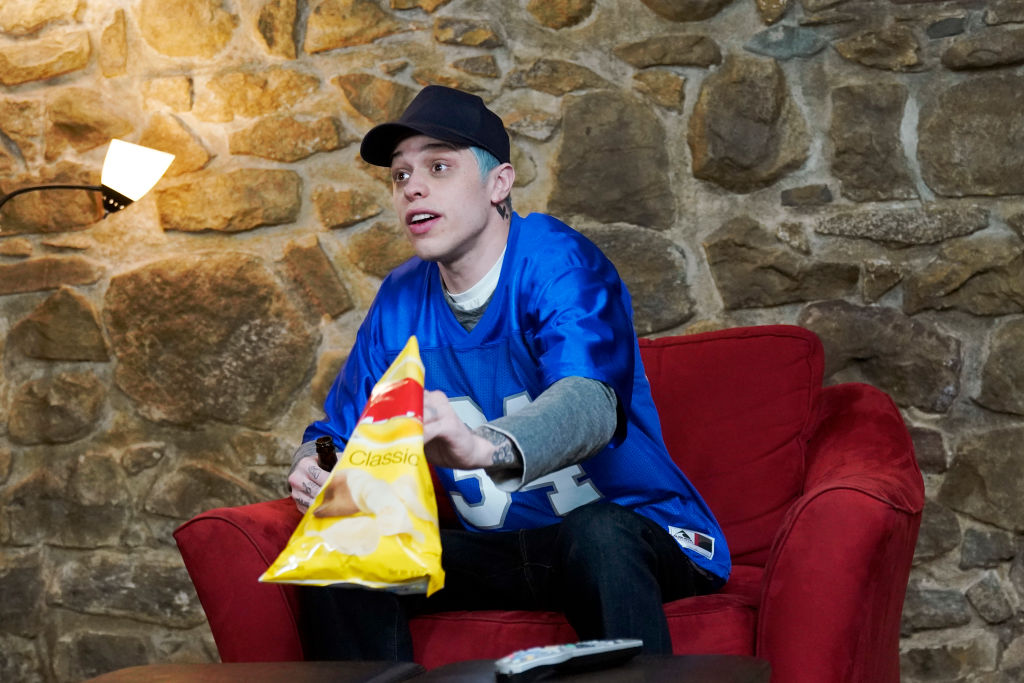 While Gerber may be young and insiders are claiming she's head-over-heels already, she reportedly does have a good head on her shoulders and isn't likely to make any rash decisions. And it seems her relationship may be hanging in the balance after Davidson joked about returning to rehab on SNL.
In December 2019, Davidson made an appearance during the "Weekend Update" segment and made jokes at his expense regarding his relationship. He also added that he would soon be taking a "vacation" — and he added air quotes for emphasis.
"You know, the kind of vacation where like insurance pays for some of it and they take your phone and shoelaces … and you have roommates, but it still costs like $100,000," he said.
While fans don't know exactly what's going on, it looks like Gerber and her parents are in the know. E! News reports a source close to Cindy Crawford, Gerber's mother, noted, "Cindy and Rande [Gerber] wanted to be there for Kaia and supportive of her. They are very involved and loving parents and they would do anything for her. They stepped in to try and guide her and to help Pete through a difficult time."
Insiders claim Gerber is taking a break from Davidson after what she saw
We're not sure exactly what went down with Davidson, but it appears it was concerning enough for Gerber's parents to get involved. And it also may be serious enough to affect the young couples' relationship.
A source allegedly told E! News that Davidson is now "taking a break to work on his mental health," and part of that means seeking treatment and putting his relationship second. "It became very clear that he had to go and do this and couldn't wait any longer. This is his second time seeking treatment, his first being in 2016," the insider added.
Another source revealed to E! News that Davidson's "program" he's in doesn't allow for a lot of contact with Gerber. As for Gerber, the insider added that she's not sure if she wants to continue with the romance, either. Apparently, she "wasn't comfortable with what she saw and doesn't know if she can handle it," and she saw something occur with Davidson that "was very concerning and scary for her … she cares about Pete and wants him to get better."
We don't know if Gerber and Davidson will make things work or if their relationship was doomed from the start. We'll have to wait and see.
Check out Showbiz Cheat Sheet on Facebook!