Kaia Gerber Is Asking Instagram Followers to 'Read Into' Her Post That Alludes to Pregnancy
Celebrity relationships tend to move fast, and it rocked Hollywood when Pete Davidson began dating supermodel Kaia Gerber. Davidson is known for his many famous girlfriends, as his engagement to Ariana Grande pushed him into the public eye. But few expected him to go for Cindy Crawford's 18-year-old daughter.
Unfortunately for the couple, the romance was short-lived. Gerber and Davidson have officially gone their separate ways. And while Gerber never once posted to her social media about Davidson before, she added a photo of herself to her Instagram Story that appears to allude to a pregnancy. And she's even asking her follows to "read into" the image. Here's what happened.
Kaia Gerber and Pete Davidson are reportedly no longer together
Gerber and Davidson engaged in a whirlwind romance that started in October 2019. The two reportedly met back in the summer of 2019 when they walked the runway together, and they were spotted cozying up to one another a few months later. Many questioned the relationship, as there's a serious age gap between Davidson and Gerber. But they persisted despite the negative commentary.
Things took a turn for the couple when Davidson alluded on Saturday Night Live that he was seeking help for his mental health. He said he was "going on a little 'vacation'" using air quotes and then joked, "they take your phone and shoelaces … and you have roommates, but it still costs like $100,000."
Right around the 2019 holiday season, reports rolled in claiming Davidson was headed to a facility and Gerber couldn't handle the pressure.
Past reports claimed Gerber couldn't wait to have kids with Davidson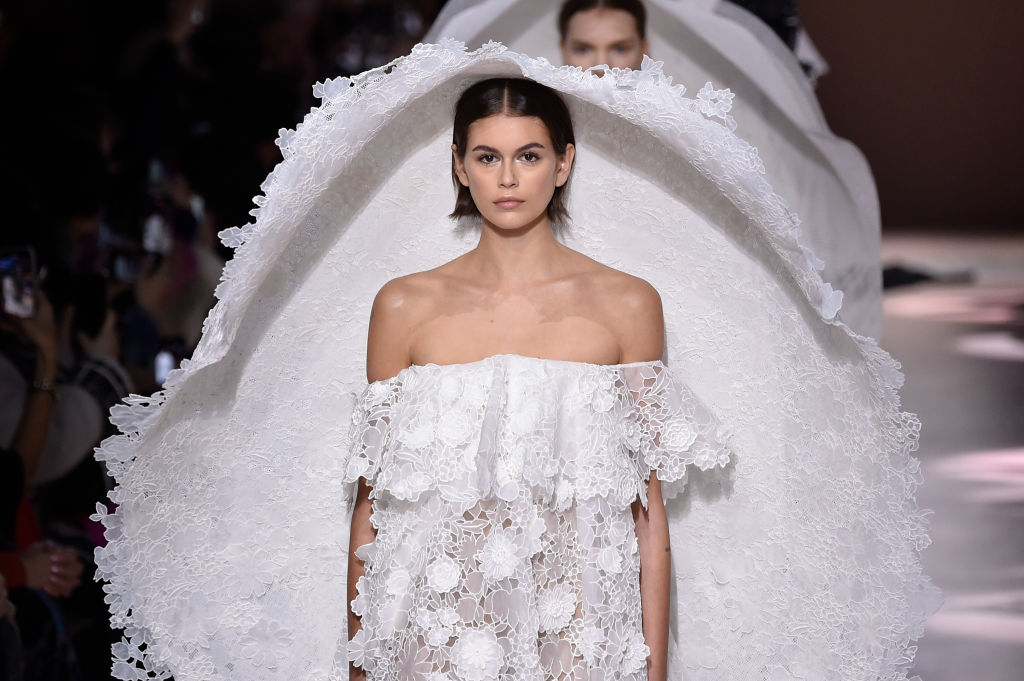 Both Gerber and Davidson seem to be moving on quite easily post-split. While Davidson is working on his own personal projects, Gerber is back to stomping the runway across the globe. But that doesn't mean they didn't have a serious connection. Some past reports claim Gerber was thinking long-term when it came to Davidson.
One source told Radar Online that they were concerned regarding how quickly the relationship was moving. "It's everyone's worst nightmare scenario, especially her parents," the source told the publication. "Kaia's talking about Pete being 'The One' and quietly telling friends she can see herself growing old with this guy and having his babies. They're all over each other right now and it wouldn't surprise anyone if [a pregnancy] happens sooner than later."
After the split, it shocked many when Gerber posted photos of her in a wedding dress to her Instagram, too. While the dress was for the runway, some followers thought Gerber was "foreshadowing" her future with Davidson.
She's asking her Instagram followers to 'read into' a post alluding to pregnancy
Gerber doesn't often post controversial content to her social media, so her post she added on Jan. 29 was quite shocking. She added a photo of herself to her Instagram Story of her holding up the book The One Minute Mother to cover her face. And she also puffed out her stomach while wearing purple yoga pants and holding a pint of dairy-free ice cream.
From Gerber's stance to the book in her hand, the post alludes to pregnancy in a major way. And she also added the text, "Read into this," over top.
So, is Gerber really pregnant? We highly doubt it — and we're betting she's just being cheeky given how much attention her relationship with Davidson brought to her and her family. While she may want kids in the future, we don't think she's ready to settle down just yet, as she's still frequently walking the runway and looking forward to her future in the fashion industry as a top model. But the post is certainly new for Gerber, and we're wondering if she'll continue to post provocative content on her Instagram going forward.
Check out Showbiz Cheat Sheet on Facebook!