Kaia Gerber Just Gave a Tattoo to Someone After Pete Davidson Split
Celebrity relationships aren't easy to maintain, and it looks like Kaia Gerber and Pete Davidson couldn't hold their relationship together. Davidson came into the spotlight during his relationship and engagement with Ariana Grande. And since then, he's faced a ton of public scrutiny regarding the famous ladies he chooses to date. When he was photographed with 18-year-old model Kaia Gerber, few seemed supportive.
After a few brief months of dating, the two have gone their separate ways. And Gerber seems to be getting along just fine without him thanks to her many modeling gigs. She's also been posting more of what she's up to on her Instagram Stories. And it seems she might be getting into the tattoo business.
Kaia Gerber and Pete Davidson called it quits on their relationship after 3 months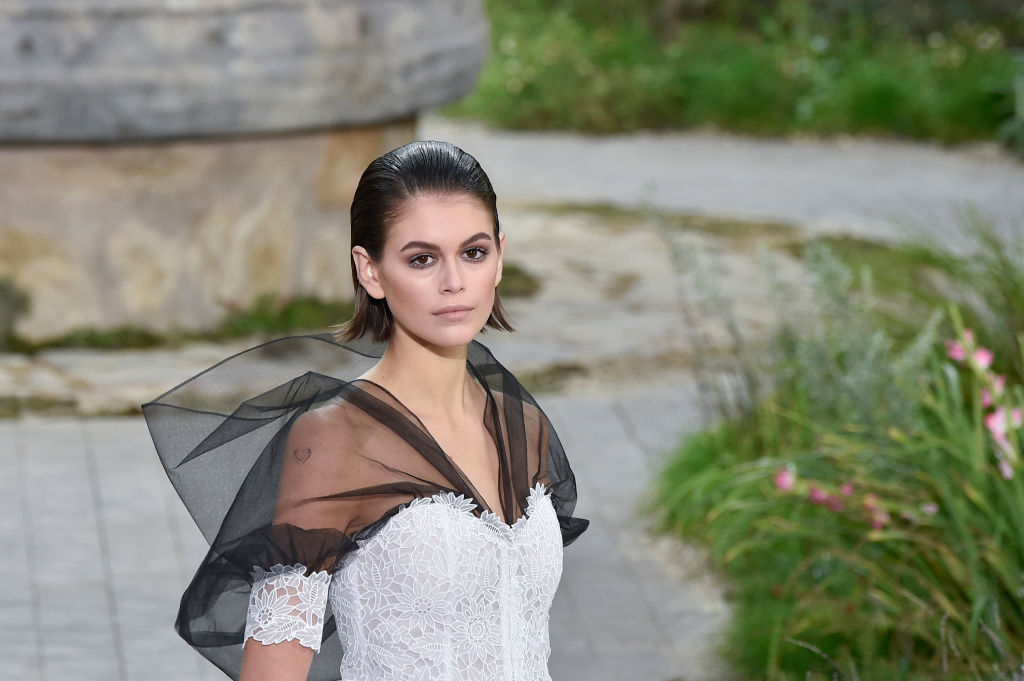 There weren't many who seemed to expect Gerber and Davidson's relationship to last. But despite the odds, they tried their chance at love after meeting on the runway over the summer of 2019. By October, they were spotted out and about in New York City getting cozy. But just a few months later, Davidson took to Saturday Night Live to announce he was going on a "vacation" that seemed to indicate he was seeking treatment for his mental health.
Davidson joked, "they take your phone and shoelaces … and you have roommates, but it still costs like $100,000."
By the holidays, the media reported Davidson and Gerber were no longer an item. It seems the relationship may have gotten too intense too fast for Gerber.
"What she saw happen with Pete was very concerning and scary for her. … She cares about Pete and wants him to get better," E! News reports an insider claimed.
Gerber has a number of tiny tattoos
Gerber and Davidson initially hit it off after meeting on the runway, as they both walked for Alexander Wang. And that's not all they had in common. It seems they're both champions of tattoos — and Gerber has quite a bit of ink herself.
Body Art Guru reports Gerber has the word "Jordan" tattooed on her left arm, she has "undefined" on her right thigh. She also has several other tattoos, including a lady with a bird on her left elbow, the tiny words "I know" on her left wrist, and another, slightly larger tattoo on her rib cage.
And she's certainly not finished getting ink, either. Refinery29 reported in early January 2020 that Gerber got a tiny flower tattooed on the insider of her wrist by artist Evan Kim. And she also got a small shoulder tattoo showing two arms interlocking to form a heart. Gerber's brother, Presley, appeared to be present for the tattoo session as well.
She just posted an Instagram Story showing her giving a tattoo
It looks like it's Gerber's turn to take over the tattoo gun now. On Feb. 5, she showed Kim tattooing her once again, though this time, it looked to be on her finger. And she also added an Instagram Story from him that featured her giving him some ink on his arm.
Kim wiped off his arm to reveal a "K" with a small flower done by Gerber. "Not too bad!" Gerber exclaimed in the seat next to him. "I feel … indescribable," she added after the person taking the video asked her how she felt about her handiwork.
So, could this be a new career path for Gerber? We doubt she'd give up modeling as it's certainly her first love. But we know she loves her ink, so perhaps she'll take it over as a side hustle. We'll have to wait and see.
Check out Showbiz Cheat Sheet on Facebook!