What Is Kaitlyn Bristowe's 'If I'm Being Honest' About? The Former Bachelorette Gets Real About the Meaning Behind Her New Song
The Bachelorette's Kaitlyn Bristowe is making big moves with her new song, "If I'm Being Honest." The 34-year-old unexpectedly dropped her debut single on May 14 and instantly earned the #2 spot on the US iTunes sales chart. So naturally, Bachelor Nation fans are wondering what the "If I'm Being Honest" lyrics are really about. Luckily, Bristowe recently opened up about the meaning behind the honest track.
'The Bachelorette's Kaitlyn Bristowe drops a new song called 'If I'm Being Honest'
When Bristowe released "If I'm Being Honest," the former bachelorette shared a bit of her journey on Instagram. Bristowe explained the country-pop song isn't exactly new, as she has been holding onto it for over a year. But despite her insecurities, she was finally ready to open up.
"If I'm being honest, I didn't think I would ever release this song," Bristowe wrote on Instagram. "I was too afraid, insecure, and kept doing the classic 'what if.' I don't know who needs to hear this but f*ck the what if's. This uncertain time has shed light on how important time is. So while this song has been collecting dust for over a year, I've finally decided to share it with you."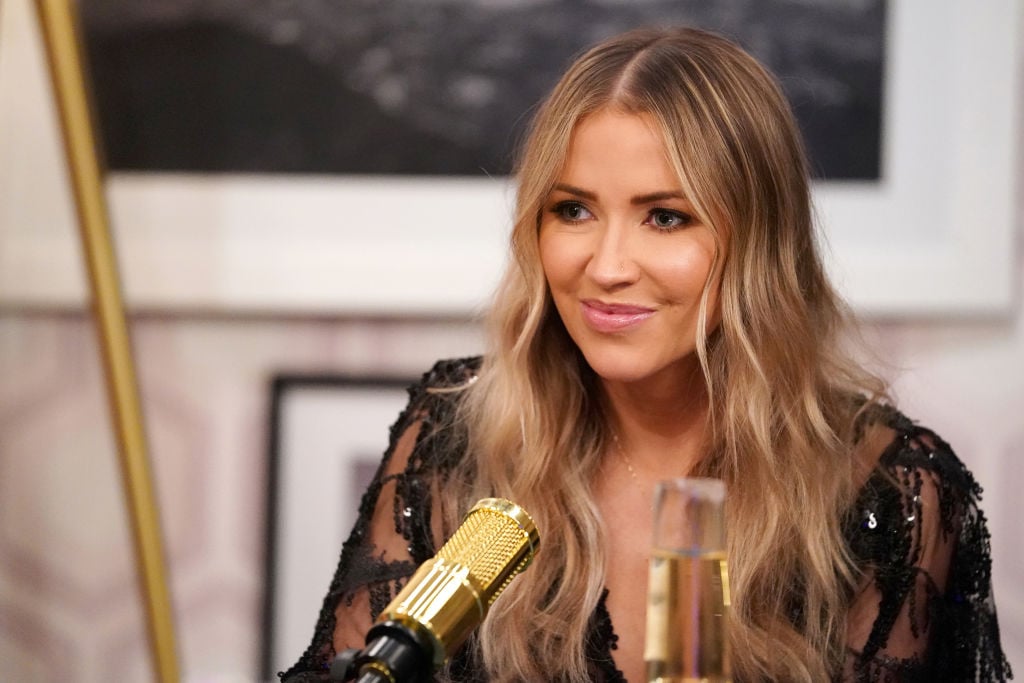 She continued, "Singing has always been something that makes my heart happy. So if I'm being honest, Im still feeling insecure, yet PROUD to share this with you now. I even think we can all relate to the lyrics right now. It's available wherever you get your music or my bio. Love you guys. Thank you."
Later, Bristowe unveiled the lyrics for "If I'm Being Honest" on her website. And ultimately, the new song is about Bristowe's journey of self-acceptance.
"If I'm being honest / I'm not always as tough as I seem," Bristowe sings. "I can have my moments / Where words can get the best of me / And the ones that I say to myself, are the ones that hit there hardest."
What is the meaning behind Kaitlyn Bristowe's 'If I'm Being Honest'?
When speaking with Entertainment Tonight, Bristowe delved into her headspace when writing "If I'm Being Honest." She also revealed the song was written right before her public breakup with Shawn Booth, who she got engaged to at the end of The Bachelorette Season 11. 
"It was right before the breakup," Bristowe said. "Nobody had known that Shawn and I had broken up yet and it was kinda right before that in that time."
She also recorded the track the day her split with Booth was announced to the world. Bristowe said: 
I recorded the song the day that the news came out of our breakup and so it was kind of important for me to show my own resilience to myself because all I wanted to do was lay in bed and cry that day. My dad was in town from Canada, being there for me and I was like, 'You get your butt out of bed. This is something that you need to do, you committed to it and it's going to be so empowering.' My dad came with me and we just sat in that studio and I laughed and I cried and I recorded that song. So, I think also when I hear it back, I'm like, 'Wow, you have a lot of emotion in that.'
Nevertheless, it seems Bristowe has grown from her experience, admitting "If I'm Being Honest" didn't exactly reflect her mindset now. "The song felt a little dated in my mind because I had just gone through so much," she said. "I'm in such a good place and it just was kinda on the back burner."
However, Bristowe finally decided to drop the country bop because of the coronavirus (COVID-19) pandemic. 
"Listening to the lyrics again, I think isolation plays a part with mental health," she said. "We're all kinda going through something hard together, we're being so vulnerable with each other and how we're feeling."
She continued, "I was listening to the lyrics and I'm like, wow, this actually applies to so many people and how we're all feeling right now, so I was like, why not release it? … If isolation and quarantine has taught us anything, it's the importance of time and the importance of connection and people connect through music."