Kanye West Blames God for His Taylor Swift VMA Interruption
It's been over 10 years since the infamous moment when Kanye West interrupted Taylor Swift at the MTV Video Music Awards. But, try as we might, we can't seem to escape hearing about that awkward moment. Both musicians have continued to speak about the encounter in some way or another and that particular night marks the beginning of the ever-present feud between West and Swift.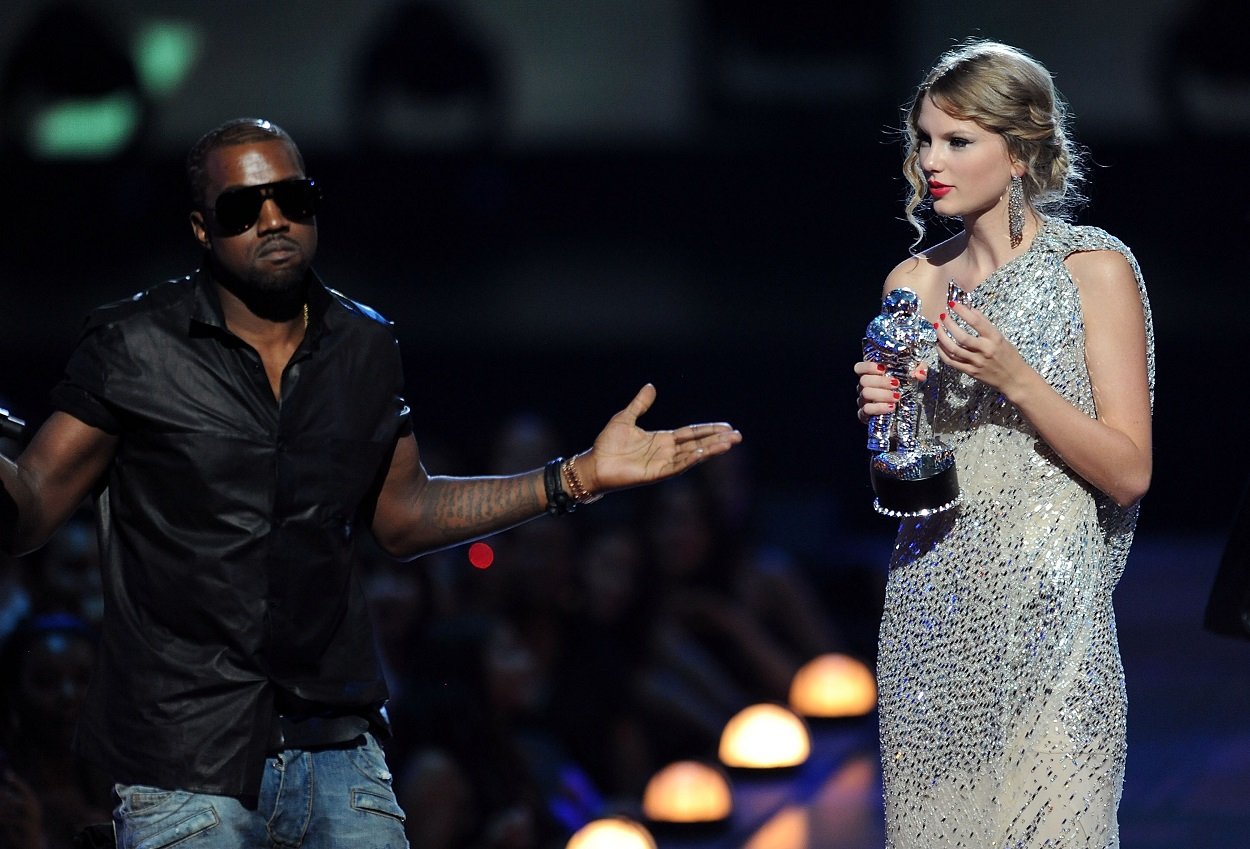 Kanye West interrupted Taylor Swift at the 2009 VMA's
In case you need a refresher, the drama began after Swift nabbed the award for Video of the Year for her song "You Belong With Me", which was featured on her sophomore album, Fearless. As she was accepting her award, West charged on stage and stole the microphone. He declared that he would let Swift finish, but wanted to note that Beyonce's "Single Ladies" video should've won the award because it was one of the best videos of all time.
The 'folklore' artist reflects on the infamous moment
Naturally, Swift and the rest of the audience was shocked. Many even began to boo West for his behavior. But, in Swift's documentary, Miss Americana, the "the last great american dynasty" singer revealed that at the moment she believed that the audience was in agreement with West and was, in fact, booing her. As she was primarily known as a country artist up until that point, she believed that she wasn't being accepted into the mainstream music industry.
Swift even wrote about the event in her diary, which she later shared with the world via one of the deluxe editions for her seventh album, Lover. "Ahh… the things that can change in a week," the "hoax" singer penned candidly. "If you had told me that one of the biggest stars in music was going to jump on stage and announce that he thought I shouldn't have won on live television, I would've said, 'That stuff doesn't really happen in real life.' Well… apparently…. It does."
West claims God wanted him to interrupt Swift
Clearly, this moment shaped Swift as she continues to reference it. But, it seems that West has no regrets about his decision to interrupt Swift at the VMA's. In an interview with Cannon Class, West revealed that it was God who moved him to interrupt Swift at the 2009 VMA's. Citing that if God didn't want him to do it, certain factors would not have been at play.
"If God didn't want me to run on stage and say, 'Beyoncé had the best video,' he wouldn't have sat me in the front row," the "Homecoming" rapper shared. "I would've been sitting in the back. He wouldn't have made it the first award. And [He] wouldn't have made it so ridiculous of an idea 'cause I had never heard of this person [Swift] before that night. And 'Single Ladies' is like one of the greatest videos of all time… And I was only drinking Hennessy because I didn't want to go to the awards show 'cause it was a set-up!" West continued, referencing his run-in with Swift.
Will the feud between the artists ever end?
Clearly, West believes that his decision to interrupt Swift was justified. And while there may be a day where we finally stop hearing about this infamous VMA moment, it's clear that the feud between Swift and West probably isn't stopping anytime soon.