Kanye West Hosted Marilyn Manson and DaBaby at 'Donda' Event Despite Controversies
Kanye West has been making headlines lately for his 10th studio album Donda. The rapper's listening parties have generated a lot of buzz in the entertainment industry. Whether West is weeping onstage about losing his family or bringing out Kim Kardashian West in a bridal gown amidst the couple's divorce, the musician certainly knows how to bring attention to the Donda events. 
At a listening party in Chicago, West brought Marilyn Manson and DaBaby on stage, despite the controversies surrounding both musicians. Here is everything you need to know about the two polarizing artists and why West hosted them.
Marilyn Mason is accused of sexual abuse by multiple women
In February 2021, actress Evan Rachel Wood accused former partner Marilyn Manson of abuse. Wood wrote an Instagram post naming Brian Warner, Manson's real name, as her abuser. She accused him of  "grooming [her] when [she] was a teenager" and "horrifically abused [her] for years." She also wrote that she was "brainwashed and manipulated into submission."
Wood is not alone in her claims. According to Vanity Fair, at least four other women have come forward with allegations against Manson. They gave details of their experiences of "sexual assault, psychological abuse, and/or various forms of coercion, violence, and intimidation."
Manson was quickly dropped from his record label and cut from a television series. He then posted his rebuttal on Instagram. "Obviously, my art and my life have long been magnets for controversy, but these recent claims about me are horrible distortions of reality. My intimate relationships have always been entirely consensual with like-minded partners. Regardless of how – and why – others are now choosing to misrepresent the past, that is the truth."
DaBaby recently made homophobic comments on stage
In July 2021, DaBaby performed at Rolling Loud Miami music festival. The rapper's performance sparked controversy when he made some homophobic and misogynistic comments on stage.
"If you didn't show up today with HIV, AIDS, or any of them deadly sexually transmitted diseases that'll make you die in two to three weeks, then put your cell phone lighter up," DaBaby told attendees (per Billboard). "Ladies, if your p— smell like water, put your cell phone lighter up. Fellas, if you ain't sucking d— in the parking lot, put your cell phone lighter up."
DaBaby later doubled down on his comments on a video he posted to Instagram. "My gay fans, they take care of themselves. They ain't no nasty gay n—as. See what I'm saying? They ain't no junkies in the street. The hell you talking about, n—as? Then I said if you ain't sucking d— in the parking lot, put your cell phone lighter up. You know what my gay fans did? Put that motherf—ing light up, n—a, 'cause my gay fans ain't going for that. They got class. They ain't sucking no d— in no parking lot."
DaBaby has been dropped from multiple festival lineups following his controversial remarks.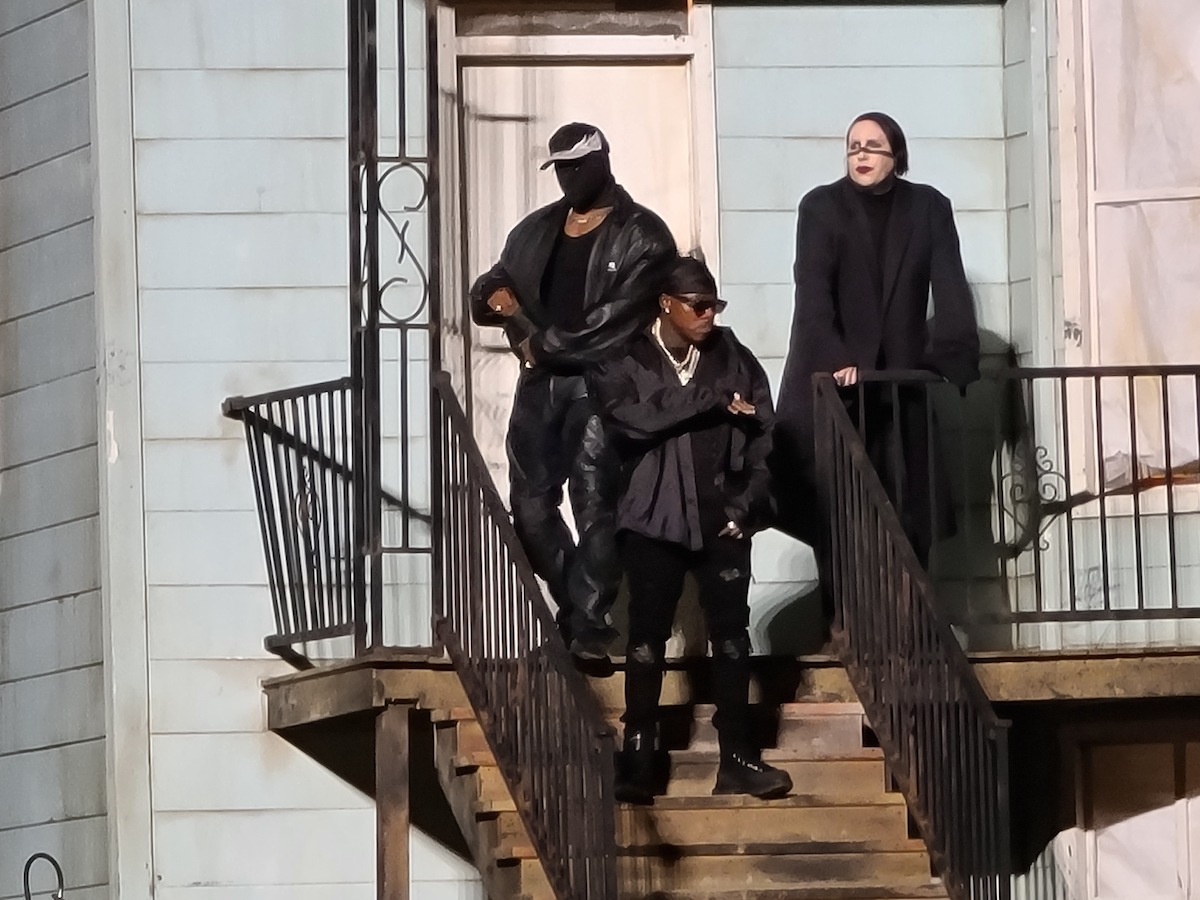 Both Marilyn Manson and DaBaby are featured on Kanye West's 'Donda' album
At Chicago's Soldier Field, West brought both Manson and DaBaby on stage with him during his Donda listening event. The trio posed on a set replicating West's childhood home.  
The track "Jail, Pt. 2" from West's new Donda album features vocals by Manson and DaBaby. Their contributions to the album are likely why West involved them in the listening party. 
The song seems to address the controversies both disgraced artists are facing. "Jail, Pt. 2" has Manson singing lyrics like, "I'll be honest, we all liars; I'm pulled over and I got priors; Guess we goin' down, guess who's goin' to jail? Guess who's goin' to jail tonight?"
In DaBaby's part, he raps, "I know these people gon' try to tell me how to talk; don't know what I seen or what I was taught; my mama worked two or three jobs to take care of three of her kids, my uncles watched; yeah, we was raised by the crack addicts."
Later in his verse, he raps, "Only thing I did to you; was always keep it real and true; guilty, guess they gon' have to take me."
How to get help: If you or someone you know has been sexually abused, text HOME to the Crisis Text Line at 741741 for free and confidential support.