Kanye West Introduced Daughter North West to His New Wife Bianca Censori on a Fancy Dinner Date
Kanye West and Kim Kardashian's divorce was finalized in late 2022, and West wasted no time in jumping back into wedded bliss. In January 2023, he married Yeezy architect Bianca Censori in a private ceremony. Just a few weeks later, the Donda rapper introduced his daughter North West to his new wife while he was on a dinner date with her.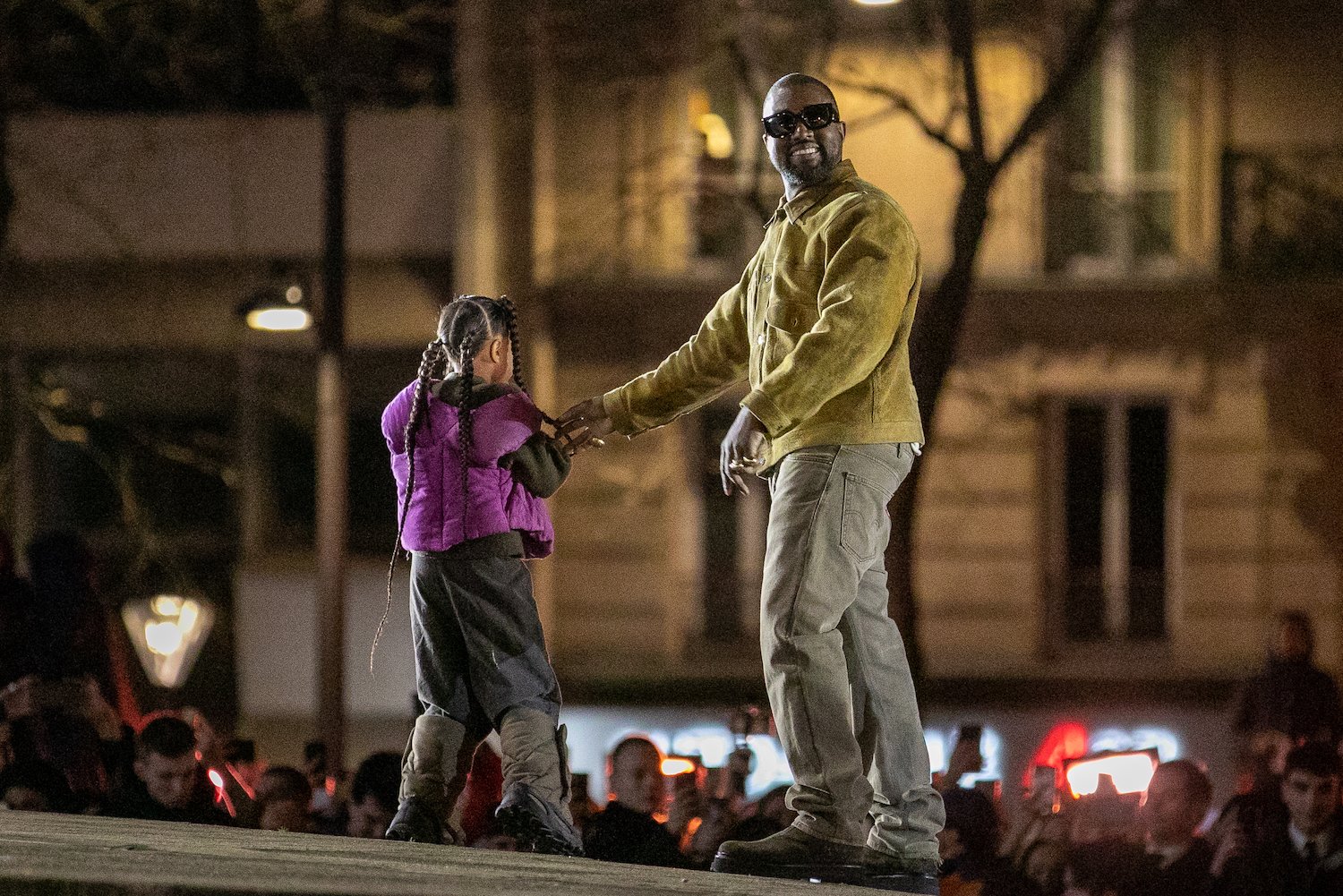 Kanye West married Bianca Censori in January 2023
Bianca Censori first started her job as an architect with Kanye's Yeezy company in November 2020. West first expressed his admiration for the new woman in his life in December 2022 with a new song titled "Censori Overload." The song came weeks after Ye made disparaging antisemitic remarks that cost him hundreds of millions of dollars in his personal fortune and demoting him from hip-hop billionaire status.
The couple was first spotted together in early January 2023. Not long after, West and Censori held a private wedding ceremony and declared themselves married, though TMZ pointed out that they hadn't filed a marriage certificate, making the union not legally binding.
"Kanye and Bianca did have a small marriage ceremony," a source confirmed to Us Weekly after the ceremony. "Friends don't know if it's legal, but it's very real to them."
Kanye introduced North West to Bianca Censori at a dinner date
Many people introduce their children to their new spouses before getting married, though it appeared West went straight to the altar without introducing Censori to his four children with Kim Kardashian, North, Saint, Chicago, and Psalm.
According to Hollywood Life, West and Censori were seen heading to dinner at Malibu's NoBu restaurant in late January 2023. They were soon joined by North West and a friend of hers after being dropped off by Ye's security team. It was reportedly the first time Ye has introduced his wife to one of his children.
How Kim Kardashian feels about Kanye's marriage to Bianca Censori
West and Kardashian finalized their long and messy divorce in November 2022 after sorting out the remaining child custody and property issues in court. It was the conclusion to a nearly two-year-long battle that started when Kardashian first filed for divorce in February 2021.
According to HipHopDX, the agreement stipulated that West wire Kardashian $200,000 on the first day of each month for child support. They also reportedly agreed to an even 50/50 custody split of their four kids, though the kids have reportedly spent most of their time with Kardashian. West is also responsible for paying half of their kids' tuition and education expenses as well as half of their security funds.
Kardashian hasn't spoken publicly about West's marriage to Censori. Instead, the Keeping Up With the Kardashians star has proudly proclaimed that she's in her "happy era," sharing photos on Instagram of a new hair look.