Kanye West and Julia Fox Fuel Romance Rumors By Being Spotted Together in New York After Dinner Date in Miami
Kanye West and Julia Fox's romance is heating up. The new couple was spotted starting the New Year in Miami together, and they were seen dining out again recently in New York. Here are all the details we know so far, including what the rapper's ex, Kim Kardashian West, is doing. 
Kanye West and Julia Fox started the New Year together in Miami
Kanye West and Julia Fox have spent most of 2022 together so far. On Jan. 1, West and Fox were spotted dining at the Italian restaurant Carbone in Miami. 
On Jan. 2, Fox answered, "I don't know," when asked by a paparazzo if she would have a second date with West. She was also seen on his hotel balcony that same day. 
West and Fox went out for dinner again that night, just a few hours after she was seen on his balcony. They went to Makoto Bal Harbour, a Japanese restaurant in Miami, and reportedly met up with the rapper Future.
Fox and West have a few things in common. They both work in the entertainment world, and they are both still married to their former partners.
The Uncut Gems star has been married to pilot Peter Artemiev since 2018, and they have one son together. Page Six reported that the actor slammed her husband on her Instagram Stories right before Christmas 2021, saying Artemiev is a "dead beat alcoholic drug addict dad."
West is in the process of divorcing Kim Kardashian West, with whom he shares four children.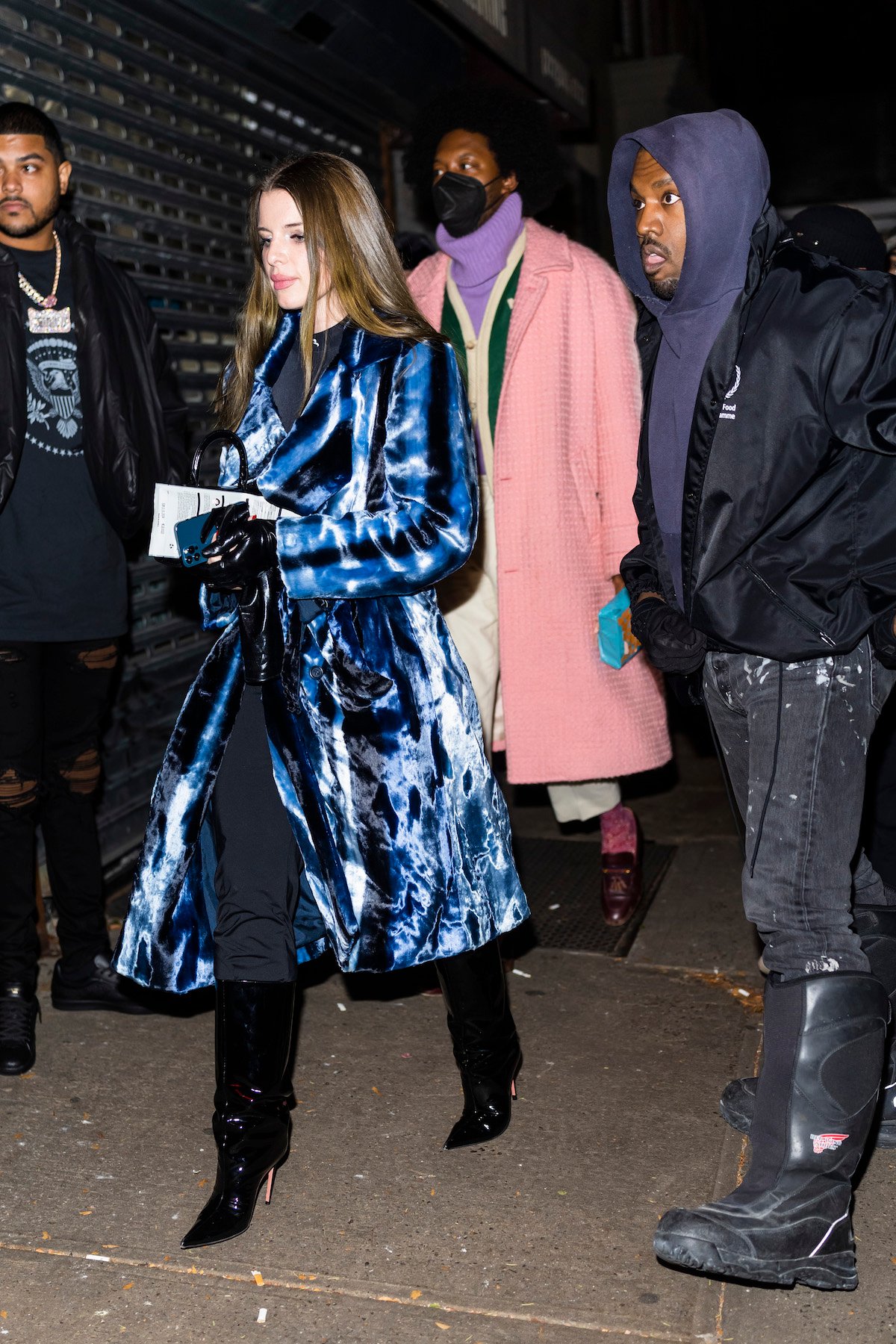 Kanye West and Julia Fox fueled romance rumors by spending time together in New York
Julia Fox and Kanye West can't seem to get enough of each other. After their dates in Miami, the two stars took their new romance to New York, where they were spotted spending more time together. 
The hot new couple went with some friends to see "Slave Play" at the August Wilson Theatre, according to Page Six. They followed their theater visit by dining out at the Carbone, the same Italian restaurant they went to in Miami. 
After the outing, Fox and West proceeded to head back to the rapper's hotel together. 
Kim Kardashian West is on vacation in the Bahamas with Pete Davidson
Fans might be wondering what Kim Kardashian West is up to while Kanye is going on dates with Fox in different cities. The Keeping Up with the Kardashians star is on vacation in the Bahamas with her boyfriend, Pete Davidson. 
Kardashian West and Davidson were spotted boarding a plane to the tropical location on Jan. 3. They are allegedly taking their first international trip together after spending New Year's Eve apart. 
A source told ET, "Kim and Pete are on vacation spending time together. The two weren't able to ring in the new year since she was with her family in California and Pete was hosting his NYE special in Miami."