Kanye West Might Have a Favorite Child
North West and her dad Kanye West are two peas in a pod. Even though the oldest Kardashian West child is only 7, she does almost everything her dad does. She's into fashion and has walked in his shows.
They make music together. When Kanye mentions his kids, he's usually talking about North. That has fans wondering what about Chicago, Saint, and Psalm? The three younger Kardashian West kids, 4, 2, and 1, are just as adorable as their older sister.
But fans think Kanye prefers his firstborn. There is evidence that supports that theory, although Kanye doesn't seem like he would ever emotionally harm his other children by admitting it. 
Kanye West has rapped about his concern for North West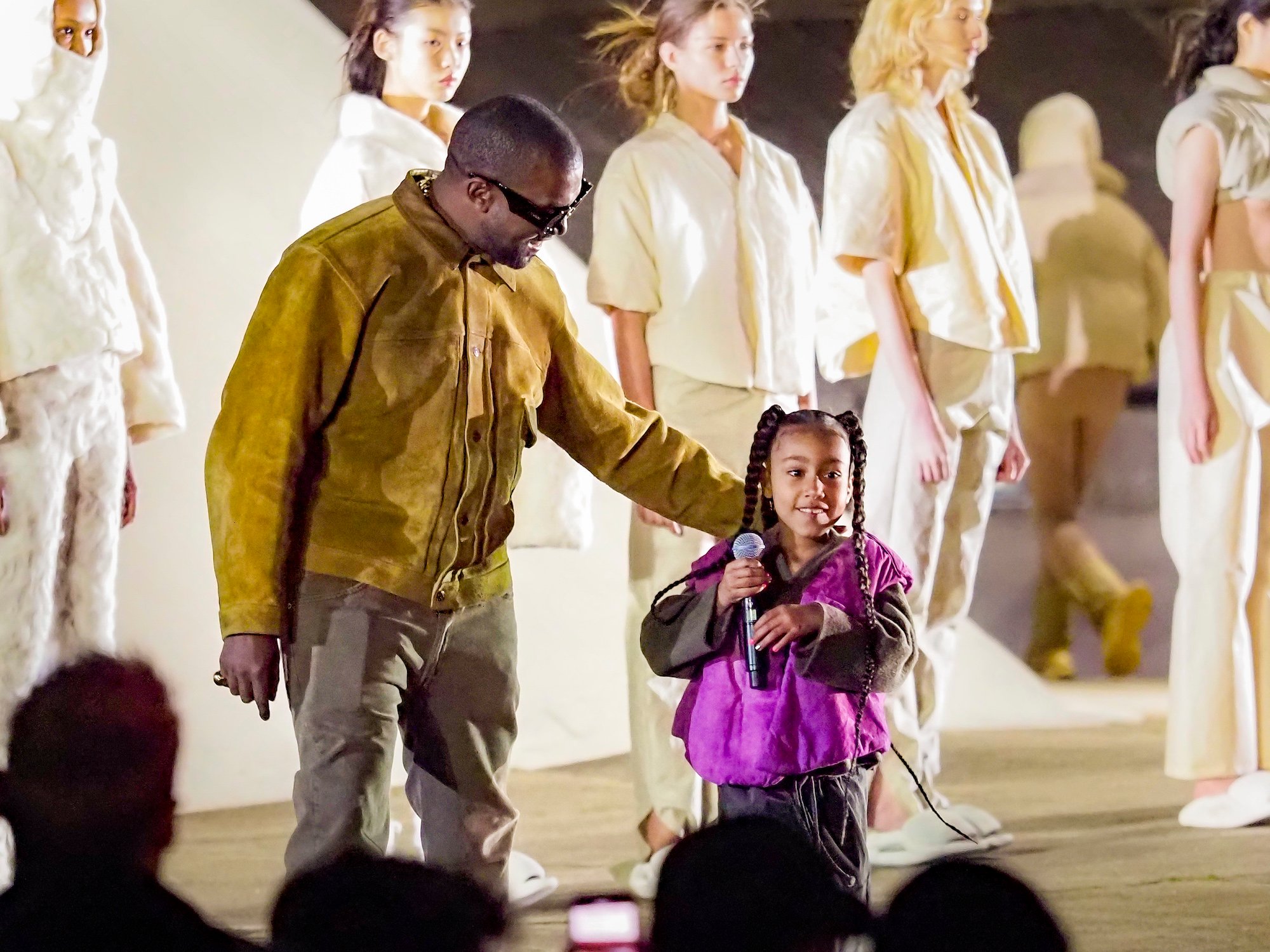 Some fans think Kanye spends more time doing things with North because of her age. The younger three are still too little to do many of the activities that Kanye enjoys. When discussing the subject on Reddit, one fan wrote: "I think North is older and more interactive, so you're going to have more stories about that."
North also looks a lot like Kanye, and fans think that many have something to do with it. As one fan wrote, "I think there is some sort of psychology behind parents favoring the child that takes after them most. There is SO much Kanye in North in her features and personality."
One fan on reddit pointed out lyrics from one of Kanye's songs that may hold a hint as to why he seems more involved with North. On one of the songs in his Life of Pablo album, Kanye rapped: "I be worried 'bout my daughter, I be worried 'bout Kim But Saint is baby Ye, I ain't worried 'bout him."
It could be that Kanye isn't as involved with Saint because he sees him as more similar to himself. The younger children weren't born at the time he wrote the song. 
Kim Kardashian has said Saint West is her favorite child
RELATED: Kim Kardashian and Kanye West: Was Wyoming the Beginning of the End for Their Relationship?
Related post url: 
Kris Jenner is notorious for picking 'favorites' among her children. She plays it off like a joke, but fans think there may be some truth to it. Kris says that her favorite child is the one that makes her the most money. The KarJen girls make light of it, but fans think Kris goes too far. 
Still, it's possible Kim now thinks that kind of talk is normal. She called Saint her favorite on an episode of Keeping Up with the Kardashians, and Kanye wasn't having it. Fans remember well that Kanye called Kim out in a confessional. It's clear that even if North is Kanye's favorite child, he would never say it out loud.
Fans worry Kanye West might distance himself from his younger children for this reason
Although Kanye has four children, he seems to be focused more on his oldest daughter. He's been known to talk about his second son, Saint, as well. But fans have noticed that Kanye doesn't seem to pay much attention to youngest two kids.
Chicago and Psalm are still little, so they don't interact as much as Saint and North. Still, some fans fear that Kanye doesn't feel as close to the littlest Kardashian West babies because of the way they were conceived.
One fan pointed out that sometimes people with extreme religious views don't agree with unnatural conception methods. Psalm and Chicago are both biologically Kim and Kanye's, but they used IVF and a surrogate.
Some fans think that may influence Kanye's view of them. "I think with Kanye's newfound religiousness (I know he's always been religious, but it's gotten more intense these past few years), he might resent/dislike the idea that Chicago and Psalm weren't naturally conceived."