Kanye West and Pete Davidson Spent New Year's Eve in Miami Without Kim Kardashian West
Two of Kim Kardashian West's famous lovers, Kanye West and Pete Davidson, spent New Year's Eve 2021 in the same city while she was nowhere to be found. Here's how the rapper and the Saturday Night Live star rang in the New Year and what it means for their relationships with Kardashian West. 
Kanye West announced a surprise show for New Year's Eve in Miami amid divorce from Kim Kardashian West
On Friday, Dec. 31, Kanye West revealed he would be making a surprise appearance in Miami, Florida. According to NME, the rapper announced the show in a since-deleted Instagram post just hours before the performance began. 
The 44-year-old musician advertised a lineup that included Future, Quavo, and Justin LaBoy.
Fans noted that West's surprise show happened to take place in the same city as Pete Davidson's New Year's Eve party, which the comedian has been promoting for weeks. Davidson is dating Kim Kardashian West amid her divorce from the Donda rapper.
West has been staying close to the Keeping Up with the Kardashians star, even buying a house directly across the street from hers during their divorce proceedings.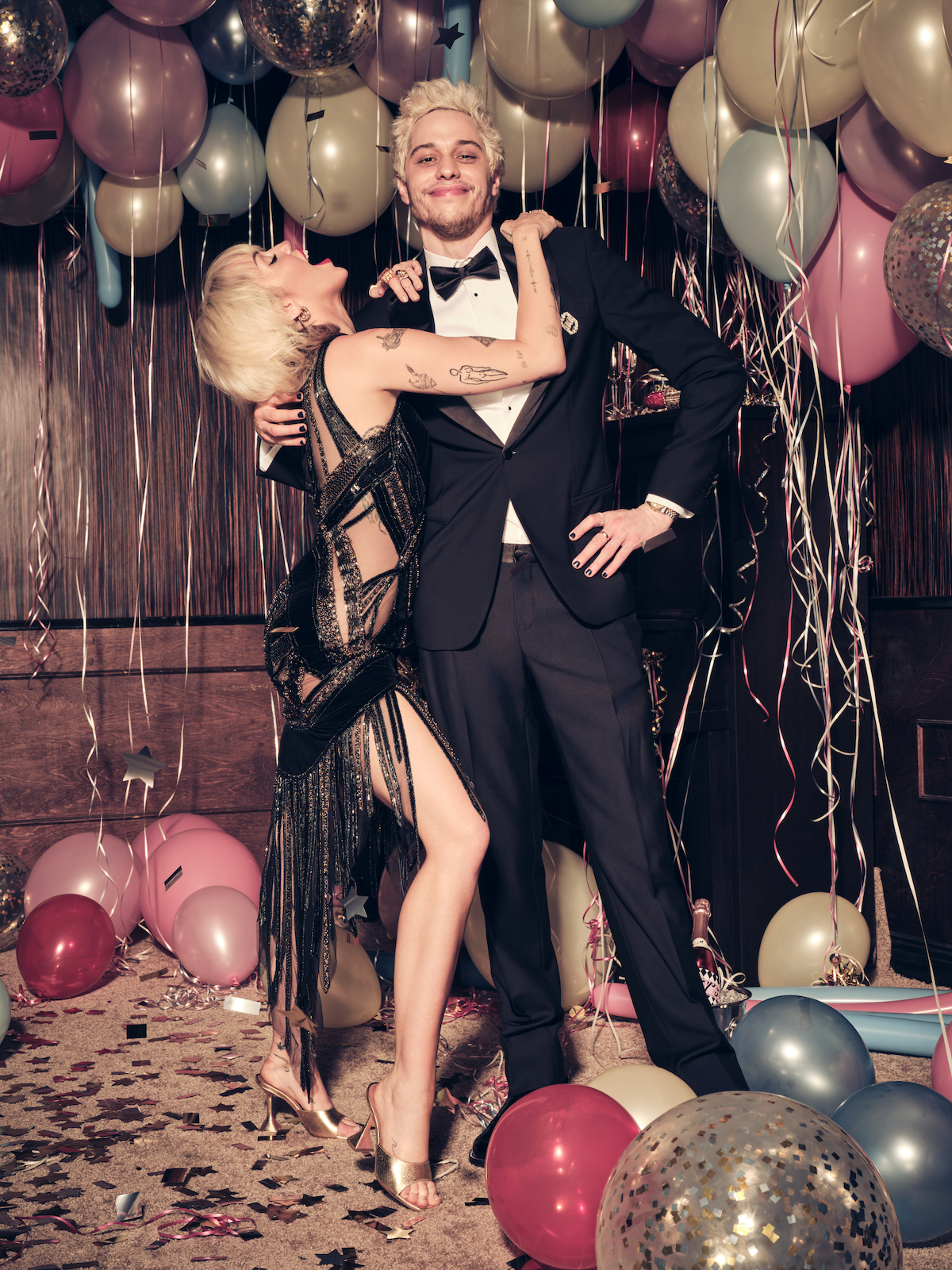 Pete Davidson hosted a New Year's Eve party with Miley Cyrus
Miley Cyrus and Pete Davidson, who have been friends for years, hosted a New Year's Eve party for NBC and Peacock.
The two stars were joined by several performers, including Brandi Carlile, Jack Harlow, and Saweetie. Miley sang her godmother Dolly Parton's song "Jolene" as a duet with her sister, Noah Cyrus. She also performed her own hits, "We Can't Stop" and "Party in the U.S.A."
Davidson showed off his comedic chops by doing a stand-up bit. The show also included pre-taped sketches of Cyrus and Davidson swapping stories of their wild behavior when they were younger, joking that it was all an act.
"You can't tell anyone this: I've never actually smoked pot before," Cyrus pretended to confess. She also said her tattoos are "stickers I buy from Claire's," while Davidson joked that he is "not even from Staten Island." 
Kim Kardashian West was nowhere to be found at either party
Although her husband and her boyfriend were both partying in Miami to ring in the New Year, Kim Kardashian West was nowhere in sight.
The reality star has not publicly revealed how she spent the holiday, but she did not appear in any photos or videos of West's or Davidson's events.
But this doesn't mean her relationship with Davidson is over. The lovebirds were spotted boarding a plane to the Bahamas on Jan. 3.
"Kim and Pete are on vacation spending time together," a source told ET of the international vacation. "The two weren't able to ring in the new year since she was with her family in California and Pete was hosting his NYE special in Miami."
The source said Kardashian West and Davidson might not be able to spend a lot of time together in the upcoming months. "They have a busy couple of months coming up with her company rebrand and Pete filming various projects," the source shared. "So they wanted to take some time to spend together before things ramp up."
RELATED: Kim Kardashian West and Pete Davidson Double Date With Scott Disick and a Mystery Woman to See 'Spider-Man' Movie