Kanye West Reveals The Only Thing He's Scared Of
Kanye West is back in the music scene in full force, dominating the charts with his Jesus Is King album. West has been out promoting the album, speaking with various radio hosts and late-night talk show personalities, and during these interviews, fans are getting a rare opportunity to learn more about West's personal life.
Recently, West sat down with Big Boy on his syndicated radio show, offering up his thoughts on religion, politics, and the one thing that he is afraid of. Read on to learn about West's history with religion, what religion he is now, and what truly scares the rapper.
What religion is Kanye West?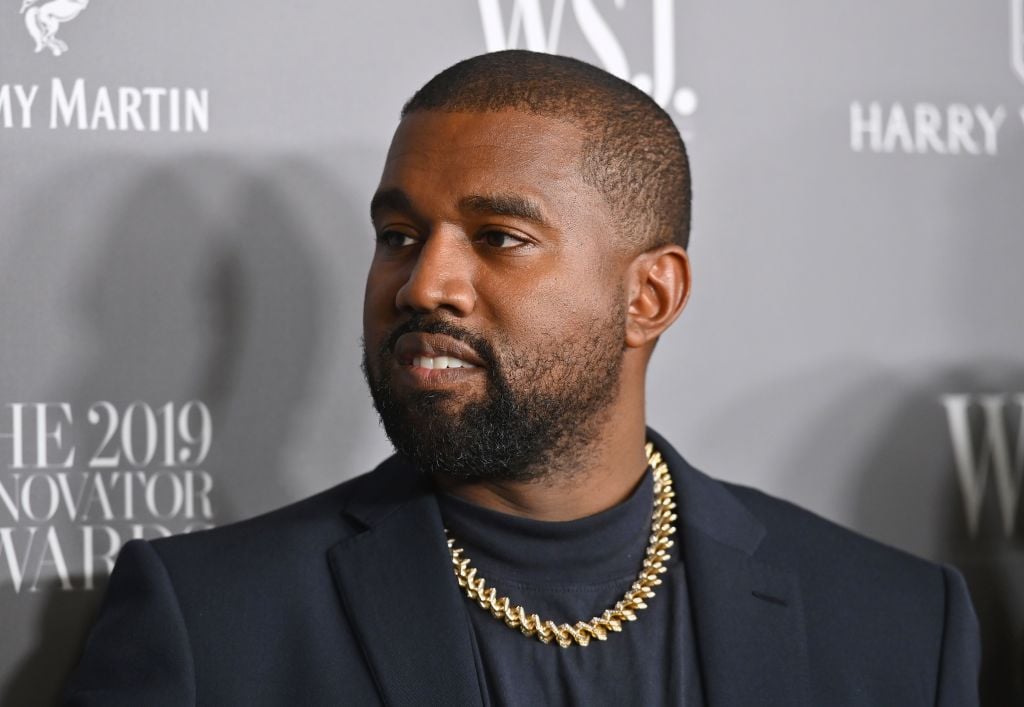 When West first rose to fame in the early 2000s, it was for his skills as a rapper, releasing catchy tunes that could hardly be described as religious. His 2004 album, The College Dropout, is considered a masterpiece of the genre, and West earned thousands of fans shortly following its release.
Still, there was even more to West than what met the eye. In a 2009 interview, West talked about his personal religious beliefs, claiming that he was raised as a Christian because it "wasn't an option" in the home where he was brought up. 
In the same interview, West stated that the roots of the religion are "embedded in him." He said that while he doesn't belong to a specific church, he is open to all religions because he has "super respect" for people standing up for what they believe in.
The overall impression that West left with reporters was that while he still practices some principles of Christianity, he didn't commit himself fully to the church. That would change as the years went on, with West gradually shifting his tone and becoming more and more overtly religious. 
Is Kanye West becoming more religious?
While Jesus Is King is West's first gospel-style album, he's referenced religious elements in many of his songs over the years. In August 2019, West started doing weekly music releases, which he titled "G.O.O.D. Fridays." A few of the song titles released during this time include "Lord Lord Lord," indicating a shift in West's thinking about religion.
Of course, there was the song "I Am a God," which West debuted in 2013 at the Met Gala, followed shortly by the album Yeezus, one of his most controversial. West has also been featured prominently in religious-themed imagery over the years, including a Rolling Stone magazine cover that featured West dressed up as Jesus Christ, crown of thorns and all.
In recent years, West has started introducing religious practices back into his private life as well as in his music, making it a point to have all of his children baptized in Israel. Then, of course, there was the 2018 debut of his Sunday Services, which feature West leading a church choir in singing gospel versions of his songs in a pseudo-church setting. 
Kanye West is only scared of one thing
The gradual progression of West's religious beliefs indicates that he has been going through an extreme spiritual awakening. This was confirmed in his radio interview with Big Boy.
The host asked West if he was afraid of losing his audience through some of his more extreme behavior, to which West responded that he is "only afraid of God." West went on to detail that "God is showing you that you can have your own thoughts" and that he's "been canceled" before.
There's no doubt that West is rubbing some fans the wrong way with his continued habit of making controversial statements. But the fact remains that West's new album is climbing the charts, so it seems that many are very appreciative of West's newfound religious fervor.