Kanye West's Most Controversial Grammy Awards Show Moments
Nowadays, its a rare moment when Kanye West's name isn't in the news. The rapper and presidential hopeful recently made headlines again after he took to Twitter and shared a video of himself urinating on one of his Grammy awards on Sept. 16. Afterward, he went on a lengthy rant about contracts with record labels and owning the rights to his master recordings. 
While Kanye West's outrageous video make come as a shock to some, the fashion and sneaker tycoon has quite a storied history with the Grammy Awards. From impassioned acceptance speeches to on-stage encounters, West has never shied away from sharing his thoughts on the esteemed ceremony. 
Kanye West gave a fiery first-win acceptance speech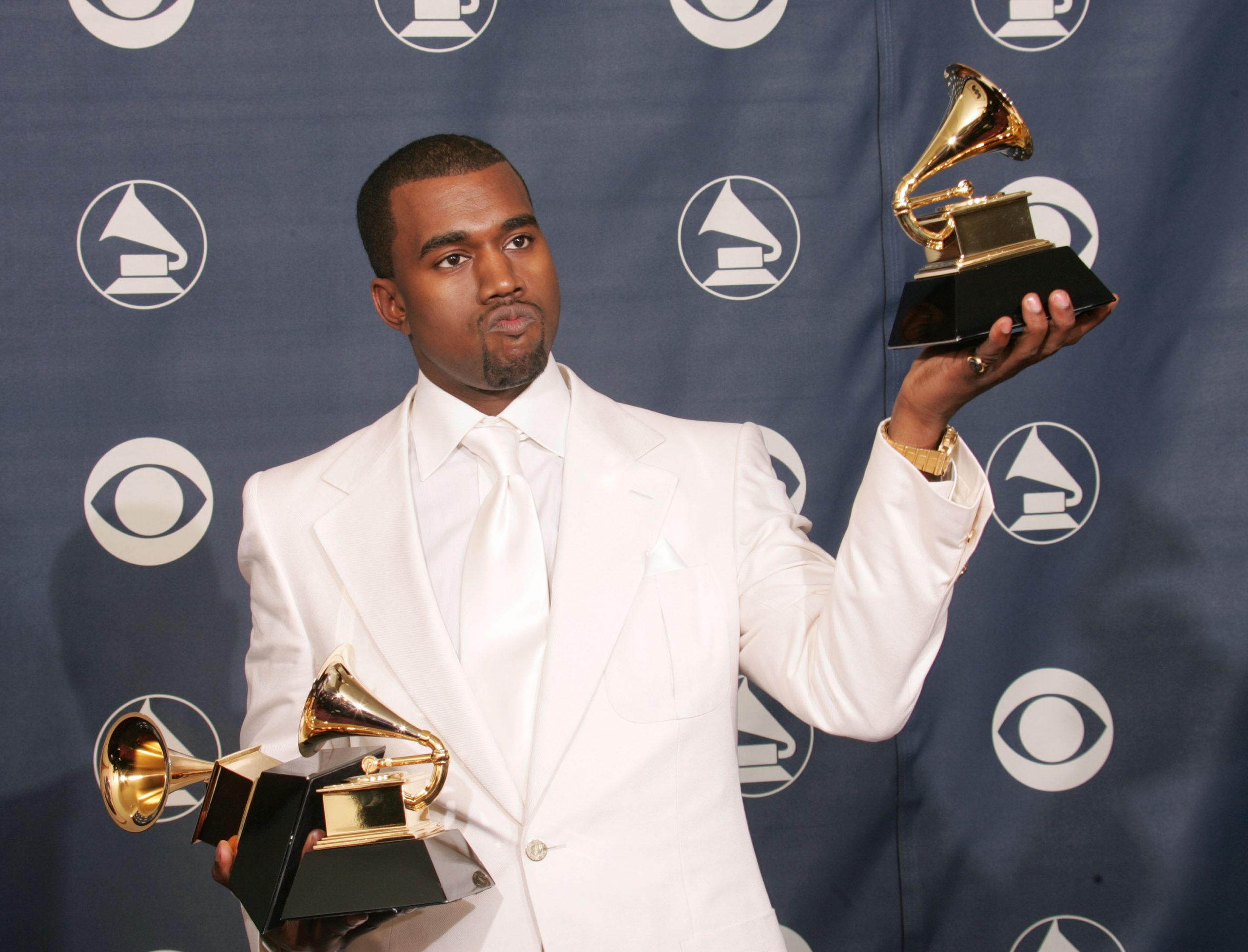 In 2005, West attended his first-ever Grammy Awards. There was a ton of speculation about who would win the awards in the Rap category that year, but West came out on top, taking home the awards for Best Rap Album with The College Dropout and Best Rap Song with Jesus Walks. He rounded things out with a songwriting credit for Alicia Keys' "You Don't Know My Name", which earned a win for Best R&B song. 
During his acceptance speech, West spoke told the viewing audience to never take life for granted, because "nothing in life is promised except death," according to the Grammy website. He shared his party plans for later that night, then provided a classic mic drop moment for those who wondered what he'd do if he lost. "I guess we'll never know." 
Yeezy wore two outrageous suits on Grammys night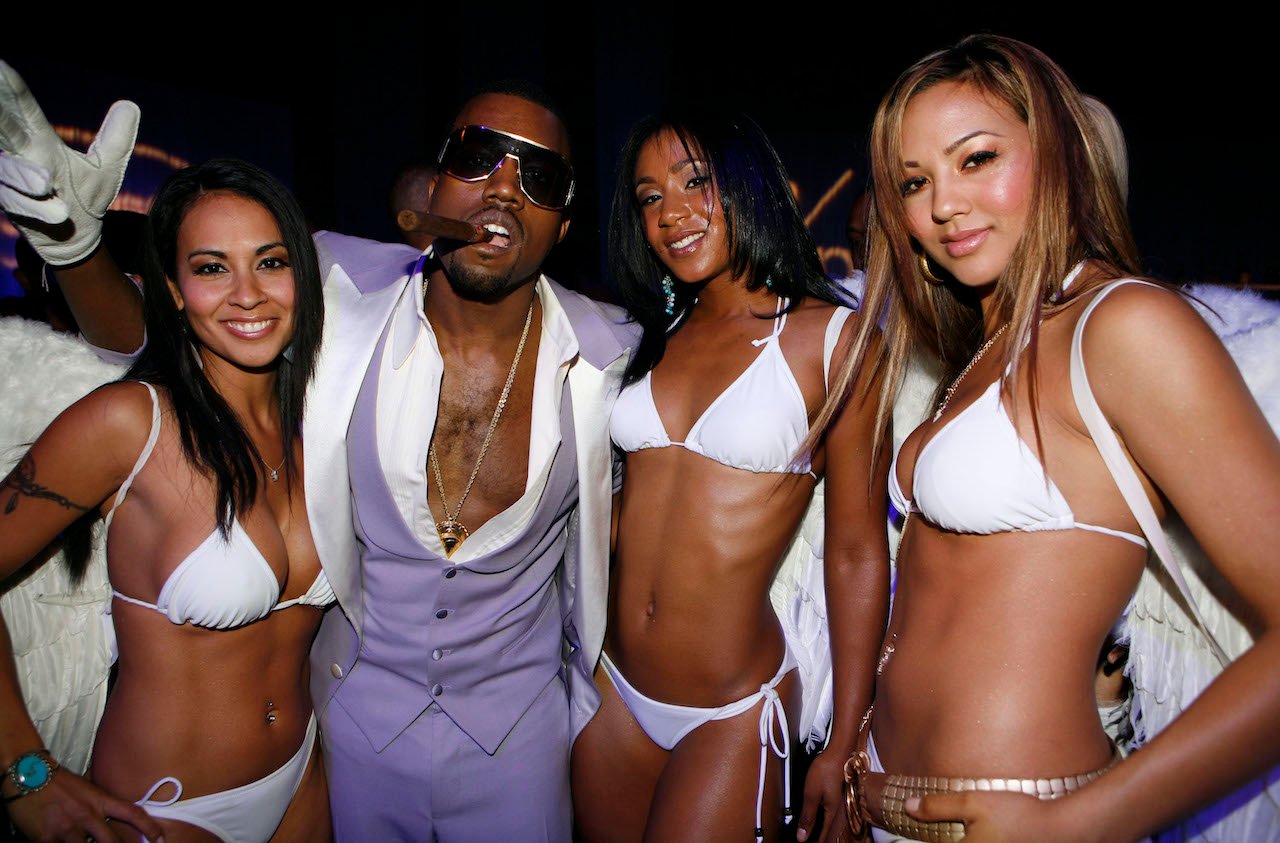 West had a lot to celebrate in 2006 when he won three Grammys. Late Registration won Best Rap Album, "Diamonds From Sierra Leone" won Best Rap Song, and "Gold Digger" won Best Rap Solo Performance, and West definitely wanted to make an impression when he showed up to claim his awards; he arrived wearing sunglasses, black leather gloves, and suit that he would later describe as "ultra Travolta." Later that night, he switched 'fits to a lavender suit and donned white gloves, walking around with an "I TOLD YOU SO" sign. 
West boycotted the awards after a major snub
Although West did not attend the Grammys in 2012, he still made waves. West had recently released what many viewed to be his magnum opus, My Beautiful Dark Twisted Fantasy, but failed to earn an Album of the Year nomination. Many fans were outraged by the snub, and West shared his thoughts during a show in Chicago a few days later, according to MTV. 
"I figured out though, that's my fault, for dropping Watch the Throne and Dark Fantasy in the same year. I should've just spaced it out just a little bit more."
West skipped the awards ceremony afterward.
The Louis Vuitton Don stormed the stage, but 'let Beck finish' in 2015 2015 Beck Album of the Year
In 2015, Beck beat out Beyoncé for the Album of the Year award, which some felt was the wrong decision. West was one of those people and during Beck's acceptance speech he walked onto the stage, seemingly about to repeat his horrible debacle with Taylor Swift just a few years prior. 
It became clear West was joking after he hopped back off stage without a word, although he did say later on that Beck "needs to respect artistry, he should have given his award to Beyoncé."
Yeezus bashed the Grammys during a Twitter tirade 
West took to his favorite platform in 2016 to share his thoughts on the Grammys; during a long rant on Twitter, West expressed his displeasure with the Grammy awarding system, saying "the Grammy awarding system is way off and completely out of touch," according to Variety.
The tweets have since been deleted, but the controversial rapper fired off over a dozen incendiary tweets about the Grammy Awards and the RIAA.