Kanye 'Ye' West Was Lamar Odom's Support After His Coma: 'I Am Grateful for That'
Learn more about Lamar Odom's time in a coma and what he said about Kanye West's support.
Ye, formerly known as Kanye West, and Lamar Odom no longer share the same Kardashian orbit. However, Odom publicly acknowledges a fondness for the rapper that stems back to his recovery from a life-threatening drug overdose.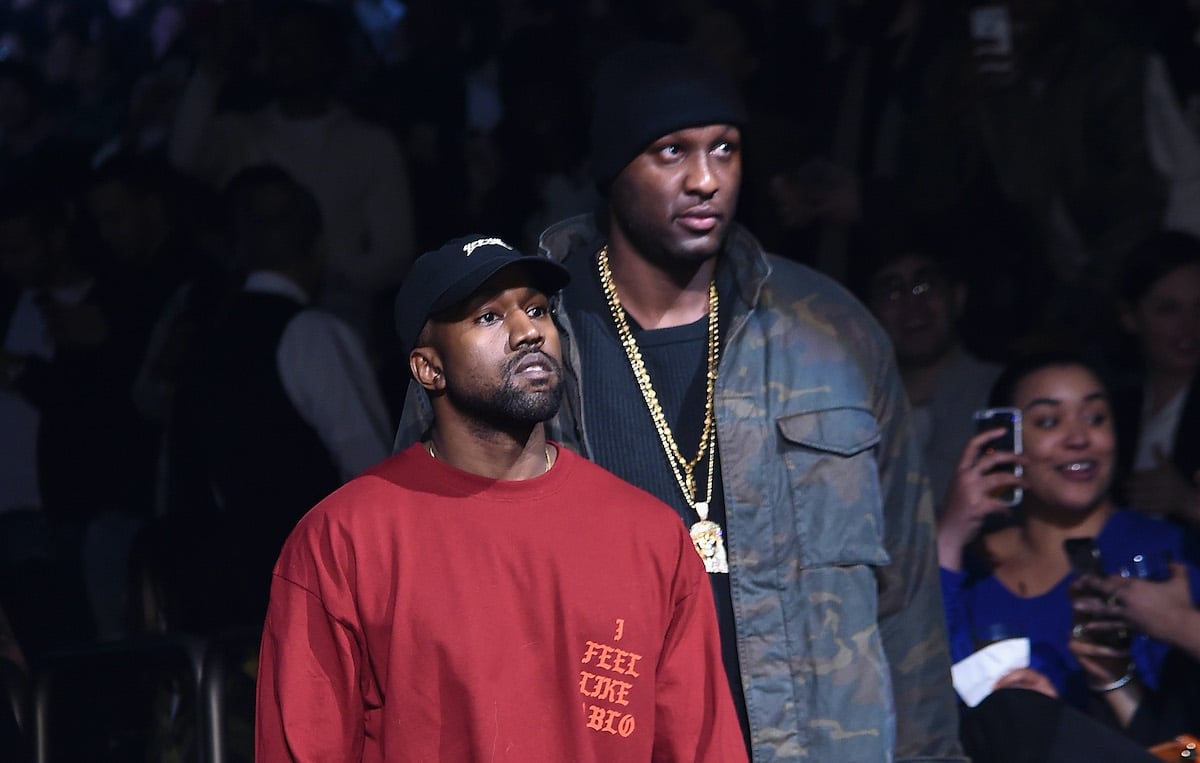 Odom had an "unholy concoction" of cocaine, cognac, and cannabis in his system when he overdosed in a Las Vegas brothel in October 2015, according to his memoir Darkness to Light. The former NBA star wrote he had 12 seizures, six strokes, and two heart attacks that left him comatose and on life support following the overdose. 
Kanye West played music for Lamar Odom during recovery
Khloé Kardashian and Odom were separated when he was in a coma, but she and the entire Kardashian-Jenner clan rallied around him as he recovered. Odom has frequently praised Kardashian and her family for that support. 
"Y'all gave me family and for that I am forever grateful," Odom wrote in an Instagram post where he's seen watching a rerun marathon of Khloe and Lamar. 
Recently, Odom also gave credit to West and the rapper's role in his recovery. 
"When I came out the coma [sic] Kanye was playing all his new music for me, trying to get my soul and my spirit all in one with music and I am grateful for that," Odom said in a February interview with Access Hollywood following his eviction from the Celebrity Big Brother house. 
West has also recalled that period with Odom fondly in the past. In a tweet from April 2018 he wrote, "my favorite moment of walking into MSG to play "Saint Pablo," I used to go to the hospital and play Lamar the album when he was learning to walk and talk again," Billboard reported. "Then we walked into the arena together."
During a release event for The Life of Pablo in 2016, West and Odom walked into Madison Square Garden in New York City together. According to Billboard, it was Odom's first public appearance since his recovery. 
Odom would welcome reconnecting with West
Though Odom and West are no longer tied together through the Kardashians and haven't been in touch recently, Odom said he would welcome the chance to speak with West again. "I have a lot of ideas I wish I could run by him just in life," he told Access Hollywood.
Despite the upheaval in West's personal life in the past year, Odom said there's still a lot he would emulate from the rapper. 
"He never came off to me as weird or difficult, always easy going, laid back. I feel like at this point in my life if I can surround myself with some of that greatness hopefully it can rub off on me," Odom added.
Odom also wants to reconnect with Khloé Kardashian
Before getting evicted on the recent third season of Celebrity Big Brother, Odom said he would also like the chance to reconnect with his ex-wife. 
"I would probably just want to take her to dinner," Odom said in a confessional on the show, which was recapped by People. "It would be a blessing just to be in her presence to just tell her I'm sorry and what a fool I was. She has the right to never see me again for the things I put her through, but time moves on and people change. I would say I'm a lot more loyal now."
Odom and the Good American co-founder married in 2009 after just 30 days of dating but separated in 2013. The pair were officially divorced in 2016.