Kardashian Fans Are Worried About Rob Kardashian's Custody Battle Over Dream
Rob Kardashian is one member of the Kardashian-Jenner family who tries to avoid the spotlight. Seemingly uncomfortable with many of the trappings of fame, Kardashian nonetheless ends up in the headlines frequently, due to his long-running custody battle with his ex, Blac Chyna.
The two welcomed their daughter, Dream Kardashian, in late 2016, and broke up not long after her birth. In the years since, Kardashian and Blac Chyna have been battling it out in court.
And recently, Kardashian filed for sole custody of his young daughter, igniting a firestorm amongst Kardashian fans. 
Rob Kardashian has a controversial history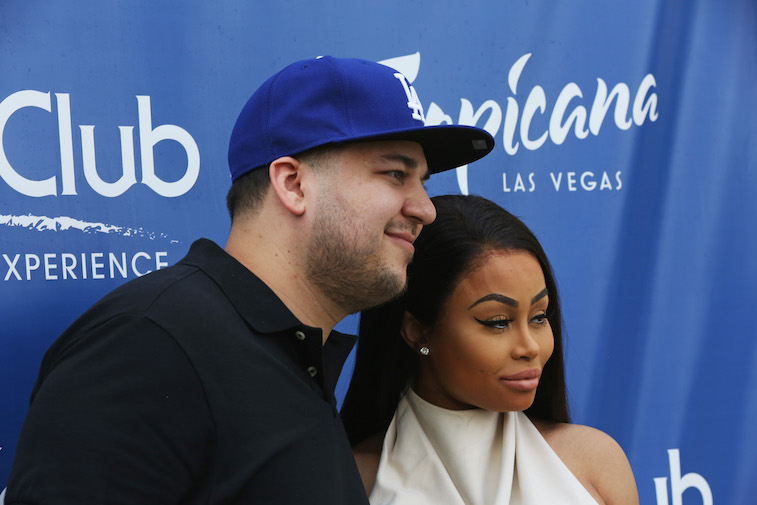 Rob Kardashian was a young man when Keeping Up with the Kardashians premiered in 2007. Unlike his sisters, Kardashian didn't thrive in the spotlight and consistently struggled with being famous.
He has gone through a number of public scandals over the past few years, and although he rarely appears on the family's reality show and doesn't seem to have any real business interests, fans are still curious about what caused Kardashian to spiral so far.
Rob Kardashian has openly battled problems with his weight, and notoriously didn't attend Kim Kardashian's wedding to Kanye West because he felt "uncomfortable" with the way he looked in a suit. Kardashian has also reportedly struggled with addiction issues, although this has never been confirmed by the star directly.
Possibly the biggest controversy of Kardashian's time in the spotlight has been his romances with various famous women, including Rita Ora and Adrienne Bailon. All of his relationships have ended poorly, with rumors of cheating making the headlines – however, it was his romance with Kardashian family friend Blac Chyna that created the most buzz. 
Rob Kardashian and Blac Chyna's troubled relationship
In early 2016, rumors that Rob Kardashian was dating Blac Chyna, a long time friend of the Kardashian family, started swirling. Only a few weeks after the news that they were dating, the couple announced that they were expecting a child – and their daughter, Dream, was born in November 2016. Sadly, the baby did little to calm the strife between the fiery couple, and they broke up for good not long after her birth.
In the past several years, Rob Kardashian has gone on social media rants, accusing Blac Chyna of cheating on him and of being hooked on drugs. Chyna responded by suing Kardashian, and saying that she wanted him out of her life for good. Although they have claimed in the past that they want to remain cordial for the sake of their daughter, recently, Rob Kardashian proved that he still has a grudge against his former fiance.
Why does Rob Kardashian seem to be against co-parenting?
In January, Rob Kardashian petitioned for sole custody of his daughter, claiming that Chyna is an unfit mother. The courts denied Kardashian's petition, unable to find any issue with Chyna's parenting that would require immediate removal of the toddler, although Kardashian is free to pursue his petition long-term. Still, fans on Reddit aren't happy with the turn that the case has taken and discussed it recently on the forum.
Some users stated that it is "interesting" how Kardashian seems unwilling to be involved in co-parenting peacefully with Blac Chyna and that his family almost seems to have an "unnatural" hatred of Chyna.
Furthermore, many fans mentioned that it seems as though Khloe Kardashian is the one spearheading the campaign against Chyna, a theory that has been voiced before. Ultimately, most users were in agreement that the sordid situation isn't good for Dream Kardashian, and that for her sake, everything should get sorted out before she gets old enough to remember her parents fighting over her.
At almost four years old, Dream is at a vulnerable age, and shouldn't have to worry about bitter fights between those who should be protecting her from all drama.