Karen Gillan Would Love to Work With 2 Former Co-Stars If She Returned to 'Doctor Who'
Karen Gillan said she'd 'never say never' when it comes to returning to 'Doctor Who' — and she'd love to work with 2 former co-stars if she returned.
Scottish actor, Karen Gillan, has played a vast spectrum of characters throughout her television and film career, including prominent roles in Hollywood blockbusters like Guardians of the Galaxy and the Jumanji reboot. Her most famous character, arguably, is the fiery and courageous Amelia Pond of the wildly successful Doctor Who franchise.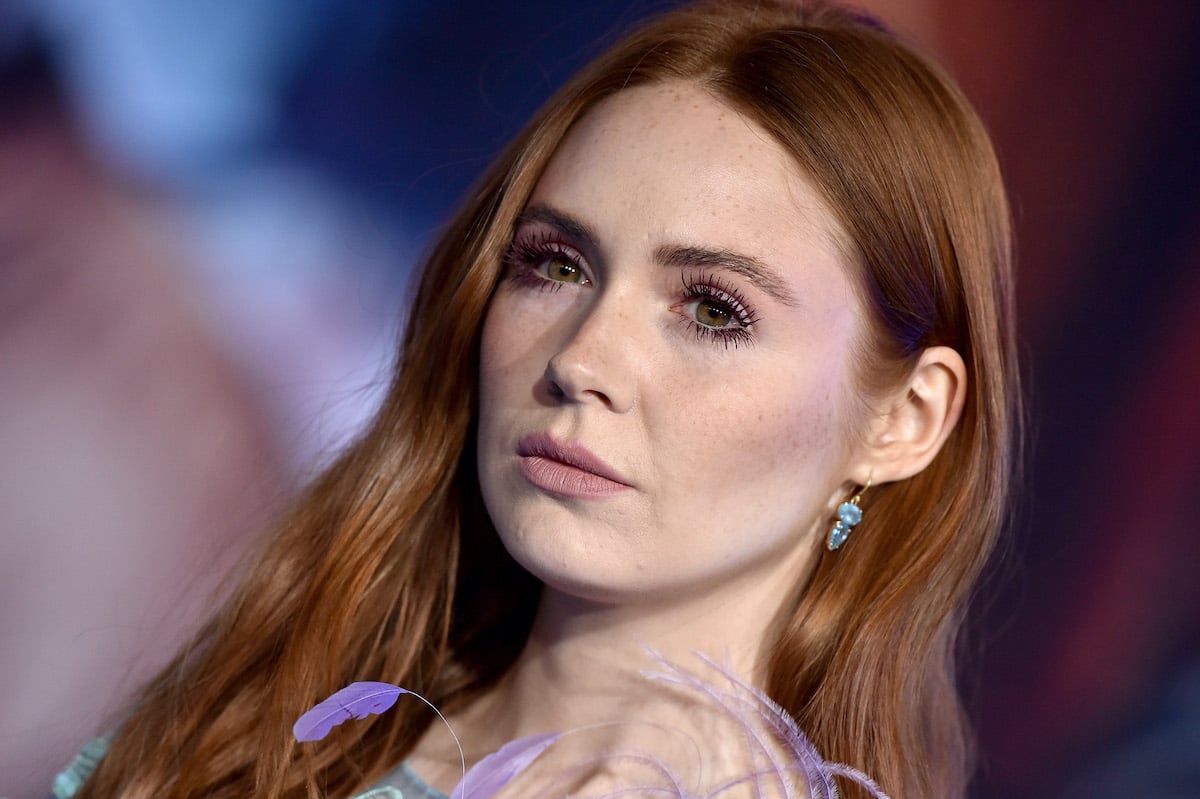 In a recent WIRED interview, Gillan expressed how much she missed her time on the set of Doctor Who and what it would take to bring her back.
Gillan says 'Doctor Who' was the big break of her career
Gillan debuted her breakout role as Amy Pond in 2010 during the season 5 premiere of Doctor Who alongside the newly regenerated Eleventh Doctor, played by Matt Smith. Audiences quickly fell in love with Amy Pond who refers to the Doctor as "Raggedy Man" and proves herself to be a fearless and quick-thinking new companion. Amy's childhood friend and fiancé Rory Williams, played by Arthur Darvill, also finds himself swept up in the Doctor's time-traveling antics and the three characters embark on many wild adventures.
Behind the scenes, the three actors formed a strong bond working together on the set of Doctor Who. This genuine friendship and sense of camaraderie come through in their on-screen chemistry, making Amy, Rory, and the Eleventh Doctor one of the most beloved trios in the show's long and illustrious history.
In a show that classically revolves around change and renewal, it is inevitable that audiences must say goodbye to favorites like Amy and Rory, who bowed out in heartbreaking fashion during the season 7 episode titled, "The Angels Take Manhattan." Both actors felt that the timing was right to leave, especially Gillan who was receiving film and television offers that were too good to resist.
Gillan says 'Never say never' when it comes to 'Doctor Who'
In her Autocomplete Interview with WIRED, Gillan reveals a question burning at the heart of every Whovian, "Will Karen Gillan return to Doctor Who?" Without skipping a beat, Gillan answers, "Never say never!"
Back in 2013, fans famously witnessed the return of former Doctor Who characters when the show's 50th-anniversary special aired to critical acclaim. The episode "The Day of the Doctor" featured previous lead actors David Tennant and Billie Piper, proving that fan favorites never die while simultaneously setting a precedent for bringing them back.
While the decision to star in more Doctor Who episodes isn't necessarily up to Gillan, she emphatically states, "If I was asked, I would be really, really interested and keen. It would be really amazing. I would like to do it with Matt Smith and Arthur Darvill, if I was gonna go back." Who knows? With the 60th anniversary of Doctor Who looming around the corner in 2023, we may yet see Amy Pond return to the TARDIS.
From Hollywood blockbusters to Indie films, Gillan has built an impressive filmography
Since leaving Doctor Who, Gillan has made quite the name for herself in the entertainment industry as an accomplished actor, writer, and director. In her 2014 role as Nebula in Marvel's Guardians of the Galaxy, Gillan plays a bald and blue alien assassin tormented by the evil villain Thanos and raised to be a killing machine. Her next blockbuster hit in 2017's Jumanji: Welcome to the Jungle has Gillan dance-fighting her way through a magical video game as Ruby Roundhouse, the "killer of men."
With so many action sequences under her belt, Gillan jokes that she'd like to think she could pull out some of the fighting moves she's learned in the films, "but the sad reality is probably, I'm a possum." Possum or not, Gillan certainly has the star power to pull off violent action roles as evidenced by her portrayal of an elite hitwoman in the 2021 Netflix film Gunpowder Milkshake.
Of course, Gillan has the acting chops to carry the most serious of dramas as well as some bizarre comedies. The 2022 Sundance Film Festival sci-fi thriller Dual stars Gillan as a desperate woman who must fight her own clone for her very existence. Then there's the star-studded Judd Apatow comedy newly released by Netflix called The Bubble, a meta-film starring Gillan and others as a group of actors quarantined on a movie set during the coronavirus (COVID-19) pandemic.