Karl-Anthony Towns Is Reportedly Ready To Take Things With Jordyn Woods To the Next Level
Though they've only been dating for a few months, Towns already sees a bright future with Woods and wants to put a ring on it sooner rather than later.
Karl-Anthony Towns is so in love with Jordyn Woods that he's ready to take the next step in their relationship! Though they've only been dating for a few months, the NBA player already sees a bright future with the model and wants to put a ring on it sooner rather than later.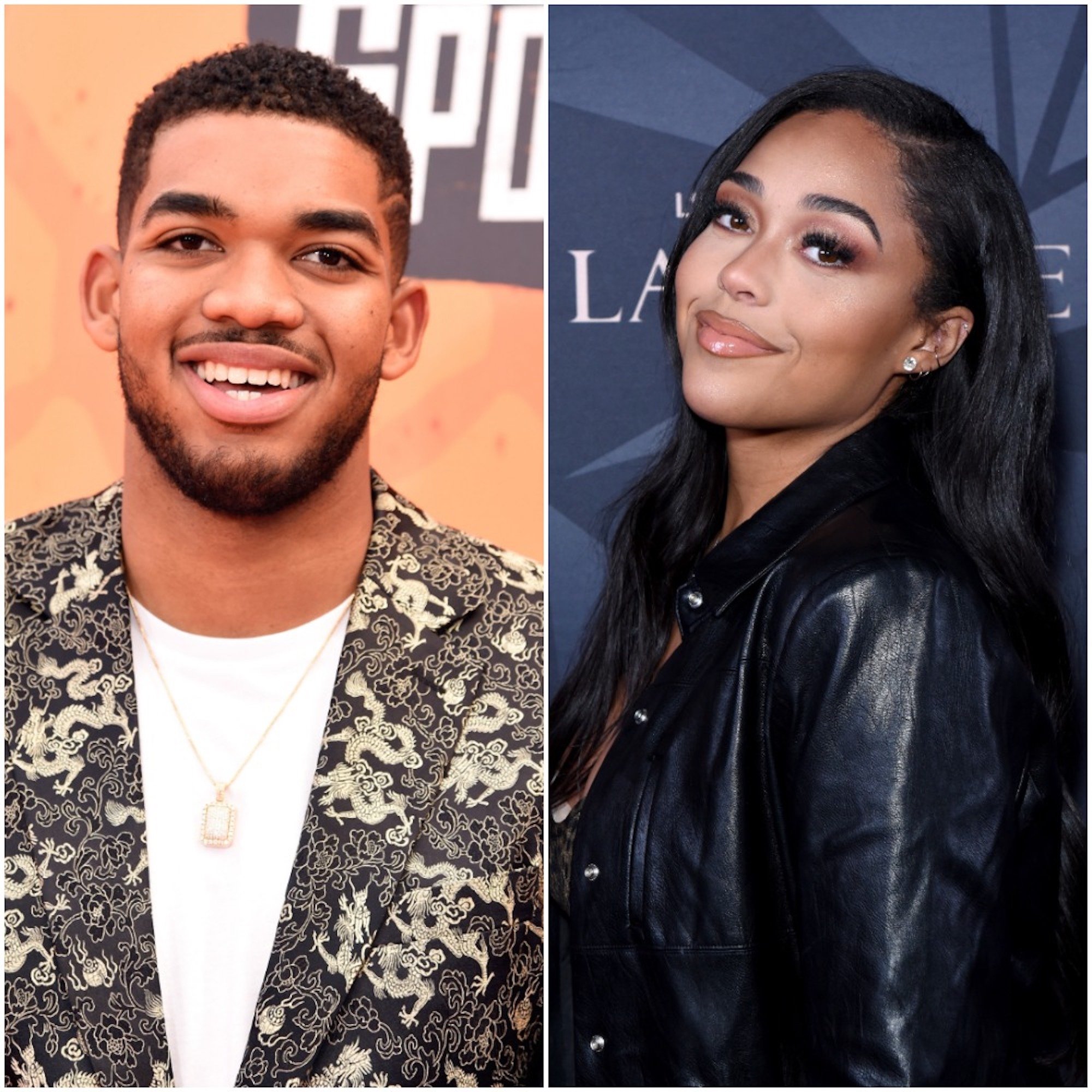 Jordyn Woods and Karl-Anthony Towns came together at a 'weird time'
News of Towns and Woods' relationship might have come as a shock to some, but to others, it seemed to be the rainbow at the end of the storm.
The model and the NBA player confirmed their romance in September 2020, a year after Woods became part of an infamous cheating scandal with Khloé Kardashian's ex, Tristan Thompson.
In two separate Instagram posts, both Woods and Towns shared photos of them embraced in a hug while wearing matching Versace swimwear on a beach.
"I found you, then I found me," Woods captioned a slideshow of lovey-dovey photos. For his part, Towns made it clear how much Woods has changed him for the better, writing, "There are darknesses in life and there are lights, and you are one of the lights, the light of all lights."
The following month, Woods opened up about her romance with the athlete, telling HollywoodLife that their relationship blossomed while quarantine was going on — a time when neither expected to fall in love.
"Life is very funny sometimes and very unforgiving sometimes, especially this year and not just for one group but for everyone," Woods said. "Definitely a weird time, but it's nice that this is working out."
Karl-Anthony Towns is ready to propose to Jordyn Woods
Though they are only a few months into their relationship, Towns and Woods are pretty serious about each other. So much so that the athlete already sees a future with the model.
According to HollywoodLife, the Minnesota Timberwolves player couldn't be more in love with Woods and is ready to "work towards marriage" with her.
"Once things get back to normal, he's going to get engaged to her and they are going to work towards marriage because she means that much to him," a source explains. "She has been his rock the last few months and that is something he will never forget and forever cherish."
A source tells the outlet that Towns' feelings toward Woods grew stronger following a string of tragedies this past year. Not only did he lose his mother, Jacqueline Cruz, to COVID-19, in April 2020, but Towns himself also tested positive for the virus in January 2021.
Through it all, Woods remained by his side.
"The main thing that has kept him afloat has been Jordyn," the insider shares. "The love he has for her and the love he knows she has for him has really touched him in ways he has never felt before."
The source added, "He's completely devoted to her too, they're the real deal. Marriage is definitely in their future."
How does Jordyn Woods feel about marrying Karl-Anthony Towns?
Although they're in love with each other and see a bright future together, it's likely Towns and Woods won't tie the knot anytime soon as the model isn't looking to get married just yet.
"Of course, one day in the future I would like to have a time to settle down and have a family of my own," she previously told HollywoodLife. "But right now I don't want things to go way too fast. I am too focused right now to be worried about something that is happening next year or two years from now or three years from now."
But despite not wanting to rush into marriage, Woods is still looking forward to taking that next step, even if it doesn't happen for another few years.
"Of course, it is a dream of mine to have a family one day and to settle down," she continued. "You know, things are awesome. I am excited. I am excited for the day when it comes, but I am not pushing for it any time soon."