Kate Beckinsale Can Relate to Prince William and Prince Harry in Grieving a Parent at a Young Age
Losing a parent can be a difficult situation for many people, especially when one is young. Actor Kate Beckinsale experienced this as a child. She recently opened up about the grief process and how much she could relate to Prince William and Prince Harry, who both lost a parent at a young age as well.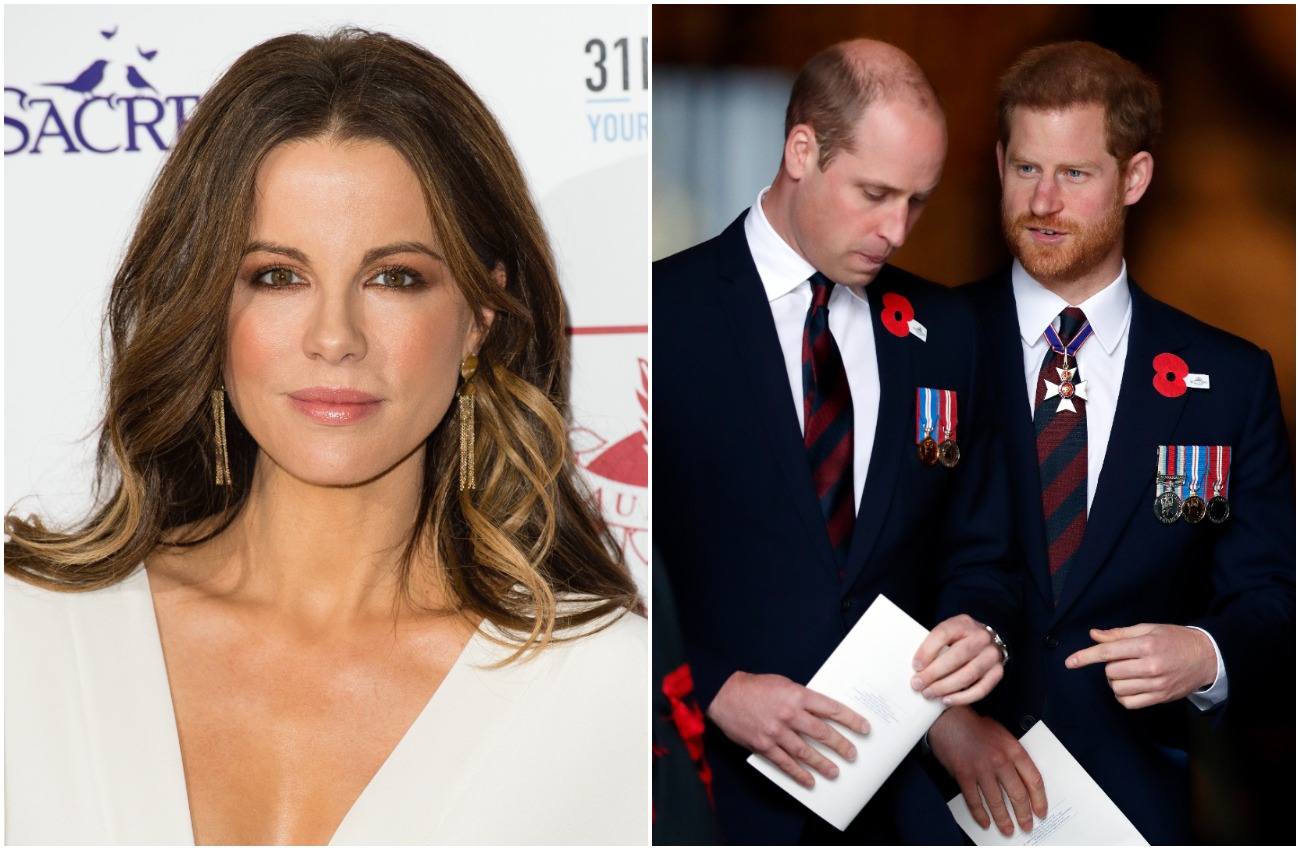 Kate Beckinsale and the princes both lost parents when they were kids
In 1979, when Beckinsale was 5, her father died from a heart attack. Her father is actor Richard Beckinsale, who starred on British sitcoms such as Porridge and Rising Damp.
Meanwhile, Prince William and Prince Harry's mother, Princess Diana, died in 1997 as the result of a car accident. The death caught the world's attention, and about 2.5 billion people tuned in to watch the funeral.
Kate Beckinsale talks about her feelings when watching Princess Diana's funeral
RELATED: Kate Beckinsale Has The Weirdest Hack For a Successful Marriage
When Diana's death occurred, Beckinsale had been grieving her father for almost two decades. She revealed that she could relate to William and Harry.
"I remember when their mother died, I was in New York, and seeing them in the context of other people sort of grieving for somebody they didn't know," she told Dax Shepard on the Armchair Expert podcast, according to People. "I thought, 'Oh my God, I really know what that feels like.'"
When Beckinsale's father died, she admitted it felt "quite weird" to her that strangers would grieve him. She shared, "It was hard at the very, very beginning because it did feel like you were having this very personal, horrible crisis — and so was everybody else, but you didn't know them."
Additionally, Beckinsale was "offended" when people made assumptions about her grieving process just because of how old she was when her father died.
"People would talk about how terrible they felt that they had lost him, but then say, 'Oh, but you probably don't remember anything, do you, because you were a child,'" she said. "That would really upset me as a child. I found that really difficult."
However, she shared that she accepts those comments easily now at her age, saying, "I found that, as I'm older, I'm less offended by it. There is something incredibly special and comforting about how much other people loved him, that, sort of the longer it goes on, [it's] lovely."
What have Prince William and Prince Harry said about grieving their mother?
RELATED: Prince Harry Has a Lot of Princess Diana's Personality While Prince William Is Aligned With Prince Charles, Royal Expert Says
William and Harry have been open about how Diana's death affected them.
According to Town & Country, William shared it in the 2017 documentary Diana, Our Mother: Her Life and Legacy that he learned how to rebuild his life after her death and that it gave him the strength to conquer other challenges in life.
Meanwhile, Harry revealed in the 2021 Apple TV+ series The Me You Can't See that he turn to alcohol and drugs in his 20s and 30s. He said he did those things "not because I was enjoying it but because I was trying to mask something."
However, both William and Harry have used Diana's death as a way to start conversations about mental health. The two princes are advocates for therapy and often encourage people to be more open about difficult emotions.