Kate Chastain Wants Dani Soares' Baby Registry While Dragging Below Deck Sailing Yacht's Jean-Luc Cerza-Lanaux
Below Deck's Kate Chastain continued to come for Jean-Luc Cerza-Lanaux from Below Deck Sailing Yacht while showing her allegiance to Dani Soares and her baby.
Chastain joined Below Deck Sailing Yacht viewers in their disbelief and shock during the second part of the season 2 reunion. Soares revealed that she conceived her baby during the filming of the show. But Cerza-Lanaux, her boyfriend on the series, ghosted her after she revealed she was pregnant. He also didn't attend the reunion. Cerza-Lanaux cited that he was on charter. And the reunion was filmed on the same day as his boss's daughter's birthday. Chastain jumped on that remark. She tweeted, "NOT JL USING A DAUGHTERS BIRTHDAY AS AN EXCUSE," along with a "mind blown" emoji.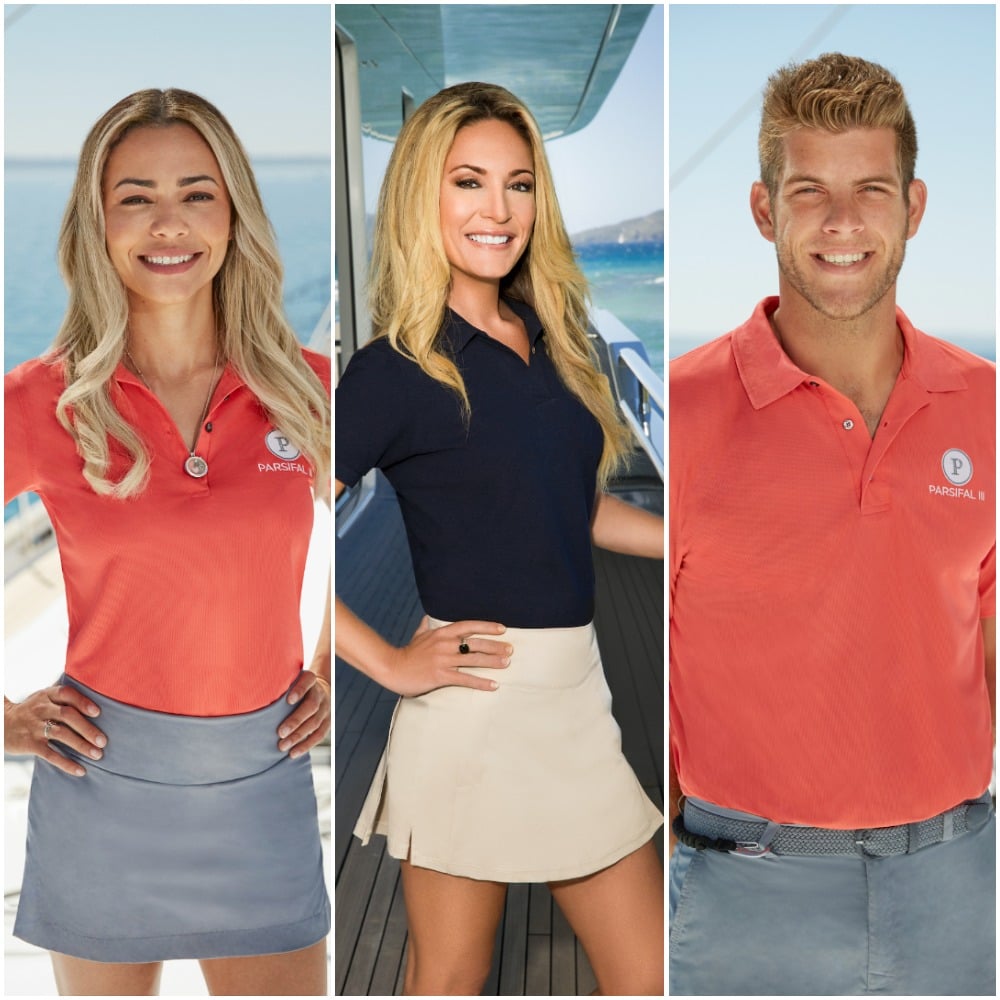 Kate Chastain is clearly 'Team Dani' Soares from 'Below Deck Sailing Yacht'
Chastain tweeted during the reunion, "Okay so where is the link to the online baby shower for Dani? I need it right now." Soares tearfully explained that she did not plan to have a baby alone while living in a new country.
"I told him, and he was obviously a bit shocked and everything, but he seemed supportive," Soares said during the reunion. "He told me he would support me, whatever I decided to do. So, he was supportive in the beginning, and then it just changed. Like, around December things just changed, and he was just not interested anymore."
RELATED: 'Below Deck Sailing Yacht': Captain Glenn Reveals Why He Is More Relaxed Than Captain Sandy and Captain Lee
Not only was he uninterested, but Soares also said Cerza-Lanaux sent her a message, urging her to avoid telling anyone he was the child's father. "Don't go around telling people I'm the dad of this child," she recounted from his message. "And I want a DNA test."
Soares also reacted to Cerza-Lanaux's mother's comment that she was "gross" for using her son to become a parent. Chastain tweeted a "Worlds Worst Grandma" mug in response to that moment.
Why J.L. Cerza-Lanaux hasn't gotten a paternity test, Kate Chastain wonders
While Cerza-Lanaux insisted he wanted to be involved in the child's life (as long as the baby is his), he continued to ruminate about how to get a paternity test. "Why is JL acting like this paternity test is the same as extending his car warranty. Like it's just something he hasn't gotten around to yet, Chastain tweeted.
Cerza-Lanaux cited distance and expense as a few reasons why he hasn't gotten a test. Since Australia's borders are closed, but visitors can quarantine, Cerza-Lanaux claimed he could not do one in person with Soares. He added that he preferred to do the test in person.
RELATED: 'Below Deck Sailing Yacht' Season 2: From Babies to Boat Crashes, This Is the Most Historic Season Ever
Since Cerza-Lanaux did not attend the Below Deck Sailing Yacht reunion, host Andy Cohen replayed comments the crew made about him. He watched the clip package twice and looked visibly upset. "I can't express enough how great it is to see the @BravoWWHL team truly using their powers for good by playing the crew comments split screen while JL listens on camera," Chastain tweeted. Soares and Cerza-Lanaux have yet to resolve the paternity dispute.