Kate Gosselin's Followers Are Calling Her Show 'Kate Plus 6' Now That 2 of Her Kids Are With Jon Gosselin
If there's any reality couple who made a serious splash from their divorce, it's Jon and Kate Gosselin. The Jon & Kate Plus 8 stars first attained fame for having a set of twins and sextuplets, but it wasn't long before their marriage completely fell apart. Now, Kate and Jon are still at odds, and the family is more divided than ever. While six of the Gosselin kids are still technically in Kate's care, two of them live with Jon full-time.
Jon has taken himself out of the reality TV spotlight completely, but Kate's still doing shows with TLC. And a recent Kate Plus 8 special had fans calling the show Kate Plus 6 instead. Here's what Kate's followers are saying on her Instagram.
Hannah and Collin Gosselin currently live under Jon's roof
Jon and Kate Gosselin have been divorced for a decade now — and while Kate initially had custody of all eight children, two of the kids later decided they wanted to live with Jon. Hannah, one of the sextuplets, was the first to step away from her mother's home and into Jon's care. A source told E! News back in 2015 that Hannah was "voicing her discomfort" over living under Kate's roof. As the source claimed, "Jon is filing for custody because Hannah has expressed she is unhappy and uncomfortable in the house with Kate [Gosselin]."
Aside from Hannah, the fight for Collin Gosselin was also highly publicized. Kate told publications that she put Collin into a separate home designed to help him with his "special needs," but Jon has since slammed these claims. Recently, he told DailyMailTV that Collin was kept "caged" in a facility for three years, and Kate rarely visited the child and wouldn't tell Jon where he was located. Jon later attained custody of Collin and took him out of the facility.
Kate told TV producers why Hannah wasn't featured in a recent Kate Plus 8 special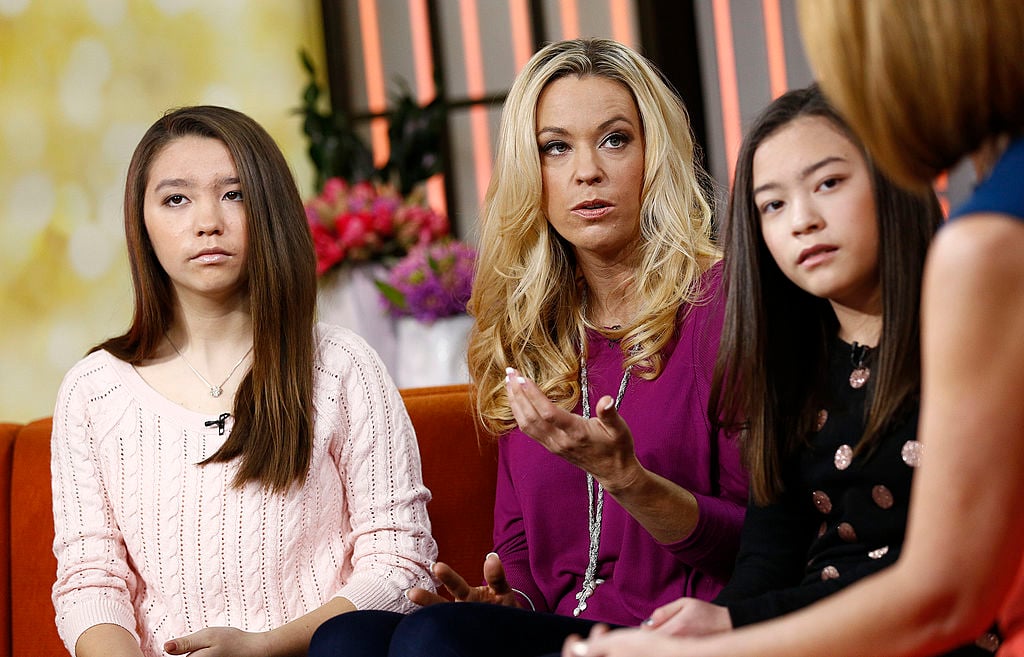 Kate was back on TV with her own dating show, Kate Plus Date. And while that season ended not too long ago, she's not ready to take herself and the six kids she lives with out of the spotlight just yet. Recently, she was part of a Kate Plus 8 special that showcased her twins, Mady and Cara, going off to college. And she also took six of her kids on a trip that was broadcasted on the show.
In Touch Weekly notes one of the producers asked Kate why Hannah didn't attend the family trip. To that, Kate answered, "She's with her dad and she was not able to come. And that's sad. That's the second trip here, actually, for us that she hasn't been with us." In a confessional, Kate also continued talking about how Hannah was missing. "Hannah … it was sad for us because … you know, they're getting older, and they're making different choices, and they're doing different things. And she opted to stay back with her dad, actually."
Other sources claim Hannah didn't know about the trip at all, however. As a source told Radar Online, "Kate saying she is supportive of Hannah is outrageous! She has not given her a birthday present. She didn't even tell Hannah about all of these family trips."
Fans think the show should get a new name
While Kate addressed Hannah not being a part of the family trip, she made no mention of Collin. And fans took to Kate's Instagram to express how displeased they were that she's still calling the show Kate Plus 8 despite two of her children missing. "Kate plus 8? What happened to the other 2?" one fan questioned on this Instagram post of six of the Gosselin kids. Another questioned, "Kate plus 6 ? What did I miss ?"
On another Instagram post Kate added of six of her kids, a follower also wrote, "Why is your show called Kate Plus 8? I am new….haven't watched much….but the episodes I have seen show 6 kids. I'm confused."
Despite the confusion and questioning, we're sure this is far from the last time we'll see Kate with her children on the small screen. As for Hannah, Collin, and Jon, we may just have to rely on social media for updates on them.
Check out Showbiz Cheat Sheet on Facebook!