Kate Hudson and Matthew McConaughey Celebrate 'How to Lose a Guy in 10 Days' in Throwback Instagram Posts
It's been 17 years since 'How to Lose a Guy in 10 Days' and Kate Hudson and Matthew McConaughey are still arguing about the fern.
It's been 17 years, and Kate Hudson and Matthew McConaughey are still arguing about the fern. On Feb. 7, the two actors each took to Instagram to share throwback posts from their 2003 movie How to Lose a Guy in 10 Days. Both focused on a now-iconic scene from the beloved rom-com involving a houseplant. 
McConaughey is still thinking about 'that damn fern'
Just in case you've forgotten the plot of the movie, Hudson plays Andie Anderson, a magazine writer who is assigned an article about all the mistakes women make in relationships. Her mission is to make a man fall in love — and then out of love — with her in just 10 days. Meanwhile, McConaughey is an advertising exec named Ben Barry who bets his boss that he can make any woman fall for him in 10 days. Naturally, the two meet cute, and hilarity and romance ensue. 
In her quest to sabotage her burgeoning relationship, Andie does a number of off-putting things to test Ben's patience. She tricks him into attending a Celine Dion concert, calls a lot, and ruins a Knicks game the two attend. She also gives him a "love fern." In one of the film's most memorable moments, Andie crashes Ben's poker night with the guys, then pretends to freak out when she sees that he's killed the plant.
On Friday, McConaughey posted a photo from the film, along with the caption "that damn fern." 
Hudson reacts 
Shortly after McConaughey's throwback post, Hudson got in on the action. She posted the same photo of herself clutching the dead houseplant. "That damn fern…? That damn fern?!?! YOU LET IT DIE! ❤️," she wrote. 
The words are a reference to the moment in the film where she sees the dead fern. 
"Oh no! Our love fern!" Hudson's character says. "It's dead."
"No, honey, it's just sleeping," Ben replies. 
"You let it die!" Andie retorts. "Are you gonna let us die? You should think about that."
Fans love McConaughey's and Hudson's posts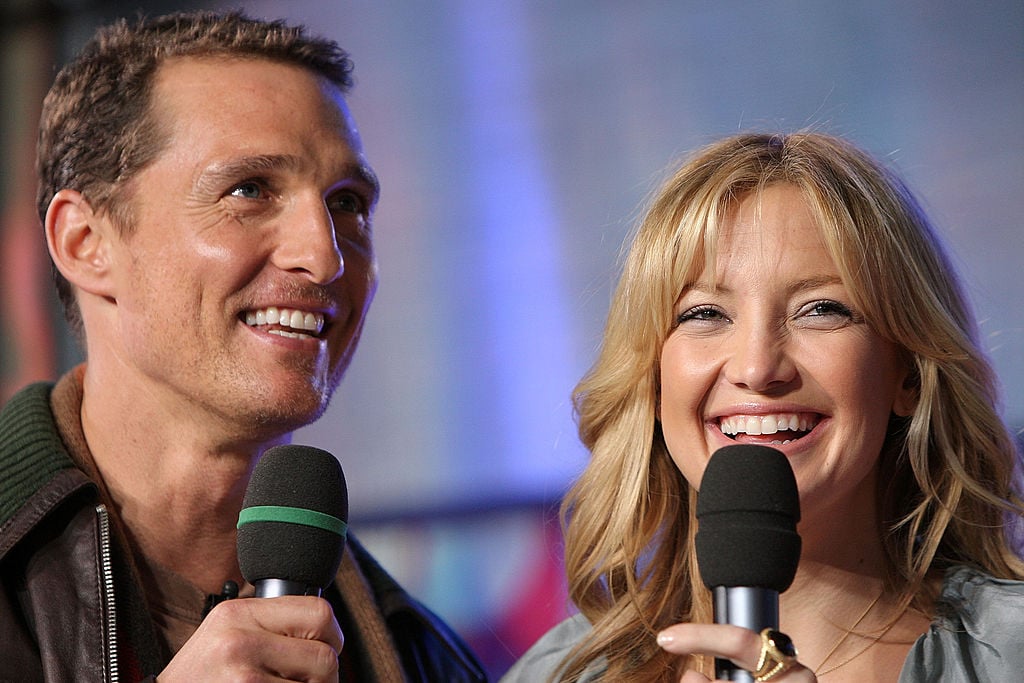 Fans were delighted with Hudon and McConaughey's trip down memory lane, with many commenting about how much they loved the movie, including actress Vanessa Hudgens, who left a comment on McConaughey's post calling the movie "the best." 
A few people even begged the two actors to reunite in another film. 
"Please make another romcom together 🙌❤️🍾💕 this world needs some love!" one person commented on Hudson's post. 
"Seen this too many times to count!! Would so love to see you in another one like this!!! Classic," wrote another. 
Hudson and McConaughey have reunited onscreen just once since How to Lose a Guy in 10 Days. They co-starred in 2008's Fool's Gold, where they played a recently divorced couple who go hunting for a treasure lost at sea.
Meanwhile, How to Lose a Guy in 10 Days is getting a reboot. The new version is coming to us courtesy of Quibi, which makes short-form streaming content for mobile.
Read more: Kate Hudson Says Rumors of Her Raising Her Baby Genderless Are Clickbait
Check out Showbiz Cheat Sheet on Facebook!