Kate Hudson Created a Goldie Hawn-Inspired Drink Using Her Own King St. Vodka
Movie star Kate Hudson has been a staple in the pop culture scene for more than two decades. The star of romantic comedies like How to Lose a Guy in 10 Days remains a fan and critical favorite. Hudson has expanded her range in recent years, becoming a very successful entrepreneur. While many fans might know about her fitness apparel company Fabletics, her vodka brand is also earning top marks. In a recent appearance on Hot Ones, the actor opened up about a specialty cocktail inspired by her mom, Goldie Hawn.
Kate Hudson named a specialty vodka cocktail after Goldie Hawn
Hudson is a self-admitted devotee of fine cocktails and loves experimenting with different combinations. In a 2022 Hot Ones episode, she discussed the drink she crafted especially for her mom, renowned actor Goldie Hawn.
"I made a lychee martini, and I did two ounces vodka, two ounces lychee, an ounce of the cranberry, and then I did a dash of orange bitters," Hudson said. She likes to use her own King Street Vodka brand for the drink. "And it's so good, and something my mom loves. So, I called it 'Goldie's Mad Dash,' which also is her personality."
Hudson raved about her love for cocktails. "I just love a good drink," she added. "In the winter, I love my bourbons, and I'll have a whiskey. You know, the fire — the cozy-by-the-fire drink."
Kate Hudson launched King St. Vodka in 2020
It might have been unexpected, but Hudson's King Street Vodka brand has received praise from connoisseurs. According to Mashed, the star talked about her desire to get involved with the alcohol industry in a press release announcing the brand.
"I have always found the spirits industry fascinating, and I love Dirty Vodka Martinis," she wrote. "The creative side of me thought it would be a fun challenge to develop a vodka for my palate, and in a beautiful package that I would love to have on my bar and share with friends." Hudson explained, "The businessperson in me is now looking forward to the challenge of building a brand in an entirely new industry."
King Street Vodka is gluten-free, non-GMO, and crafted with alkaline water. Produced in California, the brand is notable for Hudson's desire to partner with female farmers to source ingredients for the beverage. Mashed also notes that King Street Vodka has received praise from critics. Many call out the vodka's clean finish and neutral palate. 
Kate Hudson and her mom share a close bond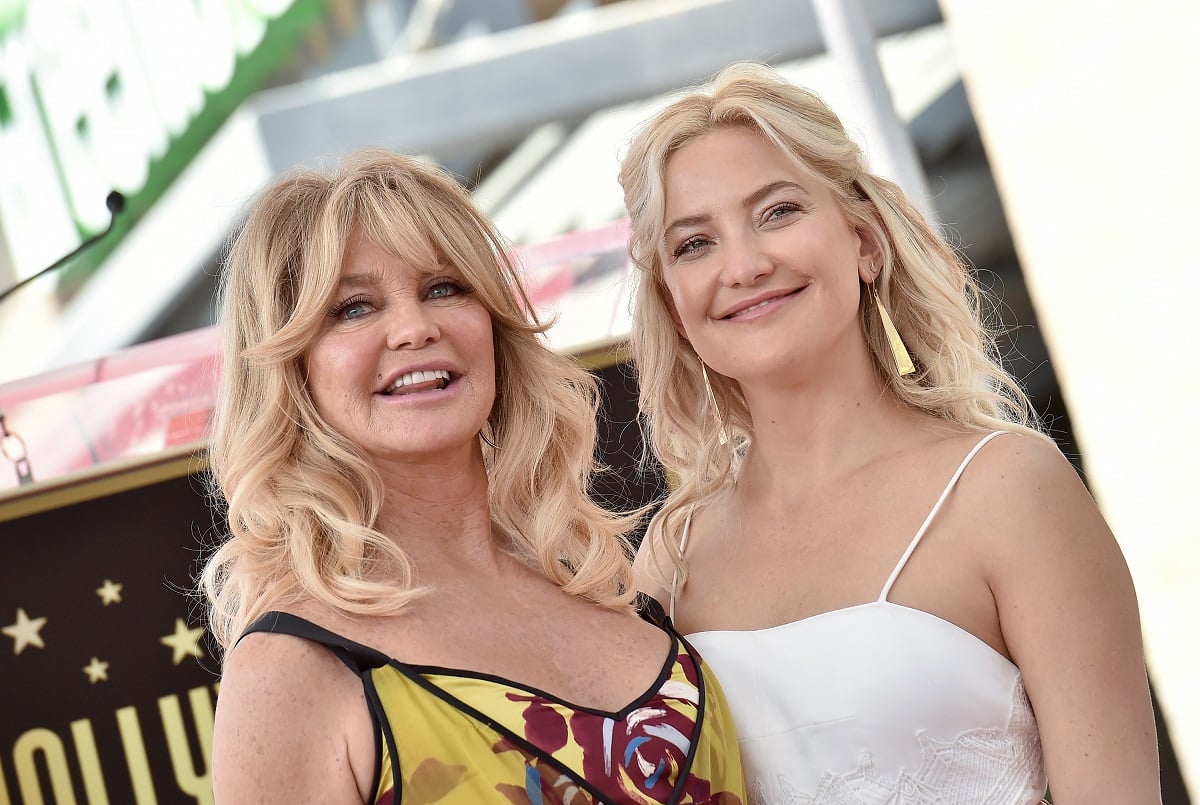 Those who follow Hudson's relationship with her mother know the actor was inspired by her bubbly, effervescent personality. The two stars share a tight bond. Over the years, they have walked many red carpets together and even worked on joint projects.
Hudson was raised in the spotlight, since Hawn first rose to fame in the '60s as an actor. She didn't have much of a relationship with her biological father, Bill Hudson. Instead, she was raised by her mother and Hawn's longtime partner, Kurt Russell, whom Hudson has always maintained is her father figure.
These days, Hudson and Hawn are as close as ever. Hawn is active on social media, where she shares lots of photos of Hudson's three children, making it clear that she is a devoted grandmother as well as a loving mother.