Kate Hudson Has Received 3 Engagement Rings From Chris Robinson, Matt Bellamy, and Danny Fujikawa
Here's a look at the stunning engagement rings Kate Hudson's received from Chris Robinson, Matt Bellamy, and Danny Fujikawa.
Celebrity relationships change all of the time. It's not uncommon to see headlines of high-profile love interests just as often as you see famous breakups and divorces. Maybe it's the actor's lifestyle or the volatile nature of Hollywood life. It's just hard for some big names to find love.
Kate Hudson has landed in the headlines a few times with news of her own. In her case, it's been less about dramatic splits and more about massive engagement rings. Over the years, she's collected three, in fact — mostly from talented musicians. Here's a look at the stunning diamonds Kate Hudson's received from Chris Robinson, Matt Bellamy, and Danny Fujikawa.
What's Kate Hudson up to these days?
Hudson is a true talent with more than just a few hit movies on her resume. She's an actor, but she's also a successful businesswoman and entrepreneur. According to Inc, Hudson has a million business ideas and an eye for execution, too.
In addition to her membership-driven activewear line called Fabletics, she's also helped launch King St. Vodka in 2019. One of her latest ventures is a plant-based supplement product and company called InBloom.
Running through her IMDb profile, you'll find a full roster of iconic films, including Almost Famous, Fool's Gold, Deepwater Horizon, and How to Lose a Guy in 10 Days. To her credit, she's achieved several nominations for Academy Awards, two SAG Awards, and a BAFTA Award. She has the hardware to prove her acting chops, including a Golden Globe, a Satellite Award, and a Critics' Choice Award.
Three engagements and three engagement rings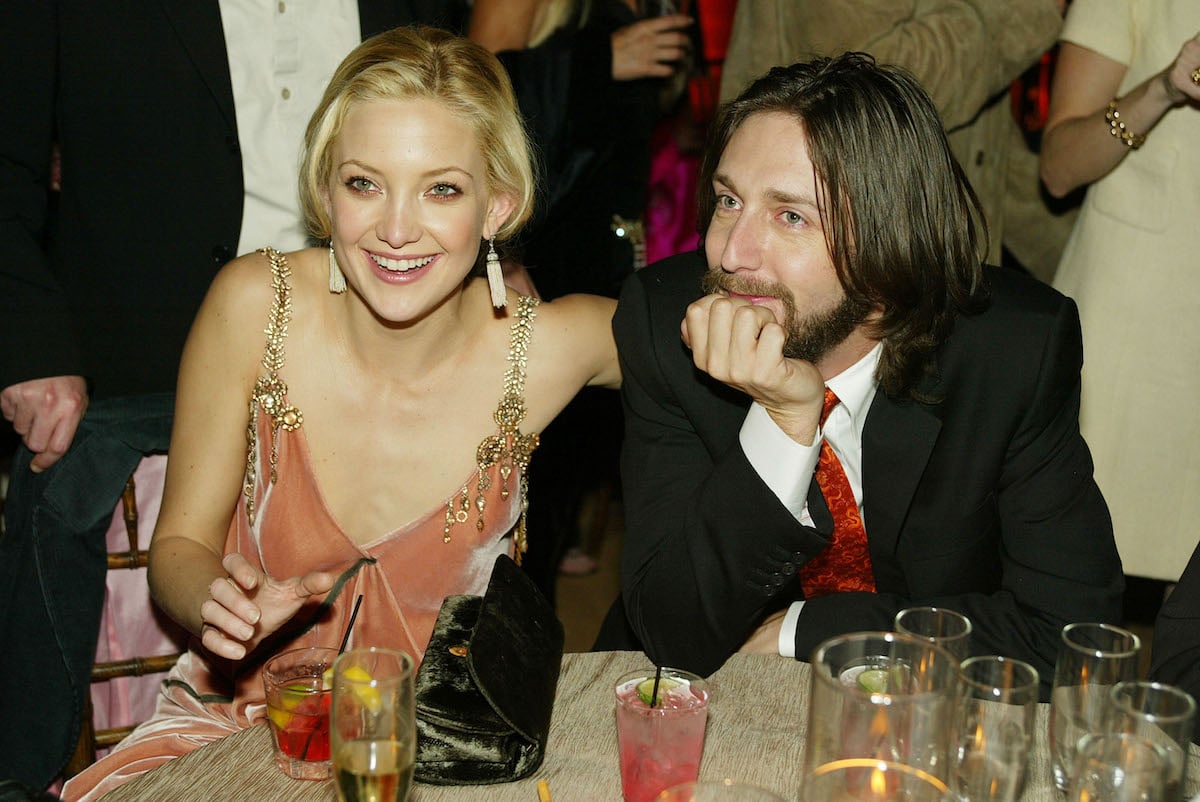 Hudson may have it all together in the business and career departments. But she, like so many others, has taken the longer route on the journey to find lasting love. Hudson has dated and explored her options with a few big names in the business. But her most lasting relationships have been with talented musicians. In fact, she has three engagement rings from three titans in the music industry.
Hudson's ex-husband, Chris Robinson, who is the frontman for the Black Crowes, presented her with her first engagement ring. The 5-carat stunner was a Neil Lane design with an Art Deco setting, according to MSN. Hudson and Robinson married in 2000. Their son, Ryder Robinson, was born in 2004. The couple officially called it quits in 2006.
The second engagement ring came in April 2011 from Hudson's then-boyfriend and British rocker, Matt Bellamy. (Their son, Bingham Bellamy, was born in November of that same year.) Bellamy presented her with a massive emerald-cut rock that experts say was a whopping nine carats and valued at $200,000. That big diamond had two diamond baguettes to keep it company. Unfortunately, the relationship fizzled in 2014 before the couple could tie the knot.
Kate Hudson's current relationship and third engagement
Kate Hudson may be a subscriber of the "third time's a charm" philosophy. Only hours after she announced that her musician boyfriend and Lightwave Records founder Danny Fujikawa were engaged, she shared her stunning ring.
It was on the red carpet during the Met Gala in September 2021 when fans got a glimpse of the beautifully designed, blush-colored stone. Hudson and Fujikawa have been a couple now for five years. And it looks like the couple couldn't be more in love. (Their daughter, Rani Hudson Fujikawa, was born in 2018, two years after they began dating.)
Among average Americans, those who marry more than once is over 50%, so Hudson really isn't all that different from the rest of us. But there's no question; her series of engagement rings over the years are probably much bigger and more extravagant than most.
With her track record of success in every other aspect of her life, fans are pulling for her that she's found the perfect love to match the ring she wears today.