Kate Middleton's Slim Figure Comes From Eating This 1 Meal
Kate Middleton married Prince William in 2011, and today, she's known as Catherine, Duchess of Cambridge. Her royal title also means she has a lot of responsibility, and that can make it difficult for her to remember to take care of herself. Between being a royal and the mother of three children, the duchess probably has little time to spend thinking about what she's going to eat. But she reportedly stays healthy by relying on this one type of meal.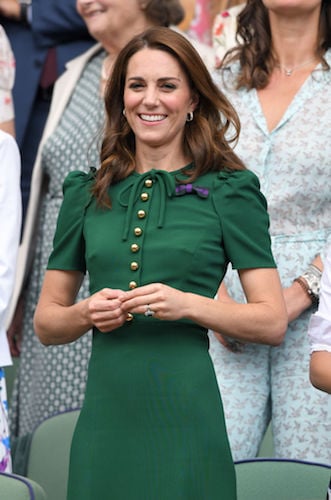 Kate enjoys cooking with her family
Prince William and Kate Middleton might be two of the world's most famous people, but they still love to spend time doing activities regular people do. The couple share three kids: Prince George, Princess Charlotte, and Prince Louis, and one of the best parts of their lives is spending quality time with the little ones. While at an engagement once, Kate said that her children love to cook together; homemade pizzas and salads are some of their favorite meals. Though the duchess eats healthy, she likes to indulge, too.
They admittedly order takeout on occasion
Will and Kate also have the same guilty pleasures as most others: They love to order takeout. Though they have private chefs for most meals and enjoy home cooking with the kids for others, there are also plenty of nights when they decide they simply want to call up their favorite takeout spot and order a bunch of unhealthy food — and we don't blame them. The two love to order curry dishes some nights and bum it with pizza on other nights (clearly this family has a love for pizza). However, most takeout places don't deliver to the palace, nor would the palace want them to, so Will and Kate typically have to send someone out to get the food.
The duchess eats plenty of raw dishes, such as watermelon salad
Though Kate loves her share of fatty foods, eating healthy is also very important. And she relies mostly on raw dishes to make sure she's getting plenty of nutrients in her diet. According to Harper's Bazaar, Kate loves watermelon salad. She also reportedly eats plenty of gazpacho, goji berries, tabbouleh, and ceviche, all of which provide various benefits to the body, such as clearer skin. These unprocessed, uncooked dishes mean Kate is getting the maximum amount of nutrients from every ingredient.
She also reportedly has a low carbohydrate intake  
Many people who follow Kate's eating habits are aware that she has always been a fan of the Dukan Diet. Kate reportedly sticks with something similar, though she doesn't appear to follow the Dukan Diet strictly. The diet mostly calls for very few carbohydrates, supplemented by plenty of lean proteins, vegetables, and healthy fats. Kate reportedly starts her day with healthy shakes containing some variation of spinach, kale, cilantro, and blueberries, all of which provide the body with antioxidants and essential nutrients. Since she's constantly on the move, Kate needs to keep herself healthy in order to make sure she's always feeling her best for all of those royal engagements.