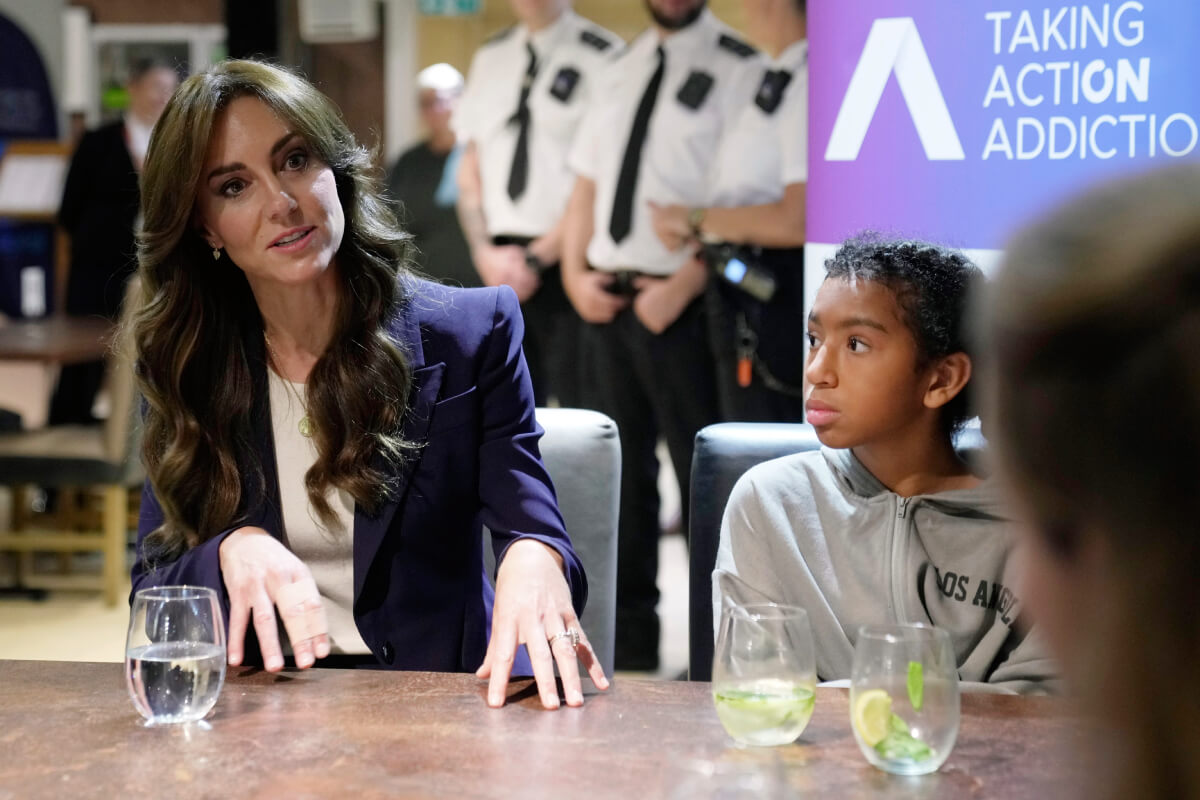 Kate Middleton's Latest Injury Is So Relatable to Everyday Moms
During one of her most recent official appearances, Kate Middleton wore a bandage on her hand after suffering an injury while playing with her children.
Despite her regal stature and impeccable style, Kate Middleton often showcases moments that resonate with mothers everywhere. While she flawlessly navigates her royal duties, the Princess of Wales is not immune to the everyday bumps and bruises that come with motherhood.
Recently, during a visit to Surrey's High Down Prison, her elegant appearance was marked by a minor hand injury. This is an all too familiar sight for parents who've experienced the playful chaos of kids at home.
Kate Middleton steps out with a discreet bandage on her hand
With her consistently polished attire and meticulously maintained nails, Kate embodies grace and style in every setting.
However, the 41-year-old Princess of Wales occasionally displays a hint of vulnerability. Onlookers often notice a discreet bandage gracing one of her fingers, suggesting minor accidents aren't strangers to the royal.
According to the Daily Mail, such was the case when Kate visited a male correctional facility in Surrey to advocate for an addiction-focused charity. It seems Kate had a playful accident while jumping on a trampoline with her trio of children in the lush grounds of their Windsor home.
Remarkably, even with her bandaged fingers – a result of the garden escapade – the duchess warmly greeted the HMP High Down staff. And for keen observers, this isn't an unusual sight.
Always nearly flawless, Kate occasionally reveals a subtle bandage, contrasting her otherwise pristine appearance.
All the times the Princess of Wales stepped out in public with minor injuries
Kate sported a bandage on her thumb during her visit to the Royal Surrey County Hospital's Maternity Wing in Guildford on October 5, 2022.
Interestingly, the same plaster aesthetic graced her thumb at the Queen's Platinum Jubilee Thanksgiving service in London in 2022.
Flashback to the 2019 Chelsea Flower Show, and Kate's bandage subtly matched her camel and cream ensemble. Later that year, a unique patch adorned her middle finger during several events.
In 2016, Christmas Day revealed a plaster near her iconic engagement ring, while a different one was spotted on her other hand a month prior. Some speculated its origin was a cheeky celebrity cat she'd recently met. For those debating plaster types, Kate gracefully sports both fabric and waterproof versions.
The Princess of Wales' history of injuries is definitely something everyday moms can relate to.
Kate Middleton showcases her latest accident during a prison visit
Kate's hand injury was front and center during her visit to High Down Prison. She donned a chic navy ensemble for this engagement, complemented by wavy locks and freshly styled curtain bangs.
High Down, housing approximately 1,100 male inmates benefits from the services of the Forward Trust. This organization provides various programs, from workshops supporting addicts and their families to abstinence-centered initiatives.
This visit marks one of Kate's initial public appearances after the summer hiatus and the commencement of her kids' school term.
Kensington Palace shed light on the hand injury, attributing it to a trampoline session with her youngsters. They reassured the public that it was merely a "small injury" with no cause for concern.
Kate exchanged vows with Prince William in 2011 at Westminster Abbey. The duo is blessed with three children: Prince George, Princess Charlotte, and Prince Louis.