'WandaVision' Spin-Off May Bring Agatha Harkness' Evil Son to the MCU
Kathryn Hahn will return as Agatha Harkness in a new WandaVision spinoff. True to fashion, Marvel is keeping mum about the new series' storyline and characters. But, if the show dives into the witch's life, it may introduce Agatha Harkness' son to the Marvel Cinematic Universe. 
Agatha Harkness returns for a 'WandaVision' spinoff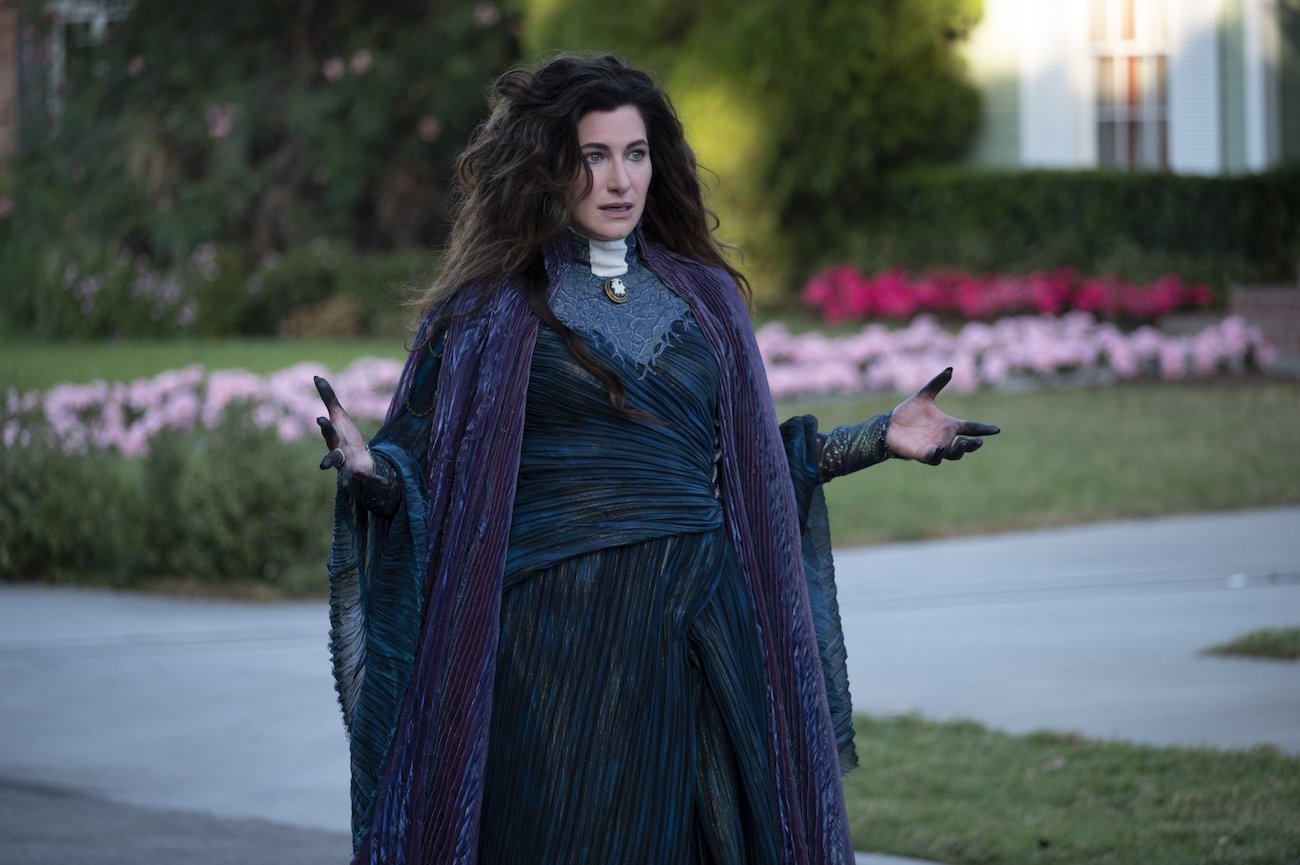 Just in time for Halloween, Marvel is treating fans with great news. The studio is developing a WandaVision spinoff that will bring Hahn back as the witchy Agatha Harkness. The series will be helmed by WandaVision writer Jac Schaeffer and will also air on Disney+. 
Back in July 2021, Marvel boss Kevin Feige shared his love for Hahn's portrayal of Harkness and told Rotten Tomatoes that her return to the MCU couldn't "come soon enough." The exec didn't reveal when or how she would come back. But he did note that it would be after some of Hahn's other projects, including Knives Out 2, are released. 
The 'WandaVision' spinoff could introduce Agatha Harkness's son to the MCU
We don't know much about the WandaVision spinoff. But whether it's a prequel or sequel, it will likely dive into some of Agatha Harkness' personal life.  And if it does, the show may introduce her son to the MCU. 
In Marvel comics, Agatha Harkness is a powerful witch who acts as a teacher and mentor to Wanda Maximoff, aka the Scarlet Witch, and a nanny to Reed and Sue Richard's son Franklin. Agatha's son, Nicholas Scratch is a powerful warlock himself. He has seven children, aka Salem's Seven, who are his devout followers. Along with his villainous crew of kids, Scratch wreaks havoc and attempts to defeat the Fantastic Four and the Scarlet Witch. 
Scratch serves two powerful Marvel villains — Mephisto and Dormammu (an evil entity that appears in 2016's Doctor Strange).  Seduced by powers, Scratch is determined to take the title of Sorcerer Supreme. He is eventually disowned and defeated by Agatha, who is determined to thwart her evil son's efforts to take over the world. 
We may have seen Nicholas Scratch in 'WandaVision' already
WandaVision featured dozens of Easter eggs. And one, in particular, could prove that Nicholas Scratch is already a part of Agatha Harkness' MCU story. 
On the show, Agatha (Kathryn Hahn) has a pet rabbit that she often speaks to. "She does look shocked to meet the real us," Agatha tells the critter when she finally reveals her witch identity to Wanda (Elizabeth Olsen).  
And her pet has an all too familiar name: Señor Scratchy. So it's very possible that the bunny is Nicholas Scratch, who was turned into an animal as a punishment from his witchy mother. 
When talking to Kevin Smith and Marc Bernardin for their Fatman Beyond podcast, WandaVision director Matt Shakman revealed that he cut a scene in which Señor Scratchy was supposed to transform into a demon after trying to protect the Darkhold. He didn't confirm whether or not the rabbit was Nicholas Scratch, but he did note the animal had significance as Agatha's familiar. 
The WandaVision Easter egg could be a clue of what's to come in the spinoff. But for now, fans will just have to wait and see what Feige and the writers have up their magical sleeves.