Kathy Griffin Reveals That She Saw 'When Harry Met Sally' On a Date With Quentin Tarantino: 'He's Got a Corny Side'
Quentin Tarantino is famous for his brutally violent films. But according to Kathy Griffin, who briefly dated him, he has another side. The comedian says the two once went on a casual date to see the 1989 romantic comedy classic When Harry Met Sally. 
Kathy Griffin briefly appeared in 'Pulp Fiction'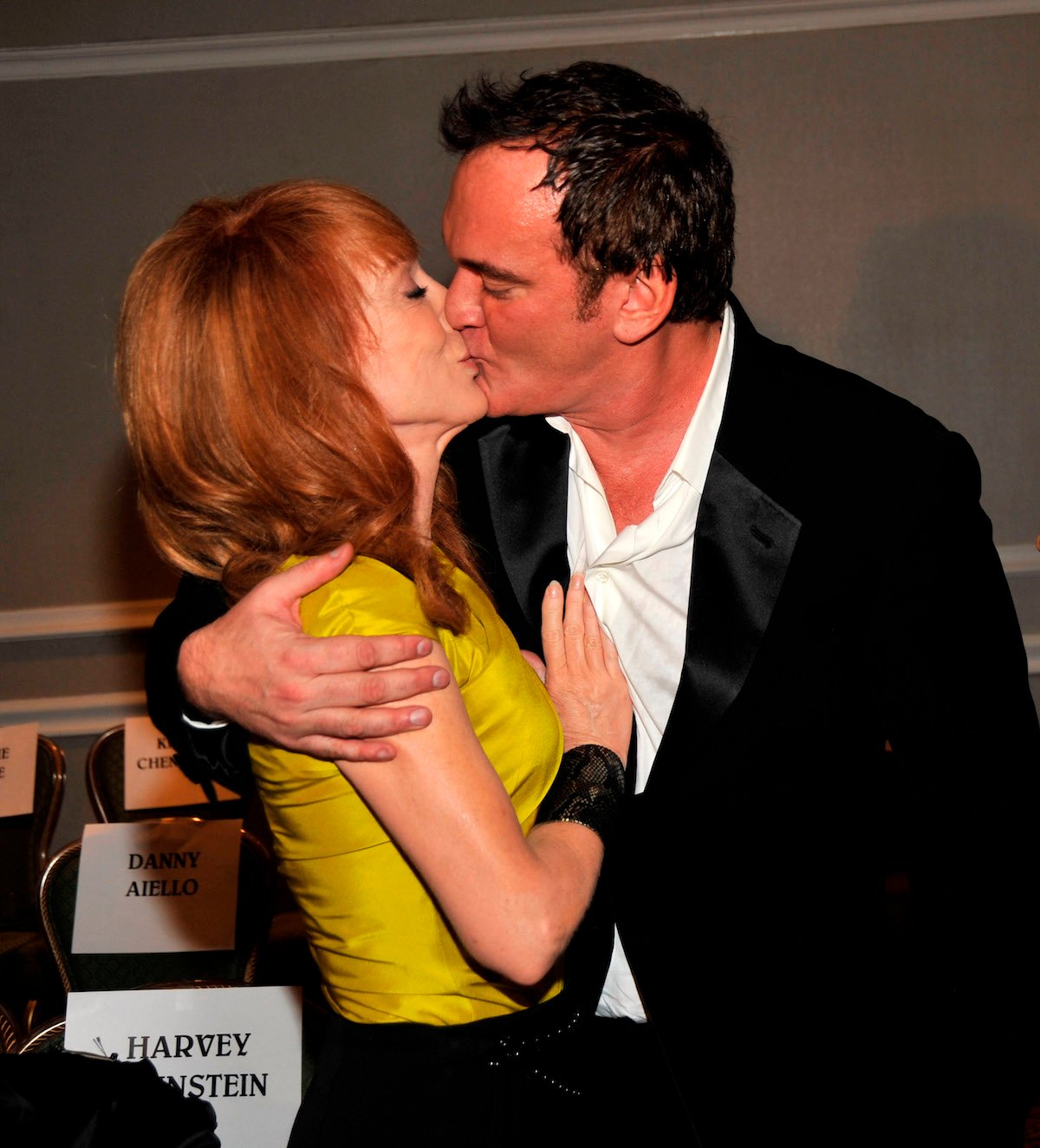 Eagle-eyed Quentin Tarantino fans will notice an unexpected appearance in his iconic 1994 crime comedy Pulp Fiction. Kathy Griffin has a three-line cameo with Ving Rhames. And it turns out Griffin and Tarantino were dating at the time. 
"It was heaven. I was dating Quentin Tarantino," she said during a 2019 interview on the BUILD Series. "It was amazing to be on that set. I literally had three lines." 
Griffin said her appearance in the film is a consistent source of fan interest on social media. 
"Maybe once a month, somebody will be like 'uh, I think I saw you in Pulp Fiction," she said. "I'm like yes, with my old nose. That's my old nose," she continued jokingly. 
Griffin also joked that her "three lines" were exceedingly important. "I made that film," she laughed about Pulp Fiction. "My three lines won the Palme d'Or at the Cannes Film Festival," she said. 
Quentin Tarantino and Kathy Griffin saw an '80s classic together
During the same interview, the comedian revealed that they saw Rob Reiner and Norah Ephron's classic romantic comedy When Harry Met Sally when they were dating. 
"You know what we went to see one Saturday morning? When Harry Met Sally," she said. "People don't know that he's got, like, a corny side. And I was hanging out with all the comedy dorks, and they're like 'Uh, I'm not gonna go see that. And Quentin's like 'I'll go!'" 
As difficult as it is to imagine the famed director at a Saturday morning screening of When Harry Met Sally, the interviewer noted that it must have been even more difficult to "get a word in edgewise" around Kathy Griffin and Quentin Tarantino. 
"Not a word," confirmed Griffin. 
However, while there was a lot of talking, some filmmaking, and some movie watching, Griffin says there wasn't any sex. 
"I did also date Quentin Tarantino although I did not sleep with him and I did not have sex with him because he wanted to cuddle. […]" she told ET in 2009. 
"And I am telling you openly, and with shame, that I did not close the deal with Quentin Tarantino," Griffin added. "And let's go with because he was so in love with me that he knew if we had sex once he would fall too deeply in love with me."
The controversial comedian said she has 'affection' for Quentin Tarantino 
It was, by all accounts, a short-lived romance. However, the controversial Kathy Griffin says she still has kind feelings toward Tarantino. 
"I haven't talked to him lately, I don't have his number, but I have an affection for him," she said on the Build Series. "He's a true artist."
Griffin added that Tarantino helped her career. "What I appreciate about Quentin is he's a rare, rare dude who took a chance on me," she said. "He put me in an episode of ER that he directed. He put me in Four Rooms."
To sum up, Kathy Griffin and Quentin Tarantino may not have had a hot romance — but it was sweet and unassuming enough to land them at When Harry Met Sally on a Saturday morning in the '90s. And that's a detail about both of them that can't help but make you smile.