Katie Maloney Talks About Future of 'Vanderpump Rules' and Filming Without Fired Stassi Schroeder
Katie Maloney will be moving forward on 'Vanderpump Rules' without her two closest friends. The Bravo star says how the show will look like if it ever returns to filming.
Katie Maloney from Vanderpump Rules has a lot more time on her hands these days. The reality show that gave her a platform is on hiatus right now, not only due to the pandemic but for the recent firings. Many fans believe Bravo is trying to retool the show after losing four cast members earlier this year for racist actions. However, Maloney has not been made aware of what the future holds for the reality series as of now.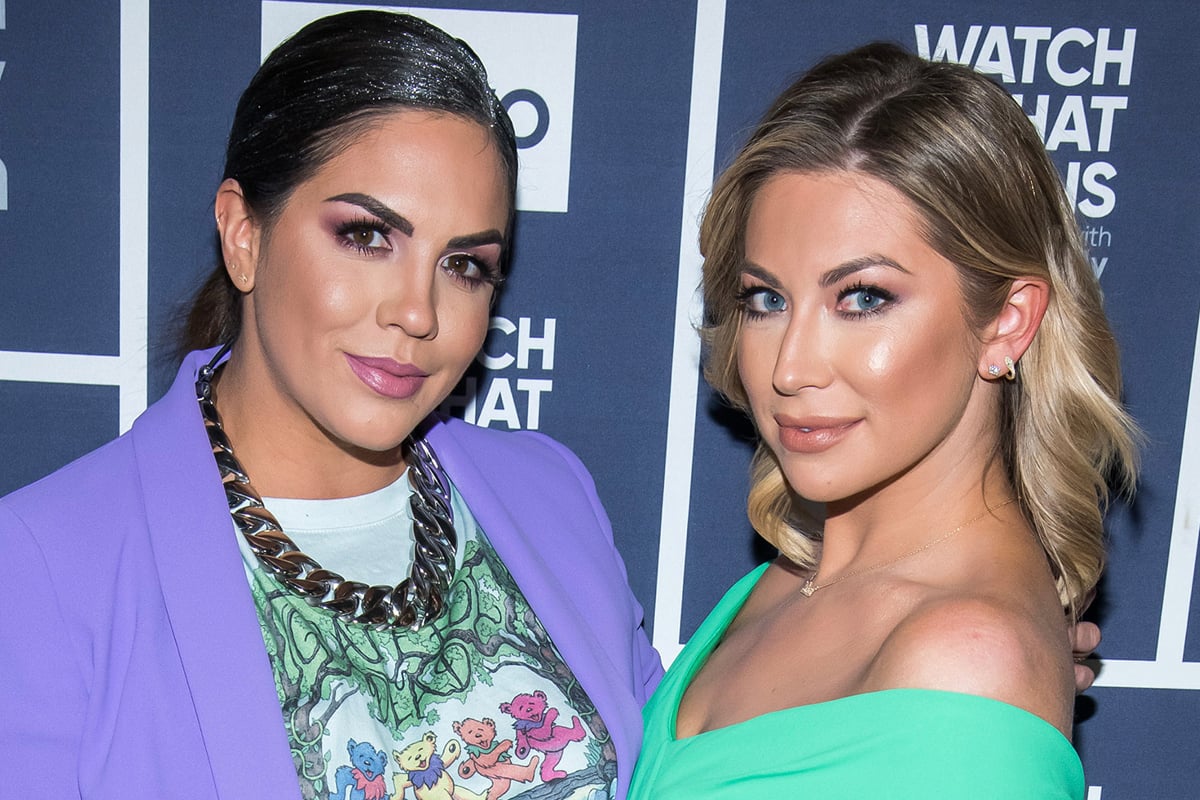 What happened on 'Vanderpump Rules?'
Ahead of the premiere of Vanderpump Rules Season 8, old tweets from two new cast members resurfaced. Brett Caprioni and Max Boyens had used racial slurs in the past and fans called for their firing. However, the show went on and they did not get let go from the show after they publicly apologized.
Earlier this year and at the height of the protests over police brutality, Vanderpump Rules alum Faith Stowers recalled an incident on the show. In an Instagram Live interview she remembered the time Stassi Schroeder and Kristen Doute called the cops on her. The Bravo stars thought it would be funny to say that Stowers was a criminal on-the-run they had seen in a Daily Mail article.
"There was this article on Daily Mail where there was an African American lady," she explained. "It was a weird photo, so she looked very light-skinned and had these different, weird tattoos. They showcased her, and I guess this woman was robbing people. And they called the cops and said it was me. This is like, a true story. I heard this from actually Stassi during an interview."
Fan backlash ensued and Bravo took quick action by firing Schroeder, Doute, Boyens, and Caprioni.
How does Katie Maloney feel?
By this time last year, Vanderpump Rules Season 8 had wrapped production but season 9 has not started filming this year yet. Promoting her new podcast, Maloney said she doesn't know what the future looks like for the show.
"I have no idea," the reality TV personality told Entertainment Tonight. "Every day, I'm being like, 'Maybe today we'll get the phone call!' But, no… I'm hopeful. They haven't canceled it, so there's hope still. At least there's not, like, anything definitive in that regard."
The pandemic not only hit filming in California but also restaurant businesses. With the show centering around a group of employees that work at a bar, there's not a whole lot that's going on there. When the restrictions are lifted and the show gets back into production, Maloney doesn't know how she'll feel without her two friends: Schroeder and Doute.
"I try to picture and think about it, and it's so weird," Maloney explained. "It's weird. Yes, it's definitely gonna feel different and look different, but it's not like they're not a part of my life, you know? So, it's gonna be weird to have this part of my life that was very much on the show not on the show anymore."
Maloney's podcast You're Gonna Love Me is now love on your favorite streaming service.